Bare Essentials Of The Green Debate
What is India's current stand?
For over a decade, India has championed the cause of the developing world by putting the onus of emission reduction on developed nations and seeking a mechanism for funding and technology transfer to mitigate the impact of climate change.
What is the proposed shift in stand?
Along with a national action plan to curb emissions, India seems set to dilute its opposition to allow international scrutiny of the outcome, while pushing for more bilateral treaties to seek technology transfer.
What will this mean?
Some see a stance friendlier to developed countries. Others feel this will see India bearing the financial burden of curbing emissions and developing green technologies. A sidetracking of the Kyoto Protocol could see developing countries bearing responsibility for curbing emissions.
Will it affect individuals and companies?
Enforcement of any legally binding code on emission and energy consumption may improve efficiency in the long run. But it would involve major investments to overhaul (or even junk) existing plants. The government would also have to invest heavily in green technologies.
What happens next?
If India plans to take on binding emission caps, it will have to be finalised after discussions in Parliament.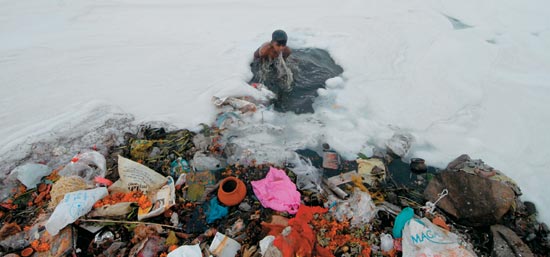 ***
If the mercurial moves of environment minister Jairam Ramesh over the last few months were to be taken as a weather barometer, India's future as a campaigner for the developing countries is doomed.
In the run-up to the UN conference on climate change at Copenhagen in December, which aims to chart out a fresh course of action beyond 2012, the swift changes in India's position have left negotiators befuddled. Is India finding new ways to address the issue or is it wilting under US pressure?
Jairam's letter to the prime minister, which was strategically leaked to the media and later described by the pmo as a "discussion paper", reads like an ill-conceived proposal. It contemplates not only making India accountable to the international community for capping energy intensity but also offers to undertake the enormous exercise of mitigating climate change impact without seeking technological and financial support from the developed nations.
Seen another way, India's new stance is ostensibly to get the US, which accounts for one-fifth of global pollution, on board to shoulder responsibility for reducing emissions. The US has made ratification of any global agreement conditional to India and China accepting similar responsibilities. It's the only industrialised country not to have ratified the UN Framework Convention on Climate Change (UNFCC) and the Kyoto Protocol that has fixed targets for developed nations to reduce emissions.
"Any move to change India's stance does not make sense since the US is not promising very much."
But not many are convinced by this argument. "Any move to change India's position does not make sense as the US is not promising very much," states environmentalist Sunita Narain of the Centre for Science and Environment, which helped India put up a spirited fight at the 1992 Rio Summit. Experts also say any change in stance could jeopardise plans for improving power and infrastructure in the long run.
The changing drift has put in doubt India's role as a campaigner for funds and green technology for developing nations. It has also raised questions on how pressures from countries like the US, Australia and Japan would come to bear on India's very real need to increase per capita energy consumption to pursue its vision of chalking out a high and inclusive economic growth.
Ironically, this change has come about in a year marked by erratic monsoon, droughts, and floods—all seen by climate experts as a fallout of global warming.
Since the beginning of the upa's second innings, there have been several disquieting indications that India was going to dilute its stance on environmental concerns despite being one of the countries bearing its consequences.
In July, at the G8 meeting in Italy, the prime minister's agreement to a 2°c cap on greenhouse gas emissions above 1990 levels caused deep concerns among negotiators and development profesionals. Similarly, the minister's current stance seems totally at variance with the tough position he took before the US secretary of state Hillary Clinton in July when he announced India would not agree to any binding commitments.
"Our negotiating brief is sound and based on our development. We've not got any instructions to the contrary."
By September-end, however, Jairam was singing a totally different tune, proclaiming plans to enforce energy intensity caps within the country and open up the outcome of externally funded projects to UNFCC scrutiny.
But negotiators still have faith in the PM's assertion at this week's New Delhi meet on climate change, that "developing countries cannot and will not compromise on development" while striving "to keep our emissions footprint within levels that are sustainable and equitable". However, his plea that the UNFCC should strive to help developing nations with funds and technology is at odds with his minister's 'proposals' to bury Kyoto in favour of the new Australian proposal that would put commitments on countries like India and China without the conditionality of technology transfer or funds. "The Australian proposal seeks to remove the difference between developed and developing countries and alter the balance of responsibilities," points out Prodipto Ghosh, former environment secretary and member of India's negotiating team.
Not sounding very optimistic of the Copenhagen outcome, Ghosh clarifies that till the Bangkok negotiations in September, there was no change in India's stand. "So far we have not received any instructions to the contrary. Our negotiating brief is pretty sound and based on our development situation," he says.
"A single agreement is not against our interest if the content reflects our basic concerns and the world is on track."
Nitin Desai, a member of the PM's climate change council, stresses India's interest lies in strengthening the Kyoto Protocol, which works on the principle of common but differentiated responsibility. Any dilution of commitments under Kyoto would be detrimental to the interest of developing countries, he feels.
The 2007 Bali Action Plan was an "implicit shift from the previous stand as it envisaged long-term cooperation beyond 2012, with developing countries also undertaking mitigation steps. But this was to be tied to the promise of technology transfer and funds."
Desai says a "single agreement is not necessarily against our interest provided the content reflects our basic concerns and ensures the world is on track and the temperature does not go beyond 2°c."
Some environmentalists say a major shift in India's position and national action plan is remote, but there are others who feel "if the US is able to win over China, there could be problems as the Chinese position could have a bearing on us". Yet, they are unanimous that moving away from Kyoto at this juncture is not advisable as it has the support of most countries. Any alternate plan would require time for research and discussion before it becomes acceptable.
"The new proposals are unacceptable. Unlike Kyoto, they do not recognise developing nations as victims."
Chandrashekhar Dasgupta, former diplomat and one of the negotiators, categorically states that the Australian, US or Japanese proposals are all directed at burying the Kyoto Protocol through a drastic revision, watering down the distinction between developed and developing countries and striving to transfer a share of their responsibilities on the latter. "The new proposals are quite unacceptable from our point of view as, unlike Kyoto, they do not recognise developing countries as victims of climate change, a phenomenon induced primarily by the industrialised nations," he says.
A particularly objectionable part of the new proposals is that developing countries should submit long-term emission trajectories till 2050 to ensure adequacy of total global efforts, he states. The fact that this is coupled with a rejection of the concept of per-capita emission entitlement would make developing nations vulnerable while industrial nations would be able to maintain their higher levels of energy use. This is conspicuous since according to the latest UNFCC data, most of the industrial countries are set to miss their targets on emission reduction by 2012. Worse, many including the most vocal US have witnessed a substantial rise in emissions despite avowed commitments to protect the environment.
While a global consensus on an alternate plan may be difficult, it might not also be possible for India to adhere to any stringent emission caps. Speaking at the New Delhi meet, UNFCC executive secretary Yvo de Boer said: "With 400 million poor we cannot expect India to reduce something it does not have. Yet both India and China must limit their emission and green their growth with international financial assistance".
Even the Indian industry could find it difficult to take on the mandatory commitments. "The industry is reluctant but we need to work with them through legislation or discussion, to make them produce energy-efficient products," states Ajay Mathur of the Bureau of Energy Efficiency (BEE). The consumers are of course benefiting due to better products, though at a price.
Considering the needs of India's teeming millions below poverty line, the prime minister should bat for national interest, and not field for the US.