By warning of "Hindu terror" at the Congress chintan shivir in Jaipur, Union home minister Sushilkumar Shinde has stirred indignation in the BJP and in Hindu right-wing quarters. A Delhi resident has filed a defamation case against him for using a term linking terror to a religion, while the BJP has organised nationwide protests. Rajnath Singh, president-elect of the BJP, found the launchpad he needed: in his first statements as he got ready to lead the party, he tore into Shinde for targeting Hinduism. And Pakistan, as also the Lashkar-e-Toiba supremo Hafiz Saeed, have as usual pounced upon the opportunity and parleyed it to cause embarrassment to India (see main story) and to Shinde.
The unfortunate choice of words—some would call it a matter of habit with the minister—may have brought Shinde untold headaches, but his statement conveyed a firm intent to pursue cases of Hindu right-wing extremism. Here's what he said: "We have got an investigation report that, be it the RSS or the BJP, their training camps are promoting Hindu terror. We're keeping a strict vigil on all this. Bombs were planted on the Samjhauta Express, at the Mecca Masjid, and blasts were carried out in Malegaon. We will have to think about it seriously and will have to remain alert."
In fact, the Congress's soundbite warrior, Digvijay Singh, has been raising the issue of Hindu right-wing extremism since 2006. P. Chidambaram, too, had talked of it during his term as home minister. But according to sources, Shinde's statement, faux pas notwithstanding, is backed by more stick: investigating agencies have been given the "political signal" to pursue cases of Hindu right-wing terror through a meeting between home secretary R.K. Singh and NIA chief A.K. Sinha. A key point discussed at the meeting was the possibility of implicating and interrogating Indresh Kumar, a top RSS funtionary, in cases of the Malegaon blasts (of 2006 and 2008), the Samjhauta Express blasts and the Mecca Masjid blasts in Hyderabad. However, Singh is learnt to have bought time to apprise Shinde before the NIA ferrets ahead. According to sources in the NIA, some suspects in those cases, such as Lokesh Kumar and Devender Gupta, have named Indresh Kumar, who might well be the "key mastermind".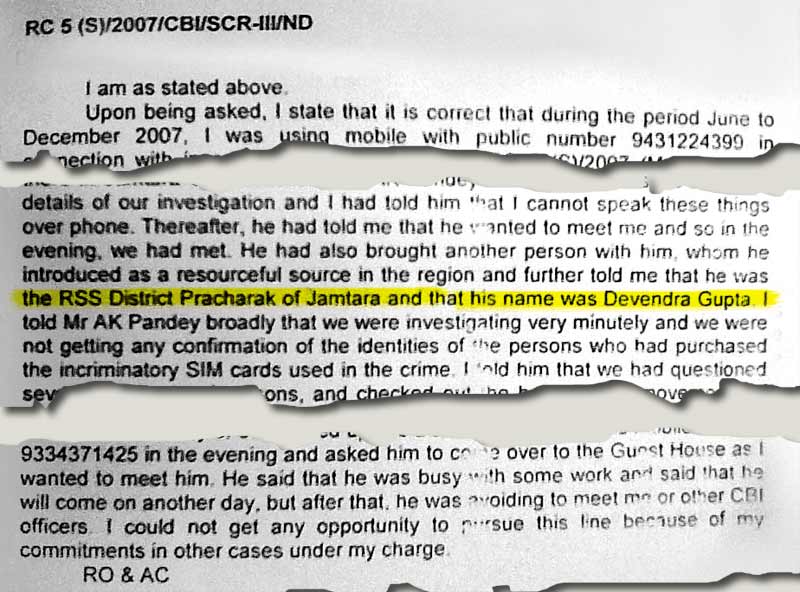 The blasts had been assumed to be the work of Islamist terror cells till the late Hemant Karkare, the Maharashtra ATS chief who died in the 26/11 Mumbai attacks, followed a new line that led to right-wing Hindutva extremists. Some of these overlapping cases were investigated by the CBI, some by state agencies. It wasn't until April 2011 that the NIA, created as a central agency to investigate terror cases especially, took over the cases. The outline for the investigation came from a confession Swami Aseemananda made in apparent contrition (but later retracted). The NIA's findings, too, indicate that certain individuals linked directly or loosely to the Sangh parivar web may have resorted to extreme methods with the aim of either discrediting a minority or avenging Islamist terror attacks or achieving both ends. This also upturned the muddled investigations by state agencies that had led to the arrests of innocent Muslims.
This is a sensitive political issue for the government and such an investigation cannot proceed without a political go-ahead. The cases, ideally, should be investigated clinically. But which politician can help using such an issue to ratchet up the pressure on the opposition?