Eight-year-old Sundar Baghel stands against the blue wall of his house, clutching at his soiled school shirt. The boy is a Class III student at the local government school. Three years of being taught Hindi, you would think, has made him conversant enough to respond to basic queries in the language and pushed him closer to being 'integrated' with the rest of India. But it's impossible to get him and other Dhurwa children in Naga­lsar, a village deep in the Jagdalpur block of Bastar district, to speak Hindi. For every line you throw at him, Sundar just throws the same addled look back at you.
Being taught an alien language at sch­ool and that too by a teacher who doesn't speak Dhurwi, their mother tongue, hasn't helped his Hindi skills much. So remote is Nagalsar that even Halbi, the local lingua franca in south Chhattisgarh, has few takers here. It becomes evident when a local education official asks Sun­dar in Halbi to name what is growing in the nearby field, gesturing to the bright yellow patches of mustard flowers that stand out in the afternoon sun. He returns the same nervous, flummoxed look. It is only when he is asked finally in Dhurwi and through an interpreter, that he replies, feebly, "Rai (mustard)."
Sundar is a good example of how a poorly run education system and a blinkered resolve to teach only Hindi at the primary level, can spawn chronic illiteracy amongst the perfectly able. Chhatt­i­sgarh's tribal children have ended up being a mute lot, overwhelmed by a lan­g­uage they don't understand and intimidated by non-tribal teachers who take them to task if they use their own.
This discouraging atmosphere at state schools has ensured that kids fail to pick up even basic reading and learning skills at the primary level. This puts them at a severe disadvantage in classes above, if they stick around that is. Over eight per cent of children in Bastar in the 6-14 age group are out of school, the highest for Chhattisgarh in the 2013 ASER report. And only 44 per cent in Classes I-III are able to read "letters, words or more".
It is only when he is asked in Dhurwi finally, and through an interpreter, that he replies feebly, "Rai (mustard)".
That said, change may finally be on its way. After years of force-feeding tribals Hindi, the Chhattisgarh State Council for Educational Research and Training (SCERT) and the Bastar District Institute of Education and Training have finally begun work on a Dhurwi textbook for primary children. The SCERT does incorporate a few lessons in existing textbooks in some tribal languages (but not Dhu­rwi), but this will be the first one to be pro­d­uced entirely in a tribal language with, of course, an accompanying Hindi translation. It's an important admission—that tribal children in primary classes need to be taught in their mother tongue and that this approach could help improve the dismal statistics. The textbook will be used for Class I, to be followed by those for Classes II and III that will be developed in the coming years.
This project was conceived after a group from the two organisations and the ICICI Foundation for Inclusive Gro­wth (IFIG) visited a few Dhu­rwa villages earlier this year. "After 65 years of Indepe­ndence, we still had children and adults with whom we were unable to start a conversation," says U.K. Chakraborty of SCERT. "It made us question what we have been doing all these years." The Dhu­rwas, literally 'people of the dust', are a small community of just over 50,000 people, spread across the Bastar and Koraput districts in Chhattisgarh and Ori­ssa respectively. Their langu­age, Dhurwi, is a mix of Odia and Gondi and an endangered spe­ech form today, with many giving it up for Halbi.
In Kotamsar, a village on the margins of the Kanker Valley National Park, Dhurwa children are seated out in the open at the local primary and middle school, taking in the warm early December sun and letting out a drone as they work their way through the lessons. Idyllic, one would think. But a close evaluation brings out the same story of wasted school years. Chaitu Baghel, 11, is another boy who represents this epidemic loss. He reads 'vak' as 'van' and 'lattu' as 'ladki'.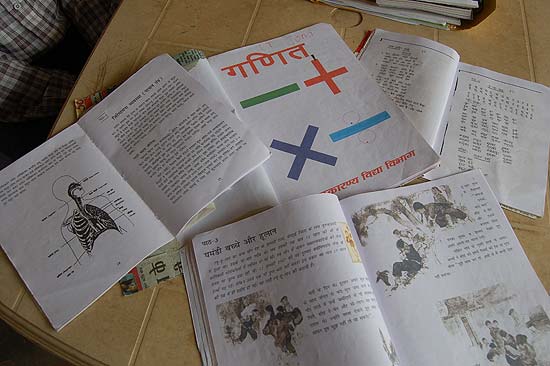 There are many like him at the school; a December report card shows that only four of the 16 Class III, IV and V students here are able to "recognise words in Hindi". The loss seems almost criminal considering that the tribals feel it's crucial that their children learn Hindi and English to escape their station.
The need for teaching in tribal langu­ages might seem impractical and exaggerated to city dwellers, who, more often than not, are the ones framing education policies and writing textbooks for the tribals. One may ask why tribal children can't cope with learning Hindi the way urban children do with English. Sundar and Chaitu would have. But they have not been lucky enough to receive the same privileged attention one gets in city schools. Also, unlike English-speaking urban parents, few tribal parents have the skills to help their wards learn Hindi.
Critics of using the mother tongue argue that the approach comes at the expense of learning a major language (in this case, Hindi) and delays 'assimilat­ion'. But these fears are unfounded as the mother ton­gue is only used as a means to make primary school children feel at home. In subsequent years, Hindi anyway will phase out Dhurwi completely. "It is the mother tongue to the other tongue model," says Mahendra Mishra, IFIG state head and a known proponent of education in tribal languages.
The primer being developed precludes such conversation breakers with customised Dhurwi alphabet charts etc.
Mother tongue support, therefore, is critical, given the poor quality of teaching and infrastructure across Chhattisgarh and especially in Naxal-affected areas. It makes for that crucial touch to make a student feel more accepted and secure at school. Durshan Nag, a Hindi teacher in Darbha block, says his students kept running away for nearly a year. "They would just stare at me when I spoke in Hindi. Over the years, as I picked up Gondi, I used it in class. It's only then that the children opened up," he says.
But there are many other benefits that accrue from textbooks in tribal langua­ges. Besides the cover they provide to these vulnerable languages, textbooks enshrine the tribals' right to be taught in their mother tongue. The use of locally appropriate content in classrooms also improves the involvement of children, and enables them to relate better to what is being taught. As of now, a Dhurwi student is told that 'a' stands for 'anaar' (pomegranate). But it is a fruit that most of these children have never seen. How does one then expect a child to describe its taste? Or talk about what the tree looks like?
The primer being developed, with support from Dhurwa government teachers, will pre­clude such conversation brea­kers with a customised Dhu­rwi alphabet chart and lessons. It will also include culturally appropriate content, featuring local folktales, songs and other details of a Dhurwa lifestyle. Mishra says the new textbook is faithful to the National Cur­riculum Framework 2005, an NCERT gui­ding manual. "It calls for a child-fri­endly education with local cultural and linguistic diversity incorporated into textbooks. With this, we are bridging the vast gap that exists between the Dhurwas' schools and homes." For a state that has over 20 tribal languages but little repres­entation of them in schools, the Dhurwi textbook has long been overdue.
---
By Debarshi Dasgupta in Bastar district
(The writer is a National Foundation for India media fellow exploring linguistic aspects of the Maoist conflict.)