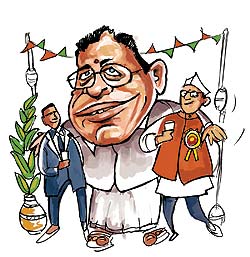 1. Gurumurthy crafts a new partnership
It looked and felt like a typical middle-class wedding in downtown Chennai. But make no mistake; there was close scrutiny of the 1,000-odd guests who attended the wedding of S. Gurumurthy's daughter Manaswini. Gurumurthy—who is described as a 'friend of the BJP', who is 'close to Narendra Modi' as well as an 'RSS ideologue' in one breath—is a much-watched dealmaker today. Apart from the BJP top brass from Delhi, top business houses (L&T, India Cements, TVS Group, Amalgamations), the likes of Cho Ramaswamy and actor Vijayakanth attended the two-day "typically south-Indian" event. The two Tamil Nadu parties were conspicuous by their absence. Not surprisingly, many top CAs and lawyers were present in large numbers.
2. BPL now has new meaning
That's Bhinmal Premier League (BPL). The Bhinmal Jains, a community that hails from Bhinmal village in Rajasthan, have come up with the bright idea to unite all Bhinmal Jains through cricket. So the top realty giants from the community have put finances together to buy eight teams. So there is Nahar group, Oswal Realty, Sumer Builders­—all battling it out at Mumbai's Police Gymkhana grounds. The idea came from Prithviraj Kothari, president of the Bhinmal Welfare Association, who also owns the Riddisiddhi Bullions Limited (RSBL), India's largest bullion trading company. So if you hear Seth Stallions, Sound Slammers, Sanghvi Oswal Smashers and cricket in the same breath, don't look surprised. It's just BPL!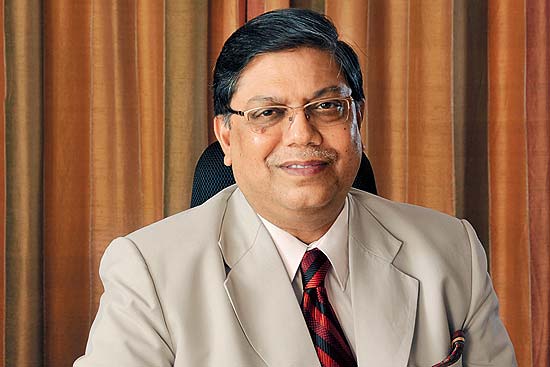 3. Goldplating concerns
NTPC chairman Arup Roy Choudhury recently said many private power plants were being set up at an exorbitant Rs 11 crore per MW against the normal Rs 6-7 crore, and were being financed by banks without carefully studying the economics behind them. Speaking at an energy conference, he equated the huge bank NPAs with the US subprime mortgage crisis. On the potential for reviving stranded power projects, he was blunt: "There are some that can start from tomorrow, while others have been gold-, platinum- and diamond-plated and are in deep trouble." No wonder consumers continue to pay steeply for energy while banks are saddled with more NPAs.
---
Math
2,000 Number of Bajaj Electricals employees who don't smoke. Number of smoker employees: 0
19% Haryana has the maximum conversion rate of memorandums of understanding (MoUs) to actual investments by an Indian state between 1999 and 2014
3-word phrases with most Facebook shares
Average number of Facebook shares for words or phrases in headlines
character are you 101,112
before you die 53,856
you probably didn't 28,895
in your life 27,056
reasons you should 26,562
[X] things that 26,130
[X] most important 26,019
probably didn't know 23,853
things you probably 23,473
[X] signs you 22,420
of all time 21,937
[X] reasons you 21,373
didn't know about 21,041
of the most 18,943
in real life 18,616
Source: Buzzfeed.com
Rs 25 The PM is apparently 'open' to the idea of a Rs 25-note to solve the shortage problem of Rs 5 coins and notes.
---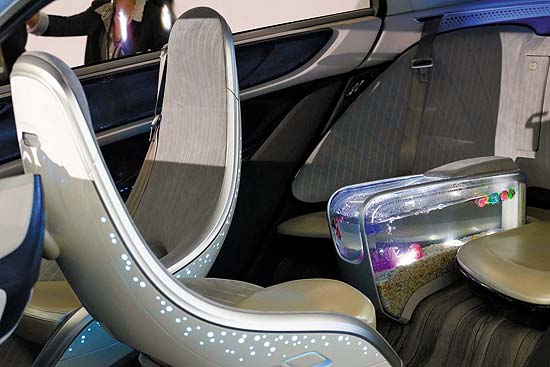 Mojo
Coming soon: Self-driving car with fish tank
All the attention at the Detroit Auto Show was on WitStar, the latest concept from Guangzhou-based GAC Motors. The futuristic crossover SUV is built on a sedan platform and has an electric driving range of more than 62 miles That's because of a fish tank located between the concept's rear seats, in place of the armrest!
---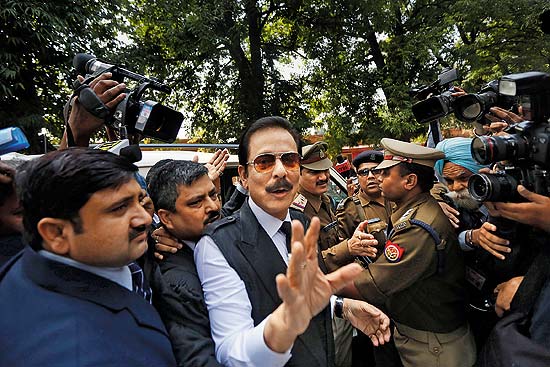 Mind
This week we learnt about…a bailout for Sahara
Saharashree Subrata Roy has struck a super-special deal. Delaware based Mirach Capital has been set up especially to route funds from unknown investors in Miami and Vegas to Sahara. These investors appear ready to extend a $2 billion loan to Sahara on an unusually short one-year term. If Sahara is unable to repay, some Indian assets will go to the creditors. Even more surprising, these announcements arrived before the India properties were appraised. Once Roy raises the full Rs 10,000 crore for bail, he's free to find a way to return around Rs 20,000 crore to investors through SEBI. Only after that would come the time for the Sahara Group to repay Mirach's loan.