Celluloid Man was not the only biography on view at the Mumbai Film Festival. Dheeraj Akolkar's Liv & Ingmar had actress Liv Ullman talking about her personal as well as professional life with the legendary Ingmar Bergman. Marina Zenovich's Roman Polanski: Odd Man Out zoomed in on the controversial arrest and imprisonment of the director on the charge of unlawful sexual intercourse with a minor. And to bring up Bollywood there was Nidhi Tuli's rags to riches tale of the Bollywood choreographer called The Saroj Khan Story.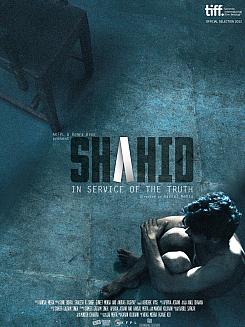 However, one of the most compelling biographies was not a documentary but a feature film. One which focused on a relatively less celebrated name: the activist-lawyer of Mumbai, Shahid Azmi, who was slain while defending Mumbai bombing accused Fahim Ansari. Director Hansal Mehta claims he has always been fascinated by the ordinary. "I am not interested in stories of great people. I want to celebrate greatness in the commonplace." With Shahid he does exactly that. Through the life of Shahid he captures the changing psyche of the common, simple Indian Muslim in the changing India. However, Shahid's devastating encounters with riots, jihadist camps and jail make him emerge stronger. He studies law to defend those wrongfully accused as "anti-national". Before being gunned down he had amassed 17 acquittals to his credit. "It's an unnoticed story and closer home," says Mehta.
The fact that it's a slice of recent history actually made the research easier. "There were many people to recount Shahid's story," says Mehta. Despite the base in hardcore politics, his film is gentle and minimal than heavyhanded and dramatic. It does start rather jerkily with protracted sequences in jihadist camps but quickly settles down as the focus shifts on a lower middle class Muslim family that is portrayed with warmth and simplicity. "I never saw the characters as Muslims so there is no exoticisation or romanticisation. It's a human story about a man who happened to be Muslim," says Mehta. Authentic feel comes because the film has been shot on actual locations, be it Shahid's real home or office.
The actors rise to the film's demands. Be it Raj Kumar Yadav playing the lead role with quietude and dignity or Shalini Vatsa as the fiery rival lawyer, the performances pack in a punch. More so from unknown names like Mohd Zeeshan Ayyub as Shahid's supportive brother or Baljinder Kaur as his loving Ammi. Kaur, a 1999 NSD graduate, had given up acting and was leading a life of oblivion in Haryana till casting director Mukesh Chhabra "found" her.
Mehta's biggest challenge, however, was to make a contemporary film that could voice his concern about our increasingly polarized society. The MFF screening was a test on how his concern would be echoed by the audience. "I was keen to know the response of Mumbai," he says. Going by the first screening he seems to have struck the right chord.
---
This did not appear in print, and appears as a web-extra