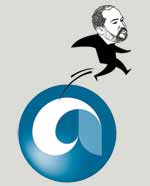 Muted Departure
Ravi Singh, who teamed up with David Davidar to start Aleph Book Company three years ago, has quit. He is serving his notice period and May 14 will be his last day of work at Aleph, which was started in partnership with Rupa. There are reports that Ravi, a publishing veteran, has quit over the question of Aleph withdrawing Wendy Doniger's On Hinduism, as demanded by Dina Nath Batra of the right-wing Shiksha Bachao Andolan in a court case. The mild-mannered Ravi refused to be drawn into the reasons for his quitting but Aleph will not be the same without his deft editing touches and keen eye for writing talent.
Advertisement opens in new window
---
Paris a la Mode
Senior journalist and The Hindu's Paris correspondent for a long time, Vaiju Naravane, has surprised everyone by writing a book of fiction, rat­her than about a big news story or diplomatic intrigue. She says she has surprised herself more that there was Transgressions (HarperCollins) inside her, about the life of an Indian model in Paris. The city, of course, is a character in the book and it reflects the love-hate relationship Vaiju has had with it.
---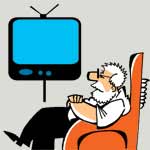 Candle Newsnight
And here is a poem from Ranjit Hoskote's new collection Central Time for all those weary of watching election bulletins. It's called Electronic Nocturne: The TV goes dead, killing all the newscasters, Go, loud satraps of the night, leave us alone with darkness and ourselves.