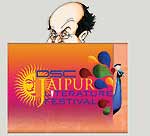 Shadow Of A Verse
The ghost of Salman Rushdie refuses to leave the Jaipur Literary Festival (JLF). The organisers said Rushdie had no plans of coming, but some fringe Muslim groups have said they will not let Jeet Thayil, Ruchir Joshi, Amitava Kumar and Hari Kunzru speak at the venue—all four read passages from The Satanic Verses last year. What the protesters missed was Thayil is the only one officially scheduled to speak this year in a session titled 'Junoon in the Company of Poets' with Tishani Doshi and Sheniz Janmohamed. The organisers are categorical: they won't let anyone terrorise the festival.
Advertisement opens in new window
---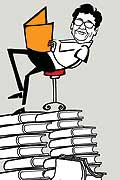 Comedy of Terror
In this episode, there was a mix-up. It was Ruchir Joshi, filmmaker and writer (The Last Jet Engine Laugh) who had read from The Satanic Verses, not Ruchir Sharma, investment banker and author (Breakout Nations), as some leading dailies had reported. Ruchir Sharma has two sessions this year, one with Nandan Nilekani and then a cryptic one called 'India: An Unbound Nation In Spite of the Gods?', with Edward Luce and Gurcharan Das.
---
Shared Story
There has been a rush of film awards on TV—Screen Awards, Zee Awards, Flimfare Awards.... Kahani won 'best story' in two of them, among other awards, including best actress (Vidya Balan) and best film. Kahani's story is credited to director Sujoy Ghosh and author Advaita Kala. The channels announced it as such, but only Ghosh was present. The two have fallen out over copyright issues. The question is if Advaita will get to see any of the statuettes at all.