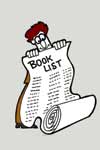 Chasing Sedition
What do Indian writers covet more than the Booker prize? It's a ban by the Narendra Modi government! Ever since Joseph Lelyveld's Great Soul has been soaring up bestseller lists, his Indian publisher is asked by other writers: "How does one get one's book banned by Modi?" HarperCollins, who bought the rights of Lelyveld's book without a tussle from Random House, US, were planning a modest print run of 5,000. After the ban, it doubled it to 10,000, then had to go for an extra 5,000. It has been an incredibly good half-year for HarperCollins—first the Lelyveld ban, followed by a Pulitzer for one of their titles: Emperor of All Maladies by Siddhartha Mukherjee. And with no news of a replacement for Penguin's Ravi Singh, more writers are knocking at Harper's doors.
---

Timer-Set Tomes
The timing of big books hitting the shops are carefully calculated. If you're wondering why Penguin has pushed forward its biggest fiction release of the year—Amitav Ghosh's River of Smoke—to June, here's why: so it will have time to make it to the Booker long and shortlists—crucial for a literary novel's saleability. HarperCollins is launching their biggest fiction title of the year, Arvind Adiga's Last Man in Tower in July, for exactly the same reason.
---
Machiavellian Pull
Ever since publishers here have started subscribing to BookScan, we are discovering the truth behind bestseller frauds. At the top of the charts is neither Chetan Bhagat nor Jeffrey Archer, but a political thriller based loosely on the life of Chanakya by a Yale University graduate, Ashwin Sangha. It's called Chanakya's Chant.