Valley Of Words



The Indian litfest scene is shifting to Bhutan this month, where the originators of the Jaipur litfest are organising the mountain nation's first ever literary festival, Mountain Echoes, from May 17-20. Why Bhutan? Partly because one of the biggest patrons of litfests, Pavan Varma, has recently moved base there, as ambassador to Bhutan. But judging by the enthusiasm in Bhutan, a litfest of this sort—mixing Bollywood scriptwriters and lyricists with Chetan Bhagat and tempering it with some known and unknown literary voices from India and Bhutan—was long overdue. As for litfest addicts here, some of them have decided to travel all the way to Thimphu for what can only be described as literary tourism of a new sort.
---
Broken Estate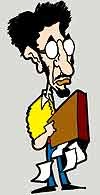 Unlike Salman Rushdie's papers that were sold to a US varsity for $5,00,000, there seem to be no takers for IWE pioneer Raja Rao's manuscripts and unpublished novels. They were thrown out of University of Texas soon after the author's death in July 2006, and shifted by his widow, Susan, to their residence in Austin. But with the house now being sold by the owners, Rao's papers are once more homeless.
---
A Resident Bond
Whether Frieda Pinto gets to be Bond girl or not, there's one role she is really keen on: Khair un Nissa, the Hyderabadi girl who propositioned the British resident in William Dalrymple's blockbuster, White Mughals, that is going to be made into a film.