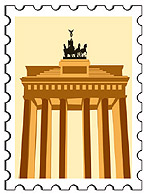 History redux
Berlin isn't being coy about revisiting World War II, with May 8 marking the 70th anniversary of the end of that abomination. In this capital of reunified Germany, and variously the capital of style, uber cool, political churn, death-dealing and destruction of two world wars, the Cold War, and all manner of resistance movements—packed into less than a hundred tumultuous years—history is in your face. The German Historical Museum advertises its main event, which runs from April to October, on large banners outside its cavernous, ornate structure along the city's iconic avenue, Unter den Linden. Titled '1945—Defeat. Liberation. New Beginning', the exhibition's face is a grinning Allied soldier cradling a broken bronze head of a glowering Adolf Hitler.
At the western end of Unter den Linden—literally, under the lime trees—by another iconic location, the Brandenburg Gate, is one of several then-and-now exhibits in this central district that, during the Cold War era, was East Berlin. A massive black-and-white print of the area in post-WW II devastation is placed a hundred metres or so before the gate. The image of gutted buildings, injured and shell-shocked veterans and civilians quietens the milling crowds of tourists. Locals too, among them a young mother pushing a pram, an elderly gentleman dressed formally in this revitalised area of plush hotels, designer stores, embassies and government offices. They stand for a minute or two, absorbing the enormity of history.
---
Meanwhile, the future
Within shouting distance are the Reichstag and the massive Soviet-era Russian Embassy—before reunification, it was the Soviet embassy in East Berlin. But ongoing history, some of it redolent of tolerant, jazz-era Berlin, too is on display. Nearby, on Unter den Linden, Microsoft's Digital Eatery invites me for coffee, free WiFi, cakes, fresh juices and Xbox, in that order. A poster for Chicago—Das Musical comes into view almost at the same time as the landmark TV tower in Alexanderplatz, or Alex. After I turn left at Friedrichstrasse, heading north for a long walk back to my guest house near Nordbahnhof, the North Station, the boutiques Pandora and Escada beckon. I learn that former Dire Straits frontman Mark Knopfler and his band are to visit. Tired, I head into the only time-worn establishment I see: the Oscar Wilde Irish Pub. At a sidewalk table, I find myself seated by two Lebanese men drinking Guinness. Rush hour Berlin rushes about us.
---
Left, Right
Alongside several other eng­agements, my visit took in a public interaction around the German translation of my book set in Nagaland and Manipur, Highway 39: Journeys through a Fractured Land. It was at Taz Cafe, run by Die Tageszeitung, a left-leaning newspaper commonly called Taz, owned by a cooperative. Thankfully, that didn't prevent a pan-income, pan-politics and pan-ethnic crowd from filling the space. While that is pleasing for any writer, I loved the location: just down the road from Checkpoint Charlie, the Cold War post where Berlin's American Sector gave way to the Soviet one, a magnetic setting in several spy thrillers I devoured as a teenager. The Taz building also hosts a curiosity. It's a sculpture, allegedly a naked likeness of Kai Diekmann, editor-in-chief of mass circulation right-wing tabloid Bild. The installation, grossly priapic, runs across several storeys of the Taz building, and faces the neighbouring office tower of Bild. Titled 'Peace Be With You', the satirical work by Peter Lenk remains controversial among staffers. Sven Hansen, Asia editor and my host for the evening, said he was looking forward to Taz's shift to a new building.
---
The Wall-Not
When I first visited Berlin in 1992, I bought a tiny graffiti-marked piece of the Wall glued to a Perspex case. A certificate guaranteed it to be genuine. The nearest station to my guest house, Nordbahnhof, was in those days a ghost station. West Berlin commuter trains, subway and overground, were allowed to ply on lines passing through East Berlin, but they never stopped. Now, there's a large slice of the Wall near my modest guest house on Bernauerstrasse, which once overlooked the forbidding Wall, and Nordbahnhof is a busy S-Bahn stop. One evening, as I sit with friends on the sidewalk by a cozy cafe, in a now-fashionable neighbourhood beyond Nordbahnhof in the former East, a little girl comes by. She holds a brilliant purple flower, a gift of precious summer. As her delighted mother watches, the girl spontaneously thrusts the flower in my direction. "Schon, oder?" she asks with a pixie grin. Beautiful, isn't it?
---
Sudeep Chakravarti's latest book is Clear. Hold. Build: Hard Lessons of Business and Human Rights in India; E-mail your diarist: sudeep.chakravarti [AT] gmail [DOT] com, follow him on Twitter @chakraview