It's a week of contrasts at the Bollywood box office. While Kai Po Che's heartfelt composition, Suljha denge uljhe rishton ka manjha (We will disentangle the knotted spool of relationships), has been soothing many a frayed nerve, Zilla Ghaziabad has been drumming up a noisy crescendo on the idiot box with the latest mother of all item numbers. Geeta Basra calls Main Ghaziabad ki Rani hoon a "dhinchak" song and admits she enjoyed doing the "hot and sexy" bump 'n' grind routine.
"These harm-to-women arguments rest on mere assumptions. Where do these assumptions come from and are they true?"
Basra, however, may not have realised that she might be one of the last item girls to find the going easy on TV. Last week, the censor board announced its decision to scrutinise stringently any and all "objectionable" item numbers aired on television, as individual songs or as part of film promos. Central Board of Film Certification CEO Pankaja Thakur was prompt in clarifying that it's not a ban on item songs in films per se. While their use in films won't be affected, the standalone song clips and film promos found 'distasteful' will be given an A certificate, which in turn will mean they wouldn't get played on TV. No adult content is allowed on Indian TV and the provision for it to be shown after 11 pm is still under review by an expert committee.
So what does this mean? Basically, that it's goodbye to the unbridled use of item numbers in whipping up curiosity for a forthcoming film on TV. This opens up several other questi­ons: if they don't serve their marketing purpose, will the producers become more careful and scale back on item songs? And will the army of item girls—from Rakhi Sawant, Sher­lyn Chopra to Sambhavana Seth, for whom the pinnacle of success, post the rigorous gyrations, was a confirmed seat and big money in the Big Boss TV ser­ies—now join the jobless millions?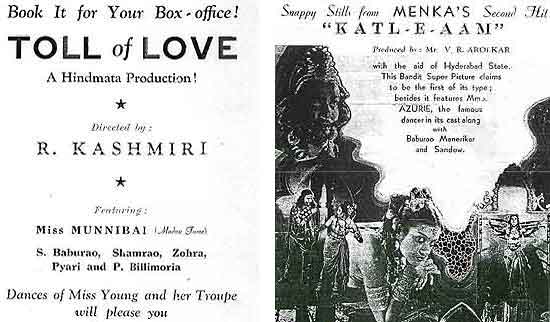 Item song as USP Posters of these two 1935 films boasted of song and dance
"Films get stalled for Dalit, minority or caste portrayals, but we women, who form 50 per cent, have no redressal."
This move by the censor board has yet again opened up the proverbial can of worms. Are the new item songs crossing all limits, with the lyrics getting more lewd and the portrayal of women hitting a nadir in vulgarity? Have these songs gone unchecked for too long? Do they corrupt society and degrade women? No one has quite been able to pin down when and how the curious genre came into existence. But it has certainly come a long way from the days of Kuku, Helen and Madhumati, from the cabarets and bar dances of yore. Back then, the item number either carried the narrative forward or offered an entertaining break. The contemporary item song, by contrast, is nothing more than an exercise in unbridled titillation and voyeurism. The choreogra­phy is similar across most songs: one semi-clad women getting leered at by several men, being objectified for the consumption of men and talked of as some kind of dish. "It provides more for the male gaze than for entertainment," says film historian Theodore Baskaran. "Nudity per se," says actress Paoli Dam, "is not objectification of women. It involves a woman's participation. Item numbers, however, are only titillatory." "It's an unequal sexuality," says feminist and gender activist Kamla Bhasin, "where one is the subject and the other, the object. The woman is naked, the man fully dressed. There is no mutuality. The woman sells and the man consu­mes." For Kamla, the songs are demeaning for men as well: "Twenty lips licking away one woman. Men are not like that either." Filmmaker Shoojit Sarcar admits that item numbers are now just a "marketing force or pressure". "First thing that's discussed in a production meeting is the item number," he says. For veteran journalist Rauf Ahmed, "they're just a ploy, nothing creative."
But many in the trade believe that films are soft targets, especially in the light of the horrifying Delhi rape. They say the songs have become an easy target for society's own latent ills. "If you can't correct things for real, then you try and set them right in the virtual world. You play to the mob and protect middle-class anxieties," says filmmaker Mahesh Bhatt. "These harm-to-women arguments offered by industry-bashers rest on mere assumptions. Where do these assumptions come from and are they true? Where is the credible evidence to prove anything?"

Malaika does an Anarkali in Housefull2
"Nudity per se is not objectification of women. It involves a woman's participation. Item numbers, however, are titillatory."
But Kamla feels there is a definite dialectical relationship between cinema and audience, that it's not just a one-way street. According to her, consistent viewing of such stuff desensitises people, specially impressionable minds. "The impunity of the hero gets endorsed, the patriarchy gets internalised," she says. "Films get stalled for Dalit, minority, caste portrayals but we women, who form 50 per cent, have no redressal, we are a divided constituency." Film expert Pavan Jha, also a concerned parent, feels that things have changed since the item numbers started getting into the public domain. "The kids are literally growing up on them now," he laments. For Santosh Desai, MD & CEO of Futurebrands, it's this casualness and currency with which the phrase, and the songs in turn, have crept into our lives that's perturbing. "It's worrying how they've become naturalised. Quite like the air we breathe," he says. The Delhi rape did wake the audience up from the daze. Much of this thinking around item numbers has emerged in the wake of the incident. In fact, the CBFC's decision, on the instructions of the home ministry, follows a representation made by the National Commission for Women where they specifically held the songs Main hoon balatkari and Fevicol se up for censure.
No wonder many are also questioning it as a kneejerk, piecemeal reaction. A consistent engagement, debate and discussion have been found lacking. "Things can't be done in such fits and spurts," says Akhila Sivadas of the Centre for Advo­cacy and Research. "A kind of structure has to evolve through consensus, and policies have to be consistently framed over time." There is a momentary outcry, but nothing gets crystallised or resolved. Lyricist Javed Akhtar wants to know something more basic: how is the CBFC defining an item song? "What are we talking of here? Whatever is crude, vulgar and obscene should be restricted. What is exuberant should not be a problem. This could apply to any dialogue or song. Why pick on item numbers? This is oversimplification."

Not glued to TV Kareena extolling Fevicol virtues in Dabangg 2
"Restrict whatever is vulgar and obscene; what is exuberant should not be a problem. This could apply to any song. Why pick on item numbers?"
Machismo and patriarchy are embedded in our narratives and women have anyhow been packaged rather handily. Vijaylakshmi Nanda, convenor of the Women's Development Cell and associate professor at Miranda House, agrees. "It can't just be the item numbers. There are far worse portrayals. And why just women? A Salman Khan also needs to be questioned on the masculinised, macho portrayals he is pro­pagating," she says. Not much can be achieved by policing, feel most. "I may not agree with the item songs personally but will fight for their right to be there," says filmmaker Sudhir Mishra. There is also the danger of subjectivity and generalisation. Who decides what vocabulary is right, what clothes look good? "There is no space for nuance in a committee or board. Lots of good stuff might get killed," says lyricist Prasoon Joshi. At a time when the censor board is opening up and allowing a lot of mature, adult content to play on our screen, this particular step feels regressive. "If we accept this once, it won't end," says Mishra.
Rest assured, however, item numbers are not going out in a hurry. Last heard, Priyanka Chopra was getting set for her maiden item number, Babli badmaash hai, for Shootout at Wadala, with the precondition that it would have 'tasteful' lyrics. Rapper Honey Singh, meanwhile, is back with a self-referential, mocking song, blasting on the radio now which obliquely captures the "plight" of item numbers: "Inna raula rappa kyun paate ho, Gande gaane kyun gaate ho; Koi yo yo ko samjhalo, Nahi toh gharan de kunde la lao...." Either the yo yos have to stop singing the "dirty songs" or we'll have to shut our doors to these songs. It's between the creators and the consumers. But between them sits the censor board, a bit awkwardly.
---
Sheila ki to Halkat Jawani: Set Top Baulks
From Gulzar's poetry to the depth of inanity, the item number spans a broad spectrum. Where do you put the stop?
Hot

Humma humma Bombay 1995 (Sounds like a nursery rhyme now)
Chhaiyya chhaiyya Dil Se 1998
Gulposh kabhi itraaye kahin, mehke to nazar aa jaaye kahin
Taaveez bana ke pehnoon usay, aayat ki tarah mil jaaye kahin (Sheer poetry by Gulzar)
Main aayi hoon UP-Bihar lootne Shool 1998 (I've come to loot UP and Bihar)
Chamma chamma China Gate 1998
Kajrare, Bunty Aur Babli 2005
Teri baaton main kimaam ki khushboo hai, tera aana bhi garmiyon ki lu hai (Again, poetry by Gulzar)
Hotter
Honth rasiley Welcome 2007
Honth rasiley tere honth rasiley; Dil kehta hai mera ye ras pee le (My lips are juicy, drink the juice...)
Zara zara touch me, touch me, touch me Race 2008
Sheila ki jawaani Tees Maar Khan 2010 (I know you want it but you never gonna get it)
Munni badnaam hui, Dabangg 2010
(Le Zandu balm hui, darling tere liye)
OTT
Tinku Jiya Yamla Pagla Deewana 2010
(Arrey o chikni, arrey o item/ Arrey o beautiful, main bhi hoon handsome)
Naam Jalebi bai Double Dhamaal 2011
(My name is Jalebi bai...)
Chikni chameli Agneepath 2012
Jaanleva jalwa hai, dekhne mein halwa hai Pyaar se paros doongi, toot le zaraa (I look like halwa, I will serve it myself, just grab it...)
Halkat jawani Heroine 2012
Aankhon ko kyun seke, haathon se kar manmaani Night ki naughty kahaani, ye halkat jawani (Don't just look, do whatever with your hands. This is night's naughty story...)
Fevicol se, Dabangg 2012
Main to tandoori murgi hoon yaar, gatak le saiyan alcohol se (I'm like tandoori chicken, swallow me with alcohol)
*All English translations very loose