Happening Place
Why startups are blooming
Bangalore's IT boom was aided by infrastructure created for large PSU institutions
Tech companies in the city have spawned an ecosystem that values, incubates new ideas
Burgeoning young population, with a sizeable expat crowd, that is not afraid to fail
Plenty of venture capital money going around to take the road not taken, to create new businesses
***
The idea was simple, really. To get strangers to share a car ride in a city notorious for its traffic snarls. It struck Vardhan Koshal, 29, one night out of the blue, and he tossed and turned and finally took to hammering out the details with his software-friend Srivatsan Mohan, 27, over endless cups of cappuccino at a neighbourhood CCD (Cafe Coffee Day, for the uninfor­med). When the idea crystallised into ridingO, Jabalpur-born Koshal went to his bosses at Marketelligent, where he worked as an analyst, and told them he wanted to quit to launch his own venture. The response was unexpected.
"They offered to let me and Srivatsan work out of my old office, pro bono. Since we're just starting out and putting our own money into it, being offered a peaceful workplace and some free advice from those who've been there, done that, is a huge boost," says Koshal, who booked the conference room at the office in a leafy lane of HSR Layout in southeast Bangalore for this interview. "We take mentoring youngsters very seriously, even if I lose employees in the process," says his former boss Roy Cherian. "It's about contributing to the entrepre­neurial ecosystem and spirit of the city."
That 'spirit' is what has put the bang back into Bangalore. If the IT boom of the giant tech companies punctuated the late '90s and early 2000s, startups are the zeitgeist of the second decade of the third millennium. First-time entrepreneurs—many of them former techies, many from outside Bangalore—are chucking the comfort of a steady job to set up small, dynamic companies that think out of the box and make you wonder "Why didn't I think of this?".
www.kukucrate.com
Who: Charu Agrawal, early 30s
The idea: Monthly, theme-based, hands-on learning projects for kids aged 4-8, delivered to your doorstep, combining art, science, craft, culture plus cognitive, linguistic, sensorial growth. Your box for the month could throw up a magnetic fishing game, or how to paint a canvas bag, or creating a colour wheel, or making colourful jelly fish.
Initial funding: Low capital, out of her savings
Scale-up: Making hands-on project models for schools, and making the venture global.
Suddenly, anyone who has an idea seems to have a company, fuelling a boom in offline and online ventures in food, fashion, design, travel, healthcare and education. And what better place than namma Bengaluru, whose famously cosmopolitan culture, agreeable climate and a young, enthusiastic populace pro­vides the perfect breeding ground for original businesses. Riding on a spate of high-brow networking events, a healthily growing set of funding options, and a reliable IT solutions backbone, the times have never been better for being an entrepreneur in Bangalore. The whackier the idea, the better.
"We're witnessing a strong thought wave here, where young and veteran professionals are looking at local problems, and exploring solutions within," say Srikanth N.K. and Sriram Hariharan. The US-returned duo recently launched myfriday, an employee management system that looks not at white-collar jobs but at unorganised labour, like daily-wagers or door-to-door salespersons. "Of my classmates from IIM, 80 per cent in Bangalore are involved in one startup or another," says Srikanth.
It shows up in the numbers: according to the recent World Startup Report, Bangalore hosts 41 per cent of India's startups. "After the frenetic activity driven by the internet boom, and then the second boom around outsourcing, Bangalore seems to be getting its shine back, and this time, the scope of the entrepreneur is much wider, with many more the­mes at play," says Kan­waljit Singh, a venture capitalist at Helion Ventures. The have-idea, start-company, so-what-if-we-fail culture has become so pervasive that there is even a 'Startup map of Bangalore' (upinbangalore.com), pointing to a heavy concentration in the neighbourhoods of Indiranagar, Kora­mangala, Jayanagar and around.
www.10wickets.com
Who: Ashesh Nishant, 33, and a 13-member team
The idea: Complete cricket solutions for players, clubs, local and national teams, a platform to network and showcase your credentials, current form, scores, training and engage with fans
Initial funding: Rs 36 lakh, self-funded with contributions from friends
Scale-up: To include other sports, engage with bigger players
It's a big leap in what used to be a pensioner's paradise, where if you found a good job, you held on to it for good. The spurt of energy shows: Gandharv Bakshi, 29, and wife Lavina Mahbubani, 26, might be new to the game, but don't fear failure. At Nasscom's 10,000 Startups campaign last month, the duo clambered on to the stage and made a live funding pitch for their idea of solar-powered accessories for cellphones, iPods and laptops. "It was unnerving to be on stage and negoti­ate. But I think we ended up with a good deal. Google India MD and angel investor Rajan Anandan wrote us a Rs 25 lakh cheque on the spot in return for a 10 per cent stake in Lumos," says Bakshi, who'll first target cyclists for his made-from-scratch backpacks.
The bug is in the Bangalore air and more and more people are getting bitten. When NRI Charu Agrawal and her husband decided to relocate from the US a year ago, the choice, she says, was obvious—"Bangalore, with its ready acceptance of new ideas and cosmopolitan attitude." Thus rolled out Kukucrate, a startup offering low-cost handmade products for children. Even as we chat, Charu, her driver, housekeeper and a neighbour's cook pack about a 100 theme-based handcrafted projects into attractive neon-green giftboxes and stack them against the living room wall, ready to be shipped to homes across India. "I end up working 14 hours a day, at home and in my garage, often at night, when it's quiet and the kids are asleep."
Not that everyone makes for a success story. Bangalore has had its share of failed serial entrepreneurs, and they're still around. But the city managed to turn even that into an opportunity when it hosted FailCon, where failed entrepreneurs held forth on how to succeed. However, the city's heady history of launching quickfix ventures, along with a culture of easy collaborations, still remain its strongest links.
Scrapehere
Who: Khaleel Pasha, 31, and Hema Kiran, 23
The idea: To build a bridge between stores and customers. Socialising shopping. Find a dress that's great, but too expensive? Type in how much you would like to pay for it and Scrapehere will intimate you once the price drops.
Initial funding: Rs 8 lakh of Khaleel's savings
Scale-up: Targeting India's online shoppers, scaling up to 1 lakh users, refining the product and making it work within the social media network.
In one of Indiranagar's residential lanes, up on the third floor, a small two-room set full of bean bags and a couple of computers is the venue for one such collaborative venture, Tripthirsty. "The travel market is lucrative and the cost of launching a company has come down drastically, what with the efficiency of cloud computing," says Sundar Laxma­nan, leader of a pack of 25 to 36-year-olds, some of whom met at their former companies. On the downside though, says team member Kingsley Joseph, "you're competing with the Myntras and Flipkarts when it comes to hiring."
Competition or not, it certainly helps to have role models like Flipkart, Fashionara, Redbus, Chumbak, all Bang­alore-based companies. "There are so many enthusiastic people here who have already been through the grind, and are ready to help at every stage. I see my peers having a go at it, some even failing in the process, but so what?" says Gan­dharv Bakshi, currently being mentored at Ginserv, a tech business incubator in the city where he has rented workstations at Rs 5,000 a month. "Entrepreneurs in Bangalore tend to set up their ventures quickly, with all the resources at their disposal. And if they fail, they fail quickly too. But I feel the productivity and quality here is higher," says Krishna Kumar Natarajan, chairman, Nasscom, the trade body that's currently setting up a 'startup warehouse' in the city, to help startups get a foothold. Even heavyweight angel networks outside the city, like the long-running Mumbai Angels and Harvard Alumni Angels, are bringing business to the city. "Bangalore now has a strong financial base for entrepreneurs, with 4-5 quality investor networks and a good body of VCs," says Mumbai Angels co-founder Sasha Mirchandani, who kickstarted Bangalore Angels recently.
Sure, there's plenty support for this booming community from all stakeholders, but also a sense that it could do with some fine-tuning. "While there is a lot of noise being created around the ecosystem, there is not enough critique and constructive questioning when it comes to business mod­els and long-term survival and exits," says Ashish Sinha, editor at NextBigWhat.com.
myfriday
Who: Srikanth N.K, 45, Sriram Hariharan, 38
The idea: Tapping the market where 75 per cent of the workforce doesn't necessarily work from office—so myfriday works as an innovative employee solution that displays dynamics like work performance, leaves, duties, feedback etc.
Initial funding: Rs 15 lakh of savings
Scale-up: To increase number of users, take it to half a million employees in the country.
It's a tougher market than other cities, expectations tend to be higher, says young chef and food entrepreneur Manu Chandra, who took a chance with gastro-pub Monkey Bar last year with great success. "If anyone tells you that compe­titors are wishing you well and sharing trade secrets, they're bluffing." Yet, the Bangalore entrepreneur, often an 'outsi­der' or US-returned, seems more embol­dened than ever to take the risk. "There is a bigger sense of security here now, a sense that 'If I fail, I can get another job, I can start something else'," says Cherian.
There are other reasons for wannabe entrepreneurs to flock to Bangalore. This is where you have new co-working spaces, angel networks, incubators, startup clubs striking root every other week. Khaleel Pasha, 31, and Hema Kiran, 23, both founders of Scrapehere, a 'social window shopping' venture, find that taking up room at a co-working centre in Bangalore's HSR Layout has helped them immensely in getting in the thick of things. "It's good to have people with similar mindsets in the same space," says Kiran, who is from Hyderabad. Barefoot and dressed in casuals, he's multi-tasking at the moment, Macbook in hand, and gulping down a cup of masala tea supplied by the facility's cook-in-charge. "Plus, we have constant support from networking, and blogs and websites like Yourstory," says Pasha.
www.tripthirsty.com
Who: Sundar Lakshmanan, 33, and team of five
The idea: Creating a network of travellers, and helping them travel more. Find places you want to visit. Add them to your wishlist. Tripthirsty will get you great deals to visit them with friends.
Initial funding: Self-funded (Rs 2 lakh), then raised Rs 10 lakh from IIM's centre for innovation, incubation and entrepreneurship (CIIE)
Scale-up: Targeting long weekends and getting travellers sweet deals for offbeat places.
You only have to see the kind of energy and partnering that goes into any entrepreneurial event here to fathom just how keen Bangaloreans are to make the city the go-to place for new ventures. "Just like Kerala is branded as the go-to tourist spot, we want Bangalore to be one for startups," says Shashi Kiran of The Indus Entrepreneurs (TiE), a global network of entrepreneurs, and co-founder of the Sta­rtup Festival. "The idea is to address issues like the stigma attached to entrepreneurship, and to establish that it's not something frivolous or shady."
It helps of course that the image of the typical Bangalore entrepreneur has got elevated, as Kanwaljit Singh puts it, "even among the older generation. There is also a willingness among middle-aged professionals tired of MNC jobs to take that leap into smaller, newer companies, where they get to be in charge rather than be a cog in the wheel".
www.ridingo.com
Who: Vardhan Koshal, 29, Srivatsan Mohan, 27
The idea: To ease commuting to work through car pooling. Give a missed call to a central number when you want to leave for work and you will get SMS details about a common pick-up point. The idea is to keep the cost of travel as low as an AC bus.
Initial funding: Crowdsourced, Rs 5 lakh from friends
Scale-up: Increase density of clients, add more neighbourhoods, cities.
"Entrepreneurs today are a lot younger, a lot cooler," says Manu Chandra. Patna-born Silicon Valley-bred Ashesh Nishant, 35, is typical of the breed. His one-of-its-kind sports venture 10Wickets ("complete cricket solutions for grassroot to state-level players") is run out of a spacious new workspace done up in bold red and white, with a robust 13-member team that includes his wife, Jyoti. "We started with Rs 36 lakh in hand, including savings and contribution from friends, and I pay my team a little above market rate," says Nishant.
Nishant's generous attitude has eve­ry­thing to do with the current upswing in confidence among entrepreneurs in the city, as angel investor and entrepreneur Joe Fernandes corroborates. He recently launched Blunkit, an app that aggregates all the goings-on in your personal life. It's a confidence built on the simple fact that the city's distinctly large proportion of young, ambitious prof­essionals is happy to experiment with new products, value new ideas, and has disposable incomes to pay for unique services.
Blunkit
Who: Joe Fernandes
The idea: Creating an ecosystem for richer discovery—where you aggregate all you do in your personal time, like booking tickets to a movie, eating out with friends, watching a play, under one roof
Scale-up: Evolving with how customers spend their time, keeping tabs on what's out there for people to do.
It's what prodded Vidya Nataraj, 31, from Chennai, and Gautam Golchha, 43, originally from Calcutta, to set up Tailorman this year, which makes strikingly affordable bespoke clothing for men. "It works perfectly for us to have Tailorman in Bangalore as the city combines the best of technology, fashion knowhow and strong retail sense. We started with Rs 1 crore, self-funded, but when we need to reach to VCs, we know funding's close at hand," says the duo.
Is Bangalore ready to shed its 'Silicon Valley of India' tag for a less me-too mould? Seedfund co-founder Bharati Jacob, who calls it "exciting times", is placing her money on it. As is tie's Shashi Kiran. "The pot is boiling," he says, "we've got to keep it churning."
***
South By Southeast
Where startups are taking shape in Bangalore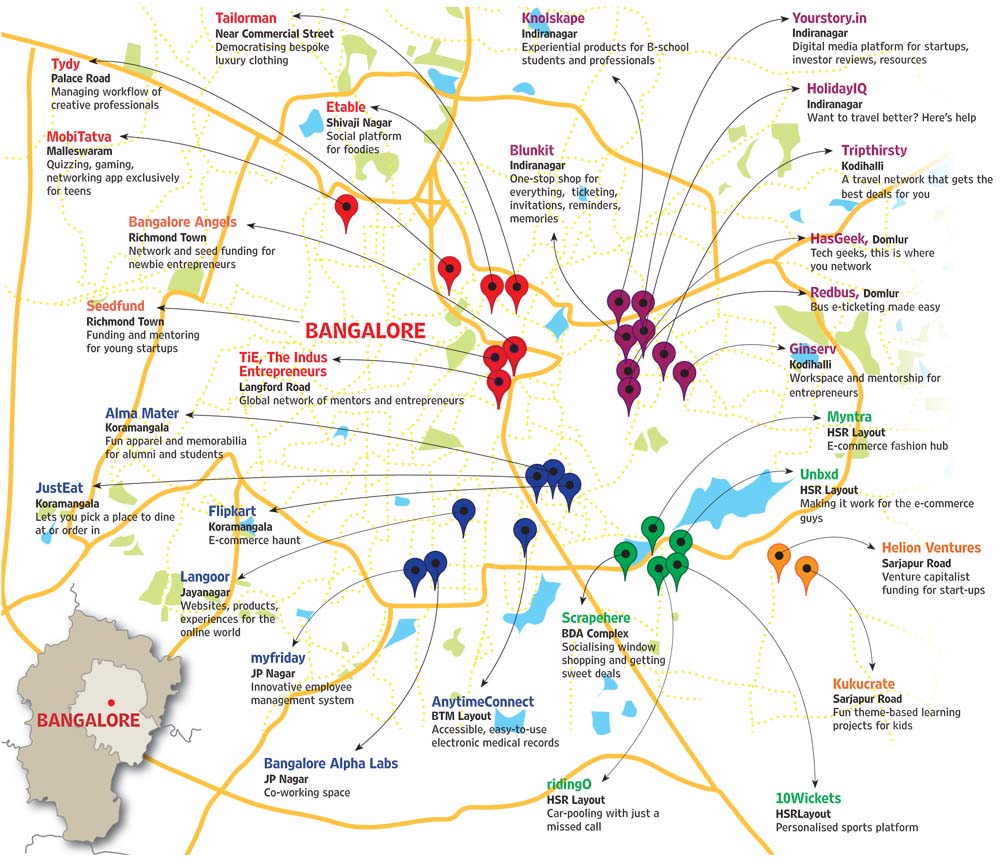 Map by Kuldeep
---
By Neha Bhatt in Bangalore; Photographs by Jagadeesh N.V.