Devil In Details
Chandramohan, the original choice for Emperor Akbar, had passed away by the time filming resumed, and was replaced by Prithviraj Kapoor; Sapru was too old to play Prince Saleem, making way for Dilip Kumar, and Madhubala as Anarkali stepped into Nargis's jootis (the latter was by now mostly with Raj Kapoor).
—The Immortal Dialogue of K. Asif's Mughal-e-Azam
When Raj Kapoor heard K.A. Abbas narrate the story of Awaara, he immediately gave him a signing amount —a princely sum of one rupee.
—The Dialogue of Awaara
Johnny Walker made for an unforgettable Abdul Sattar singing Sar jo tera chakraye in Pyaasa. But in the early footage, he played Vijay's unscrupulous friend Shyam. Guru Dutt soon realised the audience wouldn't take to Walker in a negative role, and cast his assistant director Shyam K. instead.
—The Dialogue of Pyaasa
Coming Soon: Bimal Roy's Devdas, Kaagaz Ke Phool, Sahib Bibi Aur Ghulam, Chaudhvin
ka Chand, Guide, Rang de Basanti, Parinda, English August, Maqbool, Omkara, I Am
***
Remember Pia (Kareena Kapoor) gleefully going Zoobie doobie in 3 Idiots? Now imagine Chatur (Omi Vaidya) comically responding to her melodic overtures. Well, 3 Idiots could have just gone that way—an early draft of the film pitched Pia as Chatur's wife! Another draft saw her as Farhan's (Madhavan) ex-girlfriend. Again, the ingeniously engineered delivery of a baby with a vacuum cleaner wasn't the figment of a fertile imagination, but the result of educational visits to gynaecologists by writer-director Raju Hirani and co-writer Abhijat Joshi (which stirred up much banter at the duo's expense).
There's more where that came from. Released last year, 3 Idiots: The Original Screenplay is a trivia trove with Hirani, Joshi, producer Vidhu Vinod Chopra, and cast members letting readers in on the method and madness behind the film. Needless to say, the book was a huge hit. Dipa Chaudhuri, chief editor at Om Books International, says, "The first edition was a sellout." A quick reprint later, fans took home over 6,000 copies.
Having conceptualised and compiled the book, Smriti Kiran, head of the Vidhu Vinod Chopra Films publications division (a year-old department dedicated to publishing screenplays), is confident of replicating the success with other titles. With good reason. Screenplays and dialogues of mainstream Hindi movies—classics like Mughal-E-Azam, Mother India, Awaara and Pyaasa, blockbusters like Lage Raho Munna Bhai and 3 Idiots and niche films like My Brother... Nikhil and 7 Khoon Maaf—are now enjoying ample shelf space in bookstores. While Hollywood has long been publishing screenplays, it is only recently that the Indian film industry has begun to document its prolific yield.
It's a painstaking job: Nasreen Munni Kabir recalls how her first project, The Immortal Dialogue of K. Asif's Mughal-E-Azam, published by Oxford University Press, took nine months to wrap up. "There was no reliable and accurate screenplay or list of dialogue, so Suhail Akhtar (who transcribed the Urdu/ Roman) and I transcribed the film line by line from the DVD. It is difficult because sometimes the soundtrack has crackle and not every word is clear," she says.
Her task was doubly demanding because unlike the two-language format (vernacular and English) followed by Seagull for screenplays of regional films, Nasreen came up with a four-language one: Hindi, Urdu, Romanised Urdu and an English translation. Taking up Mother India, Awaara and Pyaasa next, Nasreen reveals with delight that some of the books are now being studied in advanced Urdu and Hindi classes at Harvard, Tokyo and Paris Universities. Currently, though, she is savouring another triumph—getting Dev Anand's go-ahead to transcribe Guide. But before that, she has another cinematic landmark, Bimal Roy's Devdas, to preserve for posterity.
Clearly, it is not merely a script compressed between the covers of a book: it is a chapter of cinematic history, a window into a filmmaker's mind, a document of the social and cultural ethos of the day. Chaudhuri elaborates, "We can see nation-building in Mother India. In Awaara, we see Raj Kapoor as the urchin without moorings, we have a huge feudal mansion, an imperious father...if I was born in those times, I would see all this around me." Most of those who actually did so are no longer around to share their experiences. Which is why Bikash Niyogi of Niyogi Books (which published the dialogue of Awaara and of Mother India) stresses that "it is imperative to record our cinematic legacy while some of the people involved in creating it are still around".
No wonder Smriti Kiran relishes the privilege of being able to turn to Guru Dutt's costume designer Bhanu Athaiya, co-actors Waheeda Rehman and Minoo Mumtaz and cinematographer V.K. Murthy for the upcoming screenplays of Sahib Bibi Aur Ghulam, Kaagaz Ke Phool and Chaudhvin Ka Chand. "Some of the interviews took four months to materialise, but it was worth it," she says.
For Nasreen, revisiting the idiom of the past is no less satisfying, "In Pyaasa, the word mooye (fool) is often used for Johnny Walker. I don't hear people use it anymore." If some words have faded out, so have some emotions. "When you look at the text, you see what specific values have changed, not only for the characters but also for the audience. Would Radha of Mother India move people today?"
Nasreen's question perhaps explains why classics are slow movers in stores. To propel sales, the mechanics of marketing swing into action. The Dialogue of Pyaasa: Guru Dutt's Immortal Classic comes with a DVD of the film. For cinephiles, there are pages from Dutt's short story Kash-ma-kash (out of which Pyaasa was born), in his own handwriting.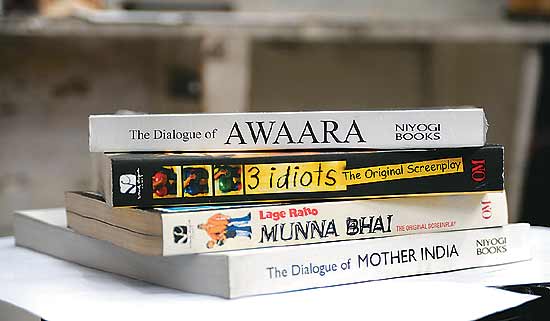 The screenplay of Vishal Bharadwaj's 7 Khoon Maaf offers readers a tempting trifecta: the short story by Ruskin Bond, the novella he expanded it into, and the screenplay. When Susanna's Seven Husbands hit bookstores this year, it became one of Penguin's "most successful film books of all time", says Udayan Mitra. "We did an ambitious print run of 10,000 copies, which has almost sold out—a terrific performance by any standards." Come December, Penguin will send the screenplay of English, August out into the market. Next up are Omkara and Maqbool.
Onir, whose My Brother... Nikhil was published by Yoda Press this summer, is already chalking out the blueprint for his last release, I Am. "It will be in the format of a graphic novel," he reveals.
At Om Books, there's a buzz around Rakeysh Om Prakash Mehra's rebel drama Rang de Basanti. Expected early next year, the book will be packed with behind-the-scenes anecdotes, photos and storyboards by the Rang de team.
As Penguin's Mitra remarks, "Bollywood has started believing in shooting scripts rather than inventing scenes and dialogues on the spot." Indeed, the new crop of smart, well-wrought scripts does promise to make for engaging reading material. They double up as invaluable archives too. Not the musty library vault kind, but archives that come alive with the laughter, sweat and imagination of all the dramatis personae behind a film; a far more lasting tribute than rolling end credits can ever be.