A couple of weeks back an anonymous pamphlet was circulated in the Karnataka HC premises. It pertained to a case where a young software engineer had been killed by his fiancee barely four days after their engagement. The fast- track sessions court in Bangalore had convicted the woman and her three accomplices after seven years of trial. They had been awarded life imprisonment. The convicted appealed in the HC and simultaneously moved a bail application before a divisional bench.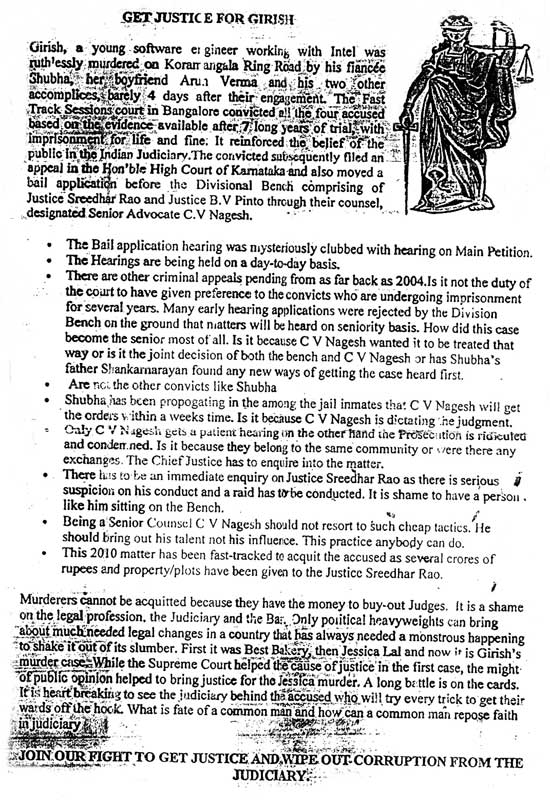 Murder They Wrote: The controversial pamphlet
The pamphlet made the following accusations: it said that the bail application had been "mysteriously" clubbed with the main petition; that the hearings were being held on a day-to-day basis even as other criminal appeals, filed as way back as '04, were pending. "How did this case become the senior-most? Is it not the duty of the court to give preference to convicts who have undergone imprisonment for several years? Has the father of the convicted woman found new ways of getting the case heard first?" the pamphlet asked. Towards the end, the pamphlet made a general assertion: "Only political heavyweights can bring about much needed legal changes in a country that has always needed a monstrous happening to shake it out of its slumber. First it was the Best Bakery case, then the Jessica Lall case and now it's the Girish murder case.... A long battle is on the cards (for this case)...what is the fate of a common man and how can a common man repose faith in the judiciary?"
After the pamphlet became public, one of the judges on the bench recused himself from hearing the case. "It is sad that people have to resort to such anonymous means to ensure that the engine of justice is not derailed," says a senior advocate.