Vikrant Moria, a Dubai-based financial consultant, felt he was too old to go to a doctor for this problem. No, he wasn't sick. What ailed him was the image staring back at him in the mirror: short and seemingly unpresentable. Vikrant, 30, was desperate for a miracle cure. Back in Mumbai for a vacation, he wanted a magic potion that would make him tall overnight. Flipping through the channels at night, he came across an ad for a product that got him all excited. It has a child growing several inches taller in just three months, an armyman feeling elated and a model reaching the pinnacle of success. Into this theatre of the absurd, Vikrant dived in head-first. Three mon­ths on, there hasn't been even a millimetre of difference in his height. And now he rues not having checked out the product before buying it. What's even more incre­dulous is that the manufacturer claims the product has been approved by the government and promises '110 per cent' money back if it doesn't work in 30 days. Vikrant has made many complaints; nob­ody is ever listening on the other end.
Advertisement opens in new window
This is one of the many weird ads aired on mainstream channels and regional ones at night. Look for the wonder formula called Easy Slim Tea. It claims to give you "an attractive figure and impressive per­sonality". Made from handpicked Chinese and Indian herbs, it promises a sylph-like figure in a matter of days that will veer your husband's attention away from other women. No sweaty gyms, no tough diets, just sit and sip tea and watch the flab melt. Or catch the Aire Bra 'infomercial' with its wonderweave extra oomph band, smooth, seamless sides and breezy, flexible design in midnight black, pure white and sexy nude. Scantily clad models display the 'scientifically desig­ned, noble creation' with much candour.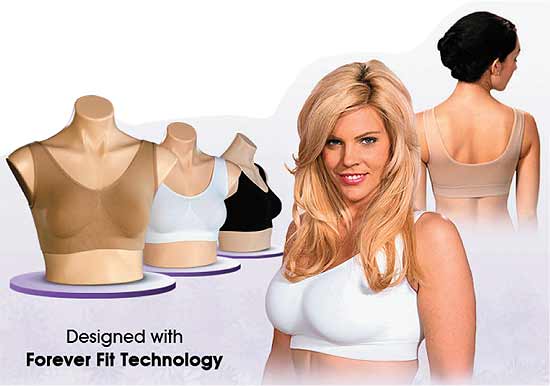 The Aire Bra promises 'scientifically designed' oomph
So what really is the idea behind advertising such questionable and surreptitious products at shady hours? Paritosh Joshi, principal provocateur, advisory, and former CEO of Star CJ Network India, calls it predatory marketing. "The whole idea is to market an action that seeks to exploit a vulnerability. In many cases, it's an attempt to exploit the deep vein of superstition that runs through people," he says. As the entire focus is on celebrity worship, people opt for the bizarre when they find no alternative. "Physical infirmities such as balding, obesity, arthritis or heart diseases can drive people batty and they lose sleep over them. These ads offer blatantly absurd fulfilment of wishes," says Joshi.
Advertisement opens in new window
TV channels run the ads since there's easy money to be made and there are no programming costs. It's simply selling space.

Such ads claim basis in elaborate 'scientific analyses' and often cross the line of what's permissible. For instance, the­re's one vacuum therapy that helps men get an erection within a few minutes, prevents shrinkage of the penis due to old age or impotency and gifts couples with an improved sex life. Ram Ray, the chairman of Response Group, says, "The theory adopted is that you can't fool everybody all the time, but you can fool some people sometimes. There's a tend­ency in people of a certain 'middle-class mentality' to accept TV as God's own mouthpiece. They just know how to play on their psyche." Some of these products have roped in movie stars to hawk their stuff. Why would Govinda even endorse a Shubh Dhan Varsha, promising freedom from poverty and unha­ppiness or television actor Anup Soni vouch for the instant cure to excessive smoking or alcoholism? Piyush Pandey, the executive chairman of O&M, India and South Asia, says, "It's unfortunate that even film stars are part of the vicious cycle to manipulate naive and insecure people, with little knowledge of what is happening around."


A Shubh Dhan Varsha idol 'cures' poverty; No Addiction 'cures' alcoholism; the accordion wallet
Advertisement opens in new window
So why are these ads allowed on mainstream TV channels? Isn't there any agency to check the veracity of the bizarre claims they make? The Advertising Standards Council of India (ASCI) is the self-regulatory body of the advertising industry and takes steps only if someone complains. But it lacks teeth and its rulings are not quite legally binding. Most manufacturers, on the face of it, don't appear to have discernible registration certificates, addresses, official e-mails or dealers. Do they mostly operate through call centres where you can place the order and send the money? Sumanto Chattopadhyay, the executive creative director of O&M, South Asia, says advertising in India isn't well-regulated, especially for satellite channels. There's nobody to check the authenticity of these ads. "If someone brings a lawsuit against the actors endorsing these questionable brands, perhaps they would be held accountable in some manner. But this kind of lawsuit has no preced­ent." Has no one then ever lodged a complaint with the ASCI or a consumer court chall­enging the authenticity of such products? Ram Ray says the procedure of filing a complaint is too long-drawn. After a point, even the complainant's indignation wears off.
TV channels, including some mainstr­eam ones, run the ads since there's easy money to be made. There are no progra­m­ming costs; it's simply selling space to these advertisers. "Most of the les­ser-known channels make about Rs 5-6 crore a year, while the prestigious ones make Rs 25-30 crore yearly," says Rahul Sood, head of affiliate sales, NDTV. "If they are not getting into adult content or showing anything counter-productive, then selling those extra minutes just gets them easy cash." But what's so wrong, asks Sanjay Verma, CEO of Divyarishi, a tele­shopping company that offers a wide range of such products. "We conduct surveys and design solutions for probl­ems rampant in society. Even Colgate promises you sparkling white teeth. But does it always turn out that way? The same is true for teleshopping ads. People have varied experiences," he says. There might even be a disparity in the price at which the product is peddled from a foreign country and at which it is sold in India. "The pricing extortion is invisible, as there are no restrictions on the import of such products," says Parit­osh Joshi.
So it goes. Tougher rules and self-regulation by channels is one thing, but can't the buyers see through such tall talk?