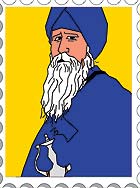 Blue Star Blues
It is my first visit to the Golden Temple and I am both awed and appalled. The latter because it is hard to associate Operation Blue Star and Operation Black Thunder with such magnificence. Only the desperate would drive tanks into a place like this. I stare at the Akal Takht, trying to erase images of 1984 from the mind. I was too young to grasp the politics, but do remember that my only Sikh friend in Bombay then, my college pal, was deeply disturbed. He decided to leave India forever the evening Blue Star ended; it took me years to truly understand his anguish.
Today, as I sit in the company of millionaires and paupers, and dig into the tasty langar, the enterprise, efficiency and selfless dedication of the Sikh community overwhelm me. The many sevaks voluntarily work to feed the hungry, day after day, and with clockwork precision. Not to speak of the orderly queue outside the Harmandir Sahib, the helpful and welcoming staffers. It's amazing that politicians and religious hardliners refuse to learn from the examples of secularism imparted by most of our holy shrines.
---
Pizza Baug
I walk by Jallianwala Bagh without noticing it. That's because its main entrance has a new neighbour: Pizza Hut. With its red and white colours and bold fonts, the fast food chain's logo outshouts one of the most poignant of India's historical sites. It's drizzling, and a group of young visitors, probably having just enjoyed a cheesy pizza, are giggling and shooting Facebook selfies right next to the wall that carries marked bullet holes. Entirely oblivious of the fact that this place, by dint of its momentous, blood-soaked history, demands respect. Wonder how the ghost of Brigadier Reginald Dyer might react to this unholy invasion by tourists. My guess is he would shoot. Er, a selfie.
---
Changing Nectar
The hotel is perfectly located. Midway between the Golden Temple and Jallianwala Bagh, both a stone's throw away from my room. I am quite surprised when the staffers appear perfectly happy for me to light up near the window; I thought they would rudely shoot down my ungodly request. But I stub it out after a couple of hasty puffs, feeling a bit guilty at having disrespected the pristine surroundings. I suppose the hotel's leniency is a sign of a changing Punjab. More and more local lads have begun to shave, some are seen smoking on the streets; others are known to do harder stuff. It's obviously not a welcome change, and I hope that at least Amritsar returns to solemnly living up to its name: Pool of nectar.
---
One Flew Over The Border
A visit to Amritsar is incomplete without saying hello to Pakistan, so we dutifully hire an Ola cab (the fleet operators have driven beyond the busy metro towns) to get to the Wagah border. My fervent pleas for a 'VIP' pass fall on deaf ears, not because the border security guys think I am an Aam Aadmi Party worker, but because you need to arrive in the morning and pre-book. Unaware of the red-tape and having planned to leave for New Delhi the next morning, I unhappily join the common man's queue, which proves to be a blessing in disguise. The naked jingoism of the masses—the screaming anti-Pak mood, with Manoj Kumar's desh bhakti songs being belted out on the loudspeakers (the Pakistani Rangers blast their own, adding to the din)—is on full display. It's the experience that I went all the way for (the VIP enclosure is too sedate), but it's an experience that leaves me dejected. The aggro-charged Wagah border's 'Beating the Retreat' ceremony only adds to the general hostility. It's the only legal land crossing we share with our neighbour, and perhaps time has come to use it to build some goodwill. As hunky seven- footer jawans from either side symbolically kick into each other's faces, a thought crosses my mind. What if, each evening, we permit a small group of Pakistani citizens to walk across a few feet into our territory, and shake hands with a chosen few Indians. Perhaps that's politically not possible in an unfriendly border area; yet the two nations must find innovative ways to forge friendships at this convenient location. Surely it's not out of the bounds of imagination. Anyway, the noisy ceremony draws to a close and the pro-India chants get even louder. Just at that moment, as if sniggering at the masses below, a mocking bird, a carefree crow in this case, flies across from Pakistan into India, swooping over the proud portraits of Jinnah and Gandhi, and disappears into the Amritsar skies. Maybe there's a message in there.
---
Last Week...
I saw a signboard outside Jallianwala Bagh: 'Leave no footprints, take memories'. Wonderful way of saying, 'Do not litter!'. Modi should copy it for his floundering Swachh Bharat effort.
---
Bombay-based Anil Thakraney is an adman-turned-columnist; E-mail your diarist: anil.thakraney AT gmail DOT com