"The founding fathers of our Constitution did not intend that we just set up hovels, put students there, give them untrained teachers, give them bad textbooks, no playgrounds and say primary education is expanding...they meant that real education should be given to our children between the ages of 6 and 14."
—from the draft report of the committee on the Right of Children to Free & Compulsory Education Act
When a policy that promises a revolution in education is put into effect on All Fools' Day— a day associated with hoaxes and practical jokes—it's quite natural to treat it with a healthy dose of scepticism. However, educationists say the Right to Education (RTE), despite its coming into effect 17 years after a Supreme Court ruling that citizens have a fundamental right to free education, is a welcome move. The RTE enumerates the responsibilities of the central and state governments, teachers, parents and civil society to make the right to free education in government schools a reality.
But what is the roadmap for its implementation? The draft report of the committee on the Right of Children to Free and Compulsory Education Act (accessed by Outlook) has gone into the details. Here are key points:
The child's need to learn in an atmosphere free from fear has to be recognised. Corporal punishment, detention and expulsion must be banned.
Students must be protected and monitored by the national and state commissions for protection of child rights. At present, only five states have such a commission. Till such time as the commissions are created, there will be a rights protection authority which will monitor instances of abuse by teachers.
It is the obligation of the state to provide free education in government schools. No fee will be charged from children aged 6-14 years.
Children from the severely depressed sections of society—such as children of daily-wagers or those from disadvantaged groups and children with special needs—will be admitted to age-appropriate classes. The current enrolment of children with disabilities—0.84 per cent of the total enrolment in schools—scarcely reflects their true proportion.
Children in regions of internal strife should not be deprived of an education by vacating schools for housing security forces. It's a practice common in states affected by left-wing extremism.
Within three years, government and local authorities shall set up primary schools within a kilometre of every neighbourhood. Social and cultural mapping of neighbourhoods will identify the social practices that keep children from school and help involve the community in encouraging education.
There should be representation of parents in the school management committee (50 per cent will be women) to give them a say in decision-making.
The teacher-pupil ratio must be 1:30.
This will require a huge pool of trained teachers. While the Centre has acknowledged a shortfall of 5.1 lakh trained teachers over and above the existing vacancies of 5.23 lakh, the states can consider instituting a state-level eligibility test for persons with professional qualifications to ensure that people with an aptitude for teaching are considered eligible, thus creating an environment compelling even existing teachers to improve quality.
Lastly, judicial remedy has been provided even at the village level. Parents can lodge a case in a munsiff court if their child is deprived of education.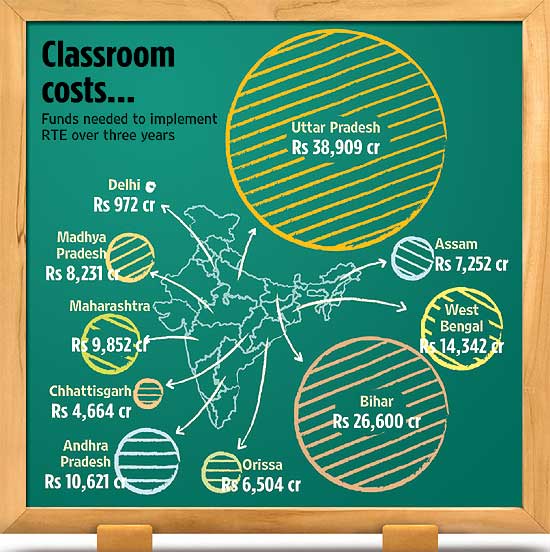 Chief ministers of BJP-ruled states have asked for more money to implement RTE. This is seen as a welcome move by officials in the Union ministry for human resources development. Taking this as an encouraging sign, they say, for the first time the RTE has shaken up decision- makers, executives and civil society. They have been forced to give education the importance it justifiably deserves.
"Some schools have screening norms. Some admit only the 'best' students. The State must stop all this."
Next only to the shortfall of teachers, the concern for everyone is the non-existence of infrastructure to kick off the RTE in three years. The figures provided in the draft report are dismal: 5.12 per cent of all government schools do not have a building; 13.78 per cent of government elementary schools in rural areas do not have a supply of drinking water; 54.7 per cent do not have separate toilets for the two sexes. To top it all, only 33 per cent of schools have electricity. Also, notes the draft, schools do not have appropriate barrier-free features for children with special needs.
So when chief ministers Mayawati, Nitish Kumar, Shivraj Chauhan and others expressed inability to implement RTE without liberal central funding, educationists like Vinod Raina, who were involved in the deliberations leading to the act, say some of them do have a valid point. A greater flow of funds from the Centre must be matched by the states with an optimal and effective expenditure plan, he says. Raina estimates nearly Rs 10,000 crore is lying unutilised with the states. "Whereas they do need the money, they have to push to spend the money they already have," he says.
"It places immense responsibility on civil society. It's society's willingness that will see the RTE through."
Raina's estimate is that the Centre will have to take greater responsibility and should agree to a 75:25 ratio in funding for RTE to be rendered meaningful. As of now, the estimated cost of implementing RTE over the next five years is Rs 1.71,484 lakh crore. The draft paper clearly argues that states like Uttar Pradesh, Bihar, Jharkhand, Rajasthan, Madhya Pradesh, Andhra Pradesh will require the bulk of the funds. In fact, the secretary in charge of information and publicity of Bihar, Rajesh Bhushan, wonders how the state is going to get 3.3 lakh trained teachers and the infrastructure in the next three years.
Others, like lawyer-activist Ashok Aggarwal, are finding the act more empowering than ever. He has sent notices to the Delhi government against two schools that have been screening students (prohibited under the act) for admission. "The Kendriya Vidyalayas and nursery schools that had evolved screening norms for selecting students have had to scrap the procedure now as no child can be denied admission," he says. "I have asked the Delhi government to persuade schools under it—like the Pratibha Vidyalayas, which have a policy of enrolling only the best students—to do away with the practice."
"Will all this make my math teacher turn up in school every day? Last year she was mostly absent."
Others, like Poonam Natarajan of the National Trust, an NGO, have worked to sensitise the government to the fact that children with special needs must not be left out. "The act places enormous responsibility on civil society. Do we want to make this happen?" she asks. In the end, she says, it's society's willingness that will see the act implemented.
That the act itself is revolutionary in scope is not essentially in doubt. But whether India will keep its promise to its children will depend on tireless work in implementation and monitoring across all its little schools. And in that, the government cannot go it alone.