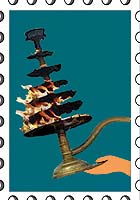 Heritage Smirch
Is there a more disturbing city in India that is Bharat than Ilahabad that was Prayag? Perched at the confluence of Ganga, Yamuna and a river no one has seen, Saraswati, and with mentions in the Ramayana, Mahabharata and the Puranas, Allahabad's pole position in Hinduism is sealed by the Kumbh Mela. Its place in the freedom movement, as the hallowed ground from where Mahatma Gandhi signalled non-violence as a weapon of resistance, is the stuff of legend. But at the end of every trip to the litigation capital of the country, you are left gasping: is this the best face that a city that provided half-a-dozen prime ministers—and one Amitabh Bachchan—to the Republic can showcase to the world?
Roads without streetlights, no public transport, an ugly riverfront, crumbling buildings, water and power shortages...the mind boggles. "The court and the jail are the only two flourishing establishments," says our Lucknow correspondent Sharat Pradhan without a touch of irony. With the closure of industries shutting out employment options, the only people staying behind are apparently the children of lawyers, who remain Allahabad's primary traffic hazard. And with garbage dumps at every nook and cranny, it's a reasonable guess that Swachh Bharat will safely bypass it.
One reason for this pathetic condition is the emergence of the new city-state—states which put all their eggs in one city at the neglect of all others. But the primary cause is the lack of accountability of the ex-PMs in their pocketboroughs. That's why even the much maligned Deve Gowda's home constituency, Holenarasipur, looks like paradise compared to a civilisational cradle reeking of monumental apathy.
---
Statutory Warning
Like in all tourist hot spots, there are plenty of options to stay, but we have always opted for Kanha Shyam. It's close to the railway station, close to the high court, and its aloo-bhaaji is worth travelling 664 kilometres for from Delhi. The hotel is owned by the Samajwadi mayor of Allahabad turned BJP MP, Shyama Charan Gupta, who exemplifies the modern two-timing neta, seamlessly hopping between business and politics and barely able to make out the difference. His `350 crore Shyam Group makes everything from Motorcycle soaps and detergents, to Baghban incense sticks and havan ingredients.
Gupta, whose empire is built on the Shyam and Pintu brands of bidis, told a parliamentary committee recently that the poor man's cigarettes have 'nil' effect on consumers. During the 2014 election campaign, Outlook's Arindam Mukherjee reported that Gupta had assembled over one lakh people for a Narendra Modi rally at considerable expense. Little wonder, he now thinks that the statutory requirement of 85 per cent pictorial warnings on tobacco products is an "American conspiracy" to destroy Modi's 'Make in India' pitch.
But he runs a good joint. Of the myriad hotels one has filled up feedback forms for, Kanha Shyam is only one of two to unfailingly wish yours truly on his wedding anniversary. Last week, it announced a honeymoon package. It includes kesar milk for two and 'stay in room', whatever my wife, a cryptic crossword buff, can make of it.
---
Chew On It
In a part of the world where chai tries ever so fleetingly to slow down the march of time, the Sophia Laurence Paan Centre in Civil Lines is a go-to, if only to understand the power of legend, by word of mouth. The betel leaf outlet is named after Italian actress Sophia Loren, although the bastardisation of her second name suggests a garrulous paanwallah's imagination—or a copyright lawyer's notice.
Om Prakash Chaurasia, who set up the kiosk, was smitten enough by the screen goddess to write to her and PR flacks responded in kind. "Sophia Loren even sent him a photograph and a phone number in return," proclaims a framed notice in Hindi. "But he couldn't call back and talk to her because he didn't know English." What effect a 'palang tod paan' would have had on 'The Priest's Wife' we will never know, because Loren famously said, "Everything you see of me I owe to spaghetti."
---
Justice Delayed
After a long, tiring day at the court, we sauntered out, remembering the various fruit seasons we have seen come and go. We have brought back brilliantly sweet guavas and blazing yellow mangoes. This time it was super-succulent water melons.
The walk down memory lane was going well till an aged couple walked out behind us, with their prized documents loaded on a makeshift strolley mounted on rol­ler-skates, which the husband pulled with a string. None of us had the heart to ask why.
---
Last week...
"Why do so many of you go to Allahabad so often," asked a friend as we boarded the train. The irreligious resident wag said: "To immerse our asses at the Sangam."
---
Krishna Prasad is the Editor-in-Chief of Outlook. Follow him on Twitter @churumuri; E-mail your diarist: krishnaprasad [AT] outlookindia [DOT] com