Every hundred metres or so on the highway from Roorkee to Dehradun, the Uttarakhand capital, life-size hoardings of incumbent chief minister Maj General (retd) B.C. Khanduri loom up with this message: 'Khanduri hai Zaroori'. The slogan, coined by the BJP last week, is splashed liberally all across the state, on posters, hoardings, even newspaper advertisements.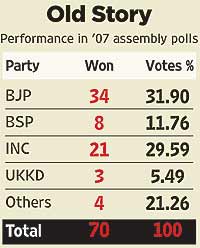 Six months back, when Khanduri was picked by the party again to replace tainted CM Ramesh Pokhriyal Nishank, he knew his job was cut out. An internal survey by the BJP had already set off alarm bells. It said the party under Nishank would not win more than seven out of the 70 assembly seats. Khanduri was brought in to reverse the tide. Six months later, it's still an uphill task.
Just 135 km from Dehradun is Kotdwar, Khanduri's constituency, where he's pitched against Congress stalwart Surendra Singh Negi. Barely 10 days to go before the state casts its vote and Kotdwar is abuzz with talk of Khanduri finding the going tough. Locals find more comfort in Negi, who has won four elections from here, twice as an independent and another two times on a Congress ticket. In Kotdwar, Khanduri is seen as a rank outsider, fighting elections from the Rajput stronghold for the first time after he lost his traditional seat in Dhumakot to delimitation.
The anti-Nishank mood is such that it has forced the BJP to keep its ex-CM out of all election publicity material. Reports suggest Nishank will comfortably win his Doiwala seat, and BJP's central leadership has ensured he stays put there. So much so, he's even been told to stay away from the media and have no interaction with the press till the election is over.
The anti-Nishank mood is such the ex-CM is absent in all poll publicity material. Also no media interactions for him.
It is this negative vote for the BJP that the Congress seems to be successfully riding in Uttarakhand. Union minister and Haridwar MP Harish Rawat is rather confident of the Congress's future in the state: "People are tired of the BJP's corruption. It's a Congress wave. During the five years of BJP rule, people saw scam after scam unfold in Uttarakhand. There's been no development work and even the BJP's last ditch effort in changing the leadership has backfired. People here haven't forgotten Nishank."
The poll pundits agree. In Dehradun, D.N. Bhatkoti, former head of the political science department, DAV College, says, "Khanduri's own image and public appeal may be working for him, he may have even managed to get the BJP a respectable defence now...but Nishank is a chapter that few will forget. Had Nishank still been there, the BJP would have had no chance." It's this overbearing baggage that even Khanduri admits is difficult to shrug off (see box). The reason why in the first 11 cabinet meetings of his tenure, Khanduri apparently took over 150 decisions aimed at long-term dividends. He asked ministers and senior bureaucrats to voluntarily disclose assets. Sixty services provided by the government have been brought under the Citizens Charter and he's also managed to pass the Lokayukta Bill in the Uttarakhand assembly. "It's all hogwash," says Harish Rawat, adding that "if the BJP was serious about corruption, Nishank would have been put behind bars. Instead, he's contesting from Doiwala. The people see through all this."

Raise your hand Sonia Gandhi, Harish Rawat at the Roorkee rally, Jan 17, 2012
It's this emotive issue, of high-handed corruption, that Congress president Sonia Gandhi too invoked at her first rally this election season, in Roorkee on January 17. And while she may have struck the right notes, it's still no cakewalk for the Congress either. For the party has seen serious rebellion within its own ranks. Rawat may claim that "by the time your magazine is printed we would have brought many of our rebels back into the mother party," but the truth is the Congress has a few problems of its own, including a surfeit of CM hopefuls. From Harish Rawat to old hands Satpal Maharaj and Vijay Bahuguna to state president Yashpal Arya, the party is likely to see a bitter tussle for the top post once the election gets over. The Congress is also wary of Team Anna's arrival in the state on January 20, which makes Rawat say, "We do not want to comment on who is coming and who is not but our government in Delhi is committed to a strong Lokpal bill. One must understand the election in Uttarakhand is about local issues."
Observers say the Congress is likely to do well in the terai (plains) region of the state, once a BSP stronghold, where people are keen to vote for candidates that help them participate in government formation. What's more, veteran leader N.D. Tiwari's hectic campaigning in the state is expected to not just win seats for the Congress but even wrest a few from the BSP in the Haridwar-Roorkee belt. Tiwari is also likely to be influential in the Kumaon region.