A long-standing tradition but one that was rarely, if ever, discussed in public, FGM or female genital mutilation of Dawoodi Bohra girls in India and abroad is now a matter of public debate. This comes a week after Outlook published an article (The Yin, Wounded, Dec 5) on a campaign launched to ban this clandestine practice amongst the Bohra community and interviewed women who had been subjected to it at the tender age of seven. While its proponents think it has religious and cultural sanction, those opposing it argue that it does not even find a mention in the Quran. This is besides the fact that it is extremely painful and is mainly an attempt to suppress the sexual desires of a woman to ensure that she remains loyal to her husband.
Several people signed up to the online petition asking Bohra high priest Mohammed Burhanuddin to have the practice stopped by issuing a fatwa against it. The signatories include Bohras too, which is despite the fact that few have so far dared to speak up openly inside the community on this subject. One of them, Fardeen Bunglowala, a Dawoodi Bohra who runs an embroidery business in Mumbai and is one of the signatories, says, "It isn't Islamic at all but cultural. The main thing to do now is to generate awareness about it and start talking about it. This way social pressure can be built up to influence the higher-ups in the community." Other prominent signatories include filmmaker and writer Shama Zaidi and scriptwriter Anjum Rajabali.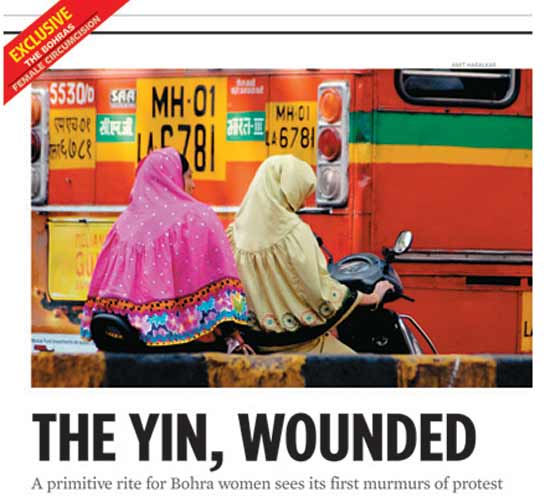 The Outlook story has brought the issue of female genital mutilation of Bohra girls to an open debate.
Even writer-cum-activist Taslima Nasreen has expressed outrage on learning that female circumcision is practised in India. "I was a bit proud of the Indian subcontinent because FGM was not practised here. I'm shocked now. Such a heinous crime against humanity!" is how she reacted on Twitter. "The patriarchal world is so scared of women's sexuality! It mutilates girls' genitals, it forces women to wear chastity belts and burqas," she added.
But can getting the government to intervene and pass a law banning this practice help? Shabnam Hashmi, who works for minority rights, feels passing a law isn't that easy. "Look at what happened with Shah Bano when the courts in 1986 ordered she be given a paltry sum as maintenance. The entire conservative community opposed it. And this is nowhere close to the practice of FGM," she says. "A law has to come after a certain level of awareness has been built up and this has to begin with women from within the community standing up against this humiliating ritual."
While some have suggested petitioning the courts, Tasleem, who has launched the campaign, thinks winning over the Bohra cleric is the best way to end genital mutilation of Bohra girls. "People obey him unquestioningly. If he forbids this act, no one will dare go against his will. In fact, many carry this out thinking he wants it when he actually doesn't enforce it," she says. "This is a pre-Christ ritual from Africa, which, surprisingly, a progressive sect like the Bohras are still following. Abolishing it will hurt no one. It will save a lot of little girls from brutal pain and it will enhance the image of the whole community in the world's eyes." Even in Africa, certain governments, such as those of Senegal and Mali, have banned the practice following sustained campaigning. And the clergy in neighbouring Mauritania played a proactive role in outlawing FGM. Will the local Bohra clergy too heed the voices of reason?