What Are The Categories Being Traced?
Services—PDS, mid-day meals, farmer loans and crop insurance, seed certification.
Organic products and food items
Precious metals
Clothes
Drugs and chemicals
Toys & furniture
***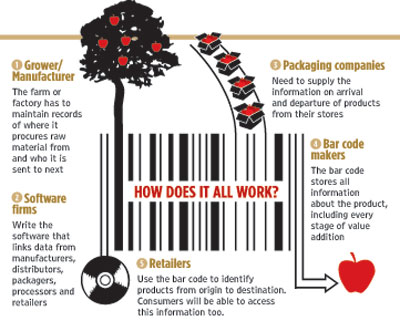 Why Is Product Traceability Becoming Important?
EU laws require food to be traced back to the farm; India has also a planned law on food safety that includes the ability to trace where a food item was manufactured
Growing consumer awareness, particularly in the developed world, about the origin of food as well as the ills of global warming, carbon footprints and child labour
It's estimated that in five years, 15-30 per cent of all products in India will be traceable
***
Mining information about the origin of India's products and services is far from easy, but it's now becoming necessary. For instance, there are regular reports of school children falling ill from government-sponsored mid-day meals. But it's difficult to pinpoint where the contamination happened—is it spoilt grain, unclean water, or poor hygiene while cooking? Similarly, supplies from the pds are routinely short or of poor quality. No one knows where the supplies disappear or at what point the quality slips.
The problem isn't restricted to food. From toys to jewellery, clothes to furniture, demanding consumers are seeking traceability—the ability to track goods back to where they were grown, manufactured, processed, packaged, stocked, distributed and retailed. All this information, typically stored on the bar codes seen on the packaging, already exists. But it rarely travels with the product in India, remaining on paper in some dusty office while the items go up the value chain.
The government has made a start by trying to trace the origin of mass consumption items. S. Dave, director of APEDA, a government body that promotes export of agricultural and related industries, has proposed a system for all products to be made traceable. He suggests that an independent authority monitor traceability. The proposal says traceability can even improve transparency in government—delays and loopholes can be tracked in real time.
"Retail is a multi-billion business, but not knowing what product comes from where means you cannot recall faulty products, identify health problems arising from food and drugs or estimate the environmental cost of products. Such ignorance is expensive for consumers and presents a real challenge for businesses," says Dave, pointing to an immediate example of traceability. Before the Commonwealth Games, 100 restaurants where international visitors can eat will have to be identified and certified safe. "To do so, every item entering these restaurants will need to be traced back to suppliers," says Dave.
Tough export regulations are the chief reason why Indian manufacturers keep records of the source of raw materials. For instance, to meet EU norms, by 2010 APEDA will allow consumers to see, via GPS, the farm where "their" grapes are grown. They'll be able to access the date they are shipped, pesticides used, organic status, packager details and distance they travel from farm to fork (many shun foods transported by jets, which are said to contribute to global warming). After grapes, pomegranate and wheat crops are to be made traceable.
"If it can be done for exports, it can be done for the domestic market as well," says Ravi Mathur, director, gs1 India (earlier EAN India), a global body that sets standards that help improve supply chains. Indian consumers have changed; they now demand fresh food, he says, "Just meeting expiration dates is no longer enough. Buyers want the dates of packaging too. Soon, Indian manufacturers will have to display harvest, packaging and processing dates," he says.
The challenge is to find a uniform way in which all retailers, suppliers, growers, manufacturers and intermediaries identify and record information. It may take time, but according to some estimates, 15-30 per cent of products on Indian shelves could be traceable in the next five years, as organised retail chains grow and consumer expectations evolve. Indian companies are seeing a business opportunity here, including software and service firms, wholesalers and retailers procuring directly from farmers.
Some consumers are indeed getting more particular when it comes to toys, electronics, apparel and packaged foods that are imported into India. A large consumer base here also has dietary restrictions, such as vegetarian, vegan, halal and Jain. "All this makes consumers concerned about the origin and content of products. And they're paying attention to ingredients, manufacturer location, expiry dates and so on," says Pratik Pal, global head, retail and distribution, TCS.
Among the advocates of traceability are producers and consumers of organic, pharmaceutical, cotton and 'fair-trade' products. Quite often, this helps companies brand their products for higher safety norms and "green" compliance. Products with a smaller carbon footprint, or which do not use pesticide or child labour have a growing buyership. "Traceability adds to brand value, along with attributes such as green packaging and healthy ingredients. It's an important responsible business practice. This bouquet of features ultimately commands premium," says Pal.
Simon Warrick, technical director of Historic Futures, a UK-based supply chain traceability company, says global retail chains are most curious "about the origin of cotton fibre-based products from India". Nearly 40 per cent of its customers are in India, many of them in the cotton industry. In May, the company's traceability system was said to be instrumental in preventing cotton from Uzbekistan finding its way into large retail chains such as Tesco and Gap. The Uzbek cotton industry was suspected to be using forced child labour. Historic Futures has also traced the origin of gold used in jewellery in India.
Indian companies using unfair or exploitative labour—rampant in sports goods manufacturing, carpet weaving and garments trade—would find traceability troublesome. But the move seems in step with the times. In sectors such as medicine, the process is underway. "Product recalls are impossible in India because supply chains are disjointed," says Dr Kanchan, a certification consultant with Ozone Ayurvedics, a drug maker. "It's also up to retail chains to integrate manufacturer and supplier information with the production chain," she says.
The basis of traceability lies in the mind of the urban Indian consumer—who has enough aspiration to match up to any price or fashion. But beyond the buzzwords, the government seems to be catching on. Food safety is a grave concern. That's what will ultimately make traceability part of the retail lexicon.