Amber Mountain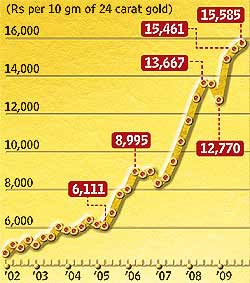 The Upside
Gold may rise another $50-100 by yearend if funds remain active
In over a year's time it could witness another 20 per cent rise to $1,220/oz
In five years, depending on various factors it may reach $1,500/oz
The Downside
Poor festive buying in a market like India could see early correction to $950/oz levels
Consolidation in the mining sector and rising economic outlook could check the rally
In six months, the price could drop to $880/oz if 'paper gold' investment regains favour with investors
***
It's the last great bubble afloat. In an age when everything from stocks to real estate to crude oil has crashed, the precious yellow metal has defied it all. Despite a few blips here and there, the price surge in gold has reinforced traditional faith, burnished over centuries. Investors certainly aren't complaining, even though buyers in this gold-crazy country are a bit bewildered and hence shying away.
In the aftermath of the financial crisis, bullion dipped to $798.11 per troy ounce (31.10 gm) but soon rallied over $900. And then, in just nine heady months, it scaled $1,000/oz. In India, it's near a lifetime high of Rs 15,600 per 10 gm in September (a traditional period for buying gold). Globally, prices remain volatile, slipping to around $990/oz and resurging to new levels.
This gives rise to two completely disparate questions. Will gold continue its surge over $1,000/oz? Or, will we see the great bullion bust?
History tells us booms and busts are built into any asset class. Gold is no exception. After a bull run from 1978 to 1980, gold prices crashed. Then came bad times in general (which always have an uplifting effect on the value of gold) in the shadow of the Iran-Iraq war. Gold rose sharply to $850 ($2,300 in today's prices) only to fall steeply soon after. Just a decade back, gold prices were below $300. It's only in the last five years that the upsurge began.
As things stand, few share expectations of a repeat of the '80s scenario, though some price corrections in the short term are not ruled out. "I would resist calling this a gold bubble as it's a safe asset," says Sunil Sinha, senior economist and head of CRISIL Ltd. For those who burnt their fingers in the meltdown, gold—with its intrinsic quality of retaining value over the past few years—has found fresh appeal for parking surplus funds. Of course, the bullion trade has oft been suspect as a route to money laundering.
"We're hopeful that prices will fall to Rs 14,500/10 gm by Diwali. Much depends on fund houses."
Complicating matters is a host of factors—geopolitical risk perceptions, behaviour of the dollar and even crude oil—that influence investor sentiments. As Ajay Mitra, MD, World Gold Council (WGC), India, points out, one of the reasons for the price surge—besides the weak dollar—has been the real fear of inflation impacting investments. This has led to investors, particularly in the West, switching from 'paper gold' to acquisition of physical gold.
The WGC report for the second quarter points out that '09 has seen record inflows into Exchange Traded Funds (ETF) (which trade in gold for shareholders) and significant retail demand for bars and coins as investors seek to diversify risks and improve the long-term prospects of their portfolios. This has led to a supply crunch. But unlike the large-scale buying of gold being witnessed in Europe, US, China and Japan, buying sentiments in India have been badly hit by the average 21 per cent rise in gold price over the last year.
In fact, there's been a 26 per cent dip in imports (227 tonnes) in the first six months of the year. Will prices stabilise and buying sentiment improve? Shrikrishan Goel 'Chandiwala', president of the Delhi Bullion Merchants' Association, is not optimistic, pointing out there has been an 80 per cent drop in demand for jewellery. "We're hopeful that prices will fall to Rs 14,500-15,000 per 10 gm by Diwali and demand will rise. But much depends on the fund houses." ETF, an option offered in India since '07, has been giving higher returns of about 7 per cent compared to 5 per cent from trade in physical gold.
Rakesh Saraf, general secretary of the Karol Bagh Jewellers' Association, Delhi, points out that despite the onset of the festive season, jewellery sales are yet to pick up as there are expectations that prices may fall in the next fortnight or so. "Internationally I don't see it happening, though in the last few days the price has dipped by Rs 400 from the peak of close to Rs 16,000 per 10 gm," says Saraf.
The fluctuating exchange rate against the dollar contributes to ups and downs in the Indian prices. Together with the lingering impact of the economic slowdown and the drought-like situation in most parts of the country, gold-buying sentiments have been hit with many potential buyers, particularly in rural areas, facing a liquidity crunch. In India, buying gold jewellery is more of a ritual during festivals and weddings rather than a long-term investment. It is used as a currency, particularly in rural areas—which account for 55-60 per cent of India's gold consumption—in the absence of other safe banking options.
Given that India is a major market and the largest importer, there are expectations that the low-buying sentiments may cause a "price correction of about 5 per cent in the short term", says Anjani Sinha, MD and CEO, National Spot Exchange Ltd and president of Indian Bullion Market Association (IBMA). WGC's Mitra, however, is more cautious. "A $20-30 correction is normal...unless something goes drastically wrong, I don't expect any drop in prices."
Experts are divided on the future price trends. Some are of the view that gold will follow the trajectory of crude oil, which dipped sharply after scaling unheard of levels last year. Historically there has been a clear link between the two precious commodities. Studies reveal that crude oil and gold prices have been in the ratio of 1:15. This has indeed been so, barring a brief spell last year when crude oil prices spiralled faster than gold. That's why some commodities experts feel there is still scope for gold to surge by $50-100 beyond $1,000 in three to six months.
Conversely, there are some analysts like Surya Bhatia, principal consultant, Asset Managers, who feel "gold will be range bound and under pressure to come down to the $940-950 band in the ultra short term". Declining to speculate a year ahead, Bhatia rules out gold coming down to $800/oz levels or Rs 12,000 per 10 gm any time soon. Experts point out that crude oil prices may have stabilised at around $70 per barrel, but there is more investor interest in gold, "which is still to find its own mettle".
Indeed, excess liquidity in the market is expected to see more funds flow towards gold. As an expert points out, among the precious metals, gold has emerged as the first choice of commodities investors. Yet despite its lure as a good asset and hedge against inflation, investment advisors feel gold should form only 10-15 per cent of the total investment. But there's no denying the outlook remains bright for gold.