A three-month-long bitter war fought between India and Pakistan in the icy heights of Jammu and Kashmir's Kargil region, claiming the lives of several hundred soldiers on both sides, is perhaps a fading memory for most Indians today. But recent revelations by a retired Pakistani top general, backroom negotiations between opinion-makers of the two sides and last month's tension along the Line of Control show that the political and military establishments in neither India nor Pakistan have been able to fully exorcise the ghosts of Kargil even after 14 years. One reason for this is that the nub of the problem, which prompted the Kargil operation, stays with us as a live issue: the Siachen glacier.
'Operation Badr'—as Pervez Musharraf, who was then the army chief of Pakistan, had codenamed the Kargil operation—was aimed at severing India's supply lines to Siachen and force it to vacate the glacier and enter into negotiations with Pakistan on the fate of Kashmir.
The revelations of Lt Gen Shahid Aziz (see interview) show how close Pakistan had come to meeting its objective by stealthily sneaking in its soldiers inside the Indian territory in the garb of Afghan and Kashmiri mujahideen and how the Indians were caught napping before getting into rearguard action to throw out the infiltrators.
Much of what Aziz said is already known to us. But still a disclosure by someone of his rank is definitely significant."
Since 1984, when India launched its Operation Meghdoot to beat the Pakistani army in taking control of the 70-km-long Siachen glacier and the important tributary glaciers in the area, Pakistan has made several attempts to dislodge Indian troops from their vantage position. Indian strategic planners maintain that its position on the glacier gives it the advantage of straddling Pakistan on the one side and China on the other. Any attempts to withdraw its troops from the glacial heights, described by many as the highest battleground in the world, could deprive India of a locational advantage, beyond the symbolism of ownership. Forfeiting it, according to this view, would detract from India's legal claim on Jammu and Kashmir and allow Pakistan to dictate the pace of negotiations on the region. The Kargil operation was perhaps one of the most audacious adventures on the Pakistan army's part to force India to withdraw its troops from Siachen.
So, how should one see Shahid Aziz's public disclosure of Musharraf's Kargil operations? There is no unanimity in India about the timing of his disclosure. "Much of what he has said was already known to us," Lt Gen (retd) V.R. Raghavan of the Chennai-based Centre for Security Analysis told Outlook. "But the disclosure of someone of his rank on some of the details on Kargil is definitely significant."
Like some others, Raghavan feels that Aziz's public pronouncement could be a reflection of the existence of various factions within the Pakistani military establishment and their attempt to dissociate themselves post facto from the emb­arrassment of the misadventure. "Let's not forget that the US pressure, forcing Pakistan to withdraw troops from Kargil, was a very humiliating experience for many in the Pakistani army establishment," says Raghavan.
There are yet others in India who feel that Aziz has decided to wash Musharraf's dirty linen in public to stop him from staging a political comeback in Pakistan. With impending elections in the country and no clear leader, Musharraf may have fancied his chance of making a re-entry into the political theatre to offer himself as a future democratic leader.
But there is no doubt that what the former Pakistani general has revealed is significant and is likely to shape India's stand on Pakistan, and particularly its decision on whether troops should be withdrawn from Siachen. For, among other things, Aziz makes it clear that all those who took part in the Kargil operation were regular Pakistani soldiers and not mujahideen, as Musharraf and the Pakistani government had claimed. He also stresses that the entire planning of the operation was done by Musharraf in complete secrecy by taking only four senior army officials into confidence. Thirdly, Aziz emphasises that the operation was aimed at cutting off Indian supplies to Siachen and forcing its troops to withdraw from the glacier.
"There's no question of demilitarising Siachen. We hold advantage over Pakistan, that's how it should be."
The question, therefore, remains: can India take Pakistan at face value and does it have any leverage with the Pakistani government to ensure that it would enforce any agreement in future were India to withdraw its troops from Siachen? For what Aziz has reaffirmed is that Pakistan can yet again sneak in its army regulars in the garb of Kashmiri mujahideen and claim to have no role in the illegal occupation or violation of proposed treaty terms. This is especially significant as retired Indian army officials and bureaucrats, who were part of a Canada-initiated Track II initiative, had recently courted controversy and strong criticism from the Indian army establishment for agreeing with their Pakistani counterparts on the 'doability' of withdrawing troops from Siachen. The current mood definitely scuttles any such move.
"There is no peace dividend in going for a troop pullout from Siachen. There is no justification for it. After Kargil, it has become difficult and the latest developments make it almost impossible. A goodwill gesture has no place now as things stand in the present ambience," says Raghavan, pointing to last month's tension along the LoC with the subsequent beheading and mutilation of Indian soldiers by the Pakistani side as a cautionary note.
Though optimistic, strategic affairs commentator and former Indian army brigadier Gurmeet Kanwal also advises caution in dealing with the Siachen issue. "While the demilitarisation of the Siachen conflict zone is doable, the political climate is not right at present," he told Outlook. "The government cannot afford to alienate people during an election year."
Interestingly, though Aziz claims that he all along thought Musharraf's ambitious operation was doomed to failure, he also points out that the weakness of the Indian intelligence-sharing mechanism was one of the key elements that had allowed Pak troops their initial success in Kargil.
The armed conflict that engaged the two sides in the summer of 1999 had managed to catch the attention not only of Indians and Pakistanis, but also that of the world at large. For this was a conventional war being fought by two countries barely a year after they had conducted a series of nuclear tests and declared themselves nuclear powers.

Enemy fire Pak troops firing at Indian troops in Dras sector. (Photograph by Reuters, From Outlook 18 February 2013)
The months of condemnation that followed the twin nuclear tests of May 1998, with demands that both India and Pakistan dismantle their nuclear programmes, had stopped only in the early part of 1999. In February of that year, Indian prime minister Atal Behari Vajpayee had boarded the peace bus to Lahore to hold talks with his Pakistani counterpart, Nawaz Sharif, and sign the Lahore Declaration to normalise bilateral ties. Ominously, Musharraf, the then Pakistani army chief, probably busy in hatching the Kargil operation, remained absent from all the meetings of the two prime ministers. Within months, the peace initiative between the two sides was reduced to tatters as it became known that Pakistani armed infiltrators had managed to sneak in and take control of key peaks in Kargil, in the area through which the important NH-ID highway linking Srinagar and Leh runs. The vantage position that the Pakistanis succeeded in controlling had made it extremely difficult for the Indians to launch a counter-offensive to dislodge the intruders.
"It is doable only if Pakistan agrees to extending the LoC to formally acknowledge Indian position on Siachen."
This also corroborates to a large extent the Outlook expose of 1999 when it detailed how the then Indian army chief, Gen V.P. Malik, and some of his key aides, including northern army commander Lt Gen H.M. Khanna, commander, Srinagar-based 15 Corps, Lt Gen Kishan Pal, and GoC, 3 infantry division Major Gen V.S. Budhwar—all key players in the Indian military establishment at the time—had ignored or downplayed initial warnings about the presence of Pak infiltrations in Kargil (see infographic and accompanying stories). But Gen Malik, who was roundly criticised for going on a trip to Poland while reports of Pak infiltrators were being made available to senior army officials, in a recent interview with The Sunday Guardian deftly laid the blame on the doors of the intelligence agencies. He said they had continued to claim that a large part of the infiltrators from across the border were mujahideen and not army regulars. The key members of the intelligence agencies who were then in service have, however, in turn made it clear that though the primary task of such intelligence-gathering lies with the army's own outfit, the IB had informed the Indian authorities of plans and preparations of a possible Pakistani operation across the LoC almost a year before the Kargil infiltration took place.
Irrespective of where the blame lies, Gen Aziz's current revelations have diminished the chances of India thin­king of a possible troop withdrawal from Siachen quite a bit. Sections in the Indian establishment were always divided on this contentious issue and there are indications that in 2006—when the Indo-US nuclear deal negotiations were at a crucial stage—the Indian leadership was seriously weighing the option of demilitarisation in Siachen, something that the George W. Bush administration in the US was keen on. However, following strong resistance from the armed forces and some of Prime Minister Manmohan Singh's close aides, the plan was abandoned.
Retired Indian army chief Gen Shankar Roychowdhury told Outlook, "I don't know the fate of my proposal to build a parallel road out of Pakistani artillery range." In fact, he says, a secondary road does exist but he is not sure whether it can take the weight of regular military traffic. But, he adds emphatically, "There is no question of demilitarising Siachen—our Saltoro ranges to be precise. We hold the advantage over Pakistan and that's the way it should remain."
Is it goodbye then to any future negotiation on demilitarising Siachen? Former Indian foreign secretary Kanwal Sibal remains cautiously optimistic. "It is doable only if Pakistan agrees on an agreement to extend the LoC to formally acknowledge the Indian position on Siachen." But he too hastens to point out that the Aziz revelations have exposed "Pakistani duplicity", making it difficult for the Indian leadership to seriously think of withdrawing troops from Siachen in the near future.
***
14 Years Ago
1998
May India conducts five nuclear tests, Pakistan matches it with six tests of its own within weeks. The twin tests alarm the world; demands rise for India & Pakistan to dismantle nuclear programmes forthwith.
Dec Pakistani army starts preparing for 'Operation Badr' to send in soldiers across LoC by stealth to take control of key peaks in the Kargil sector
1999
Feb 20 Vajpayee takes "peace bus" to Lahore; holds talks with counterpart Nawaz Sharif
Feb 21 India and Pakistan sign Lahore Declaration; vow to have peaceful and normal relations. Pak army chief Gen Pervez Musharraf conspicuously stays away from all meetings.
Feb-March Pak army starts amassing soldiers and acclimatising them for high-altitude warfare
April Pakistan sends soldiers dressed as mujahideen across LoC to Kargil
May 3 Local shepherds inform Indian authorities of presence of Pak intruders in Kargil; India sends advanced patrol to investigate, five soldiers captured and killed by Pak
May 15-20 India starts mobilising troops from different parts for Kargil
May 26 India decides to use air power to dislodge intruders after a CCS meeting
June 8 Pak returns mutilated bodies of five Indian soldiers, sparking off national outrage and demands for escalating offensive against intruders
June 13 India releases intercepts of a conversation between Musharraf and senior Pak official to prove involvement of Pak army
June 13 After three weeks of fighting, India captures Tololing in Dras
June 15 US President Bill Clinton asks Sharif over telephone to pull back Pakistani troops from Indian territory
June 29 India captures two key posts—point 5060 and 5100—and retakes Tiger Hill five days later after 11 hours of fighting
July 5 Sharif announces withdrawal of Pak troops after a meeting with Clinton in Washington, India takes control of Dras
July 11 Pak begins pullout, India captures key peaks in Batalik
July 14 Vajpayee declares 'Operation Vijay' a success; sets condition for talks
July 26 Kargil conflict officially comes to an end as India claims successful eviction of all Pak intruders. Indian toll 527 dead; 1,363 wounded.
Sep-Oct NDA coalition wins the next election.
***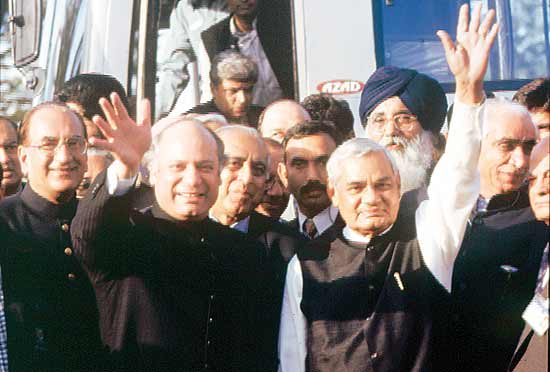 Dramatis Personae
India
Atal Behari Vajpayee The Indian prime minister took the peace initiative to normalise and improve relations with Pakistan. Boarded the bus to Lahore in February; Kargil followed in May.
Gen V.P. Malik The chief of army staff is accused of having ignored earlier warnings of enhanced Pak activity; went on a trip to Poland though aware of intrusions along LoC
Lt Gen H.M. Khanna Northern Army Commander who is claimed to have told his superiors that the "handful of intruders" would be thrown out in 48 hours
Lt Gen Kishan Pal Commander, Srinagar-based 15 Corps, who dismissed reports of intrusion as a "local affair" to be dealt locally. Now says India won a tactical war, but lost strategically.
Maj Gen V.S. Budhwar The GoC Leh-based 3 Infantry division gave the go-ahead for withdrawal of a winter post in Kaksar area that is said to have facilitated the intrusion
Brig Surinder Singh The Commander 121 Brigade based in Kargil alerted the army top brass on "increased threat perception and possibility of incursions" by Pakistan, between August 1998 and March 1999.
Pakistan
Nawaz Sharif The then Pakistani prime minister responded to Vajpayee's peace overtures and claims he was in the dark about his army's Kargil plans. Was dislodged in a coup by Gen Pervez Musharraf.
Gen Pervez Musharraf The Pak army chief masterminded the adventure, keeping most of his colleagues out of the loop. A key aide says Musharraf crossed the LoC in a chopper on March 28, 1999, and spent a night on the Indian-controlled side to boost troop morale.
Lt Gen Mohammed Aziz Khan The chief of general staff and former ISI director as a close confidant of Musharraf during Kargil and supervised military intelligence work
Lt Gen Mahmud Ahmad The 10 Corps chief was a close member of Musharraf's inner circle and helped plan the Kargil operation; later became DG, ISI
Maj Gen Javed Hassan Chief of the Force Command, Northern Areas and another trusted aide of Musharraf, also a key member in planning Kargil
Lt Gen Shahid Aziz Director of analysis, ISI, then, the now retired army officer, has blown Musharraf's claim that mujahideen were involved in Kargil, says Siachen was a key objective of the war.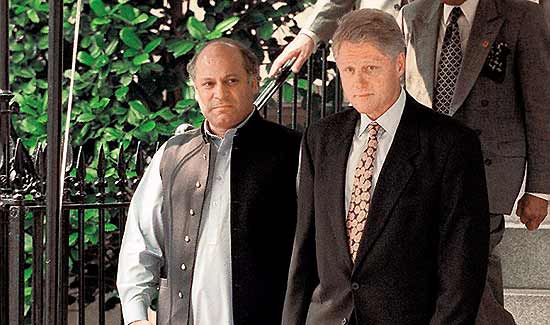 US
Bill Clinton The then US president read the riot act to Nawaz Sharif and forced him to withdraw Pakistani troops from Indian territory.
***

Grinning general V.P. Malik tells media of Op Vijay's success. (Photograph by AFP, From Outlook 18 February 2013)
Lessons The New Admissions Teach Us
Watch India cannot take Pakistan at face value at any time. There are wheels within wheels, within the Pakistani government, army and ISI, often working at cross-purposes, which can spring a surprise and catch us on the wrong foot.
Wait Easy talk of Siachen's 'demilitarisation', a favourite topic of drawing room chatter in political, think-tank and other comfortable circles, has to be tempered with the reality of Gen Aziz's admissions, regardless of his motives.
Trust The revelations, 14 years after the war, which specifically validate Brig Surinder Singh's alerts at the time, show the need for greater coordination at every level between government and army, and within the forces.
Caution For all the backroom negotiations, especially after the controversy generated by the beheading of an Indian soldier last month, the nub of India-Pakistan border ties continues to be Siachen, via which Pakistan eyes Kashmir.
---
By Pranay Sharma in New Delhi with S.N.M. Abdi in Calcutta