Points To Ponder
India has no policy to regulate functioning of education boards. There are some 50 unrecognised boards.
Nearly 58 per cent of our children do not finish primary school. It remains a major lacuna.
We have institutions to ensure quality education and teacher training but they are not accountable
***
It's the one effort that, Smriti Irani believes, will stand as lasting testimony to her efficiency as Union HRD minister. She has, therefore, declared that the New Education Policy (NEP)—slated to decide the fate of at least 600 million students in the country—will be drafted in no more than eight months.
It is within this span that she plans to have "extensive democratic consultations", across lakhs of gram panchayats, blocks, zones and states, to facilitate the formulation of the policy. She had set a target of completing 2.5 lakh consultations by August 2015.
However, until October, no more than 30 per cent of these consultations had taken place. Only three sta­tes had completed the process down to the grassroots. Data posted on the website of the HRD ministry indicates that less than one per cent of these 'extensive' consultations had been completed by the scheduled deadline.
With a huge backlog in the process and no more than a month for the draft policy to be released in December, Irani has spared no effort to make the process seem osten­sibly democratic. Nov­ember, therefore, saw a sudden surge in the number of consultations as updated on the ministry's website. The endline effect at work? In four days, from November 19 to November 23 (which included a weekend), the ministry's website showed an upgrade on nearly 100 urban local body consultations, 27 district consultations and one state consultation.
Senior ministry officials concede that the consultations are only an attempt to justify decisions that are taken by a handful of bureaucrats and politicians. The ministry, they say, is in no way accountable to those from whom it has received these suggestions. "When RTI questions are received about their suggestions," an official says, "replies simply state that the suggestion has been taken note of."
"Having already begun work, I wonder how many late October-November suggestions the drafting committee will consider."
"Smriti Irani is an ambitious minister and wants to leave a mark through her work," says a senior bureaucrat in the ministry. "Despite knowing that the process cannot be completed as per deadlines she has set, she is hell bent on simply showing numbers, to no avail. She also never listens to anyone." Many in the ministry say that although her intentions are good, her understanding of the subject is narrow and her approach immature.
Although a lot of noise has been generated about the "bottom-up" approach of consultations, officials who are part of them say that the entire process has proved to be farcical. Even as the drafting committee no longer has the time to consider or incorporate further recommendations, the "democratic consultations" continue to take place well into November, simply to show greater participation.
"Given that the NEP drafting committee has started work in early November, it is unclear how many of the late October and November consultation recommendations will actually be considered by them," says John Kurrien, educationist and director emeritus, Centre for Learning Resources, Pune. "Even if the deadline was extended indefinitely, and only 50 per cent of the proposed NEP consultations conducted and uploaded on the MyGov portal, the drafting committee would still be overwhelmed and capsize in this tsunami of recommendations."
Irani's cracking the whip on officials to ensure speedy consultations has led to shoddy, premature results with no tangible benefit. The North Zone states, for instance, held their zonal consultation without the prerequisite of completing all their scheduled grassroots meetings.
This process to formulate the draft NEP—which began in April this year—is suspect in more ways than one. Most importantly, the ministry has so far not made public any recommendations received so far from these numerous consultations. Only those suggestions given by the public appear online, and nothing of the closed-room consultations is known to anyone yet. There is also an absolute lack of transparency in the national and regional consultations held by the UGC and NCERT, among other national institutions. A task force to monitor the entire consultation process has apparently been set up. But those in the ministry are tight-lipped about its functioning, and activities, if any, are extremely secretive. Earlier, it was the task force that was assigned to "give the shape of Draft National Education Policy, 2015". However, the five-member committee led by T.S.R. Subramanian will now draft the policy.
Moreover, the state-level consultations are largely 'in-house', with few other than government education officers, secretaries, ministry officials and teachers attending them. Officials who have been part of the process say that the consultations are orchestrated by the government, for the government and on the government's terms. Several universities, academics, student unions etc have been excluded from the process. The drafting committee too has four education administrators, and only one academician.
"I will ensure that the policy allows for the Gita to be taught in all schools. It is a historical text, unlike the Bible or the Quran."
Consultations are only on the 23 themes—13 on school education and 10 on higher education—that the ministry has listed out. These themes have been taken as sacrosanct and no consultations go beyond their preview.
That apart, nowhere is there any mention of the goal, vision or objective of the new policy, given that equity and quality of education are paramount concerns. "Half-baked ideas, without any vision, are being put forward," says RSS ideologue K.N. Govindacharya, "and their implementation will only create further chaos. There is no focus on certain well-defined categories, such as the objective, quality and direction in the process of drafting a new policy. Consultations are being held by asking a set of questions, the answers to which are more or less archaic."
The themes and consultations also have gaping lacunae in that they entirely exclude the rte and its implementation and private-public partnership in school education. Neither do they address the lack of a concrete policy on the functioning of school education boards in the country. "From Vivekananda to Sam Pitroda, everyone has theorised on education and laid out its purpose. What is lacking, however, is a plan of action," says T.P. Sreenivasan, vice-chairman and executive head of the Kerala State Higher Education Council. "There is a crisis of implementation which has not been addressed in the themes in any manner."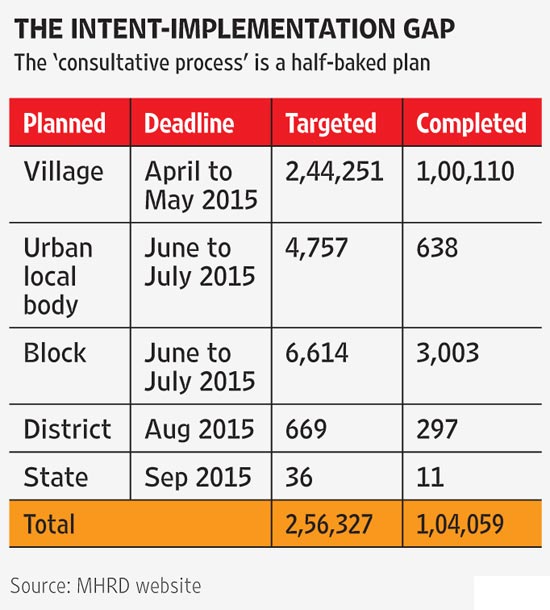 In the recently-held South zone consultations in Karnataka, which the minister attended, it were these very concerns of implementation that were brought up. Irani's response was to place the entire onus of creating a plan of action or roadmap for implementation on the drafting committee.
Entrusted with the task of heading the drafting committee that has to formulate the policy no later than December, Subramanian is an easily amused man. With no more than a month on his side to draft the national policy, he confesses that the committee is only now "wading through the sea of recommendations". The committee is, in fact, yet to even finalise the methodology to go about drafting the policy.
Ask him if eight months aren't too short a time to come out with the policy and a month even lesser to consider thousands of recommendations, he says, "Yes it is, but we will do it. One could spend 100 years drafting a policy, but the country has other relevant issues." One wonders what could be more relevant to the HRD ministry than the drafting of a national education policy.
"From Vivekananda to Sam Pitroda, everyone has theorised on education and laid out its purpose. What is lacking is a plan of action."
Moreover, there has been no reference so far to any analysis of past policies and schemes affecting the current education system. Calling the process ahistorical and acontextual, academics argue that a new policy cannot be charted without first outlining the failures of the earlier policies and existing challenges. Neither has there been any systematic evaluation of the current National Education Policy, 1986, or the national- and state-level schemes and institutions that have hence been created. While this crucial task would earlier have been carried out by education specialists and experts at the erstwhile Planning Commission, the country's think-tank today, NITI Aayog, lacks the subject matter expertise to provide a comprehensive analysis. The RTE Forum, a platform for national education networks, prominent educationists and teachers' unions from across the country, too has published a concept note stating numerous issues and recommendations in bringing out the draft NEP.
Dinanath Batra, former secretary of the RSS-run school network, Vidya Bharati, has been an important part of the Haryana state consultations. His books on moral science are soon to be released by senior officials of the state education department and apparently launched in schools across the state. "I will ensure that the policy allows for the Gita to be taught in all schools," says Batra. "It is a historical text, unlike the Bible or the Quran, and has to be taught to all children to ensure that they grow up to be morally righteous citizens."
Academics and educationists, besides those running reputed Catholic missionary schools across the state, fear that promotion of such partisan ideas will only allow the progress of parties at the cost of people. "The doings of this government have been creating a nauseating level of social tension and only the poor and the weak will suffer at the end," says Govindacharya. "Influenced only by the urban middle class, the government is not concerned about the aspirations of the poor."
Currently, however, beyond crucial concerns on the nature of consultations, those involved are worried that there will be no time to even react to the draft policy. "While this may be treated as the final draft, with a few changes made, this is in fact only the first phase of policymaking. We need a rigorous public review of the draft after it has been submitted," says Kurrien. "Why the hurry when we are talking about a national policy that is to stay for at least a decade and affect the lives of millions?"
There is looming concern that the document that will be produced in just a month from now will only include those ideas that are in sync with the government, resulting in a restricted vision of education, contingent on a particular political philosophy. It will be passed off, however, as a national policy that has resulted from extensive, democratic consultations.
---
By Pavithra S. Rangan in New Delhi
Related Story An Unequal Childhood