Call Monitoring
Telecom companies have to provide a 20 ft x 20 ft room in every city, with eight computers for every exchange
The computers belong to a designated agency, like the IB, DRI, CBI and others
The computers are capable of recording all conversations and call details
***
Every day, at a secret facility of the National Technical Research Organisation (NTRO) near Kala Ghoda in south Mumbai, a team of 18 operators sits peering through massive amounts of data coming in through undersea cables from across continents into an international gateway facility several kilometres away in Malad. The cables carry voice and internet data from Europe to Asia and vice versa, and by tapping into them, Indian intelligence is now playing Big Brother with a vengeance.
It all began in 2005 as India started catching up with the communication revolution that had swept the world a decade earlier. Since then, Indian intelligence has acquired capabilities to intercept cellphone and landline conversations, smses, e-mail, chats and all forms of electronic transmissions. It puts pretty much everyone under surveillance. And as more and more transactions and conversations go online, it puts at the government's disposal a wealth of information about its citizenry, enabling it to keep close tabs on them. What was to be used against enemies is now being deployed against citizens.
"Art 21 says you can't do anything that invades people's life and liberty. Intelligence agencies are doing that routinely."
The most intrusive of these systems are the off-the-air GSM/CDMA monitoring devices procured by various central and state intelligence organisations across the country. Sources estimate 90 such systems to have been bought so far, enabling intelligence agents to track, hear and record cellphone conversations at will without even approaching the telecom companies.
These systems are frequently deployed in Muslim-dominated areas of cities like Delhi, Lucknow and Hyderabad. The systems, mounted inside cars, are sent on "fishing expeditions", randomly tuning into conversations of citizens in a bid to track down terrorists. Unfortunately, though, such expeditions more often end up violating the privacy of individuals than in catching extremists. "We have deployed the system in places like Seelampur or Jamia in Delhi or the old city of Hyderabad on a few occasions, in the hope that we might pick up critical conversations," says an intelligence official. "But most of the time, we end up getting private calls or lovers speaking to each other."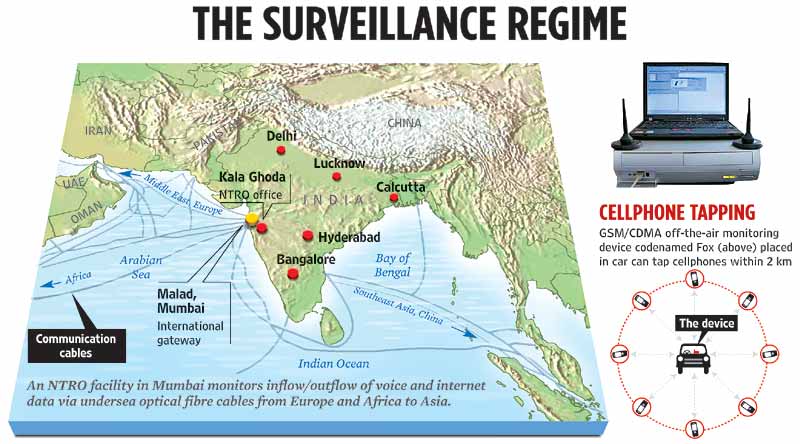 It is this arbitrary, and often illegal, method of functioning that has made many argue for the need to make our agencies more accountable. Says Congress MP Manish Tewari: "We must look at reforming the intelligence community in India by bringing in an act of Parliament that not only makes them accountable, but also puts them on a sound legal foundation. By ensuring a parliamentary oversight, we can prevent the misuse of our agencies which, in turn, will also make them more efficient." He further points out: "Illegal tapping triggered reform in British intelligence. In the US, the Foreign Intelligence Surveillance Act ensures great accountability, and American courts have now declared all the tapping done after 9/11 illegal."
"Illegal tapping brought reform within British intelligence. American courts declared tapping done post-9/11 illegal."
India began purchasing the off-the-air GSM/CDMA monitoring systems around 2005-06, and the first interception of a mobile phone conversation using the system was carried out by the NTRO on January 7, 2006, in New Delhi. Then National Security Advisor (NSA) M.K. Narayanan was visiting the facility when the interception capability of the device was demonstrated to him. The NSA made a call to his office, which was successfully tapped and a complete transcript of his call provided to him within minutes of the call, sources told Outlook.
Since then, the NTRO has purchased at least six systems and deployed them in Delhi, while the IB has eight such systems in the capital. Codenamed 'Fox', the device costs about Rs 7 crore and can intercept mobile telephony by grabbing the signals from the air as soon as a call is made or received and the signal is sent from the cellphone to the nearest cellphone tower.
"Depending on weather conditions we can detect and intercept a GSM mobile number at least 2 km away even though the number is not available to us," a senior intelligence official told Outlook. "All we have to do is to set up a mobile monitoring system by placing the device in a car and then drive around the likely areas of the phone we want to put under surveillance. Once the call is detected, the device hooks on to the number and continues to track and record calls made or received. Sometimes, we take a voice sample from a TV recording and use it to identify the cellphone if we are monitoring a public figure."
"I had wanted a judge to issue warrants for such monitoring. The 1996 SC ruling has no judicial officer for oversight."
Even the Lawful Interception and Monitoring System (LIMS) has now become increasingly intrusive. While it has a modicum of checks and balances, most of them are either ignored or manipulated to facilitate tapping. "Do you really think a private telecom company can stand up to the government or any intelligence agency and cite law if they want to tap someone's phone?" asks a senior private telecom official who is familiar with many such requests from intelligence and police agencies.
The licence conditions of long-distance telephony ensure that all telecom operators have to be part of the surveillance regime. "A telephone company has to set up a 20 ft by 20 ft room with eight computers in every city," a senior telecom official revealed to Outlook. "Each computer belongs to a designated agency, which can use it to access all data, phone call records and, if necessary, even record calls of a particular number, provided the Union or state home secretary has authorised it." The cabinet secretary calls for a meeting of the secretaries from the ministries concerned to review the ongoing tapping every month. While this is supposed to be a check on illegal tapping and monitoring, the new off-the-air GSM/CDMA systems ensure that even this modicum of check is rendered irrelevant.

As a result, there is nothing you can hide from the government. "We can dig into everyone's life," an intelligence official points out, "be it political and corporate leaders, journalists, social activists or bureaucrats. We can track anyone we choose." A case in point is the deployment of the off-the-air GSM/CDMA monitoring systems in and around the Taj Hotel at Man Singh Road and the Le Meridien in Delhi. It picks up conversations between prominent corporate leaders discussing sensitive business dealings or private liaisons.
"We've used the device in Delhi or Hyderabad, hoping to get critical conversation. Mostly, we get lovers talking."
Meanwhile, as communication technologies went from satellites to undersea cables, facilities like the one at Kala Ghoda in Mumbai have now been duplicated in five other cities. "We chose to duplicate them in Hyderabad and Lucknow, which have a large Muslim population; Bangalore, since it has a large foreign presence; Delhi and Calcutta since these are the other major cities. The Lucknow and Hyderabad facilities came up on M.K. Narayanan's suggestion," a senior intelligence official told Outlook.
The surveillance raj has prompted several companies specialising in monitoring and data mining to enter the Indian market. "Israeli, Ukrainian and Russian companies offer the best systems. We have purchased several systems from Israeli companies Comverse and Verint," says an intelligence official. A Bangalore-based firm has also played a major role along with psu Bharat Electronics Ltd in developing these systems," says a source. But since NTRO is not authorised to do this monitoring, it works under the cover of the Intelligence Bureau.
Unfortunately, the new technology has managed to overcome the antiquated laws governing interception and monitoring. Besides the Telegraph Act and the Information Technology Act, a December 18, 1996, Supreme Court judgement has also set the guidelines for tapping phones and monitoring communication. However, in the absence of laws with an oversight mechanism of India's intelligence agencies, there is very little control by the political masters, Parliament or, at times, even the bureaucracy. "A joint director in charge of security in the IB could go about tapping phones with impunity if he chose to do so," a home ministry official told Outlook.
Justice Rajindar Sachar, former chief justice of the Delhi High Court, who pleaded the 1996 case against illegal tapping filed by the People's Union for Civil Liberties, had argued for a judge to issue warrants to monitor communication. "But unfortunately, the 1996 judgement doesn't have any judicial officer in the oversight mechanism. In the US, a senior district or high court judge clears all tapping requests," says Sachar.
Senior Supreme Court lawyer Rajeev Dhawan feels that technology has rendered the '96 apex court judgement irrelevant. "Article 21 of the Constitution says that you cannot do anything that invades the life and liberty of people. Yet, intelligence agencies are doing it routinely through illegal tapping and monitoring of communications. We're very concerned." Dhawan also points out how this surveillance has now led to more abuses of democratic and judicial principles. "Look at the rendition and forced disappearances conducted by the CIA. These are the consequences of illegal tapping and surveillance, and it must stop."
Law researcher Usha Ramanathan of the Delhi-based Centre for the Study of Developing Societies puts the problem in a larger perspective. "Today a false encounter or torture is not a crime, and the state is pushing the boundaries of human rights with impunity. We have now moved away from fundamental rights to fundamental restrictions."