Lighting up lives
Imbibing the spirit of caring and sharing, NTPC Limited has been changing the lives of underserved communities for decades

Incorporated in 1975, India's largest power-generating company, NTPC has impacted over a million lives in over 500 villages in the vicinity of its plants through multiple interventions. Recognised many times for best CSR practices, NTPC was awarded the 'Company with Best CSR Practice Award' at the 8th Asia Business Responsibility Summit organized by Asian Centre for Corporate Governance and Sustainability.
NTPC's CSR interventions cover infrastructure development, education, community health and sanitation, capacity building and gender empowerment etc. The projects are based on specific local requirements with active participation by local communities.
---
Education
Quality education is the building block for progress and breaking the poverty cycle. For this, NTPC supports infrastructure development in schools, provides scholarships to exemplary students, refurbishes classrooms, introduces smart classes and has constructed toilets under 'Swachh Vidalaya Abhiyan'.
At the Government Middle School, Kuli, near Sipat, Bilaspur district, Chhattisgarh, the students used to face health issues due to lack of toilets. NTPC came forward to build the toilets. Vijay Laxmi Yadav, who teaches class VIII, says, "Infection has come down since the toilets were built and attendance has also improved." In all, NTPC has built 15 toilets in schools in Bilaspur district.
Sarojini Dheewar, headmistress of the co-ed Government Middle School, Sipat, Chhattisgarh, shares that NTPC has supported students by distributing school bags and stationery. "It has also provided almirahs, black boards and smart boards to the school. NTPC also organised a tournament." The teachers have been trained on how to use the smart boards and load digitised books. This has led to improved attendance.
The Government Higher Secondary School, Utrada village, imparts education to 570 children. Principal Gopal Prasad Lahre says, "NTPC has constructed the road in front of the school; before that we had to wade through the water during the monsoon. NTPC also provides scholarships for boys, girls and challenged students." The organisation constructed the boundary wall, created a permanent pathway made of concrete, levelled the ground for making a badminton court, built toilets, cycle shed, upgraded the lab infrastructure and installed sanitary dispensing machines as well.
In Talcher Kaniha, Angul district, Odisha, NTPC contributed Rs 2 crore to the Odisha government's initiative of 'Mo School' to develop high schools. NTPC is supporting infrastructure in schools by providing benches, RO for clean drinking water, constructing toilets, installing smart and digital classrooms. The organisation also boosts skill development activities and helps students prepare for competitive exam by providing coaching facilities.
Supporting girl child education, NTPC inaugurated a hostel building at Kasturba Gandhi Balika Vidyalaya School (KGBV), Kundanpally village, Ramagundam, Peddapalli district, Telangana. The hostel with 200 beds was constructed. The beds were made by the prisoners of Warangal jail, giving CSR a bigger boost. Kavita, Special Officer, KGBV School, says, "The student strength has increased from 200 girls to 360 students now. In addition to a hostel, digital classes were provided. Projectors were installed in classrooms for students from class VI-X. The lessons are all preloaded and the teachers were given training. A sanitary pad vending machine and incinerator have also been provided, keeping in mind the menstrual hygiene of adolescent girls."
Samatha, an Intermediate second-year student from KGBV, wishes to become a lawyer. Hailing from Basant Nagar village in Peddapalli district, she comes from an economically-challenged family as her parents are farmers. "With school upgrades like digital classes, projectors, library, yoga, we are getting good education here and are at par with private schools,'' she smiles. "My aim is to give justice to rightful people and my school education will become a backbone to fulfil my dream.'
On a similar note, Pavani from Peddapalli district has been studying in this school from class VI, and is now in Intermediate second year. She feels the dormitory has made the hostel a safe place. "I want to become a doctor and provide free medicines to the poor and needy. My school has taught me the importance of good hygiene and sanitation. Earlier, we used to face a lot of difficulties during our menstrual cycle. The sanitary pad machine has brought a lot of relief,'' she says.
---
Girl Empowerment Mission (GEM)
Since 2018, NTPC has been running GEM—Girl Empowerment Mission—to nurture and promote the talents from various parts of the country. The girls are identified with the help of the school authorities. The one-month residential programme includes academic and extracurricular activities with focus on holistic development. The results of this programmes show in many ways. Introverts became communicative and all learn new life skills. The same programme is also repeated for a shorter duration during winter vacations. And the top 10 performers from the programme are admitted to NTPC campus schools and given free education till class XII. The other participants are handheld till class XII.
In Angul district, Odisha, near the Talcher Kaniha plant, NTPC selected 120 girls of class VI from the neighbouring 23 villages. "I was part of GEM, run by NTPC, and participated in many activities. Our day started at 5 am with yoga. After breakfast, we attended classes on life skills, computer, math, English and Odiya. After lunch, there were classes on dance, music and karate. The day ended with movies. Now, I can operate a computer and attend online classes. I have even learned to run a Xerox machine," says Shradanjali Sahu from class VI. "I was earlier studying in a school in Takua village. Now, I am studying in Pabitra Mohan Higher Secondary School, Kaniha. "
Children across Chhattisgarh also cite their joy for being a part of GEM. Madhu Salen from Kuli, Bilaspur district, Chhattisgarh, is studying in class IX at the Bal Bharti Public School, NTPC school campus, Sipat. She wants to become a doctor. "Our school has a well-stocked library and that helps me study well to fulflill my dream. I want to learn music too." Harshita Patel, from Kaudiya village, is in class IX at the Bal Bharti Public School, NTPC school campus, Sipat. She wants to study commerce and become an IPS officer. Sports
No talent shall lie idle. NTPC has given youth an impetus by promoting their passion for sports and building a nation that carries its glory far and wide. An avid mountaineer, Nishu Singh, from Bilaspur, Chhattisgarh, says, "In April 2021, I was selected for the national mountaineering expedition by the Nehru Institute of Mountaineering, Uttarkashi, to climb Mt Everest. With NTPC's support I could go for this expedition. I also got support from NTPC for an expedition to Africa."
Posted in Korba district, police constable with Chhattisgarh Police Parmeshwar Singh is an athlete. "I was given physical and gun loading training under the three-month residential programme, supported by NTPC. My ambition is to become an IPS officer and I will study for this."
---
Capacity Building
NTPC is giving aid for skill development to the underprivileged and unemployed youth in the villages near its power plants. This will make them employable and will empower them for life.
In Hyderabad, Telangana, NTPC has associated with the Central Institute of Petrochemicals Engineering & Technology (CIPET). It is supporting girls from low-income groups, who have completed class XII from government schools, for a lateral entry into a two-year course in Diploma in Plastic Technology. CIPET provides training and technical services to the plastics and allied industries. It is equipped with state-of-the-art facilities in Design, CAD/CAM/CAE, Tooling, Plastics Processing, Testing departments.
As part of this association, 10 girls from Kundanpalli village, Ramagundam, Peddapalli district, were given aid by NTPC Ramagundam for a lateral entry into a course at CIPET. Out of 1,450 students, five girls, hailing from Kundanpalli village, got an All India Rank (AIR). Thadavani Jyothi secured AIR 4th. "My father is a farmer. Given my background, even the thought of an engineering course was doubtful. Now, with help by NTPC, I will be able to support my family and live my dreams,'' she smiles.
More dreams are being realised by young ones. Janagama Gangothri and Akula Vinod Laxmi, both secured AIR 7th rank, and hope to get good placements after the course completion.
"Our workshops offer access to industry-seasoned faculty who teach the latest trends and techniques in design and processing, along with focusing on specific requirements of the industrial partners,'' says AK Rao, Chief Manager (Technical), CIPET, Hyderabad.
More capacity building interventions are in place in other states too. The residential co-ed Industrial Training Institute (ITI) at Mahauda, Baloda Jamgir, Champa district, Chhattisgarh, where 200 students study, was started in 2018. Courses offered are welder, fitter, electrical, turner, diesel mechanic. Welder and diesel mechanic are a one-year course each, the rest are two years course. Admission to ITI depends on the percentage obtained in Class X board exams.
Students here are upbeat about their future. Amit Kumar Sarthi in electrical trade is interested in a job in the railways and wants to do B. Tech. Sarojini Jagat wants to join the police force and Pooja Sahoo wants to be a loco pilot. "This ITI has given me practical training to fulfill my aspirations and live my dreams," says Archana Armo, who is training as a fitter, and looking for a job in the railways.
---
Agriculture & Alied Activities
Agriculture is the backbone of the country with majority of the population living in rural areas. NTPC supports its allied livelihoods as well.
Poultry farming
After a need assessment conducted in four campuses in different villages, NTPC Talcher Kaniha identified Takua village, Angul district, Odisha, and shortlisted 42 women who are members of Self-Help Groups (SHG) to help them start poultry farming.
Through the camps, NTPC understood the activities the women were interested in. Besides poultry, they were interested in goat farming and other small income generating activities such as mushroom cultivation and badi/papad making.
Under the project, all the 42 families were given 25 chicks, which were 15 days old. They would start laying eggs after six months. NTPC helped make the coops for the chicks and provided them with feed for three months, along with hands-on training. The trainers said that as the 25 chicks multiply into 100- 200 chicks, they will generate a steady monthly income. The breed of chicks provided would give eggs 80 per cent of the days and the mortality rate is low. The technical staff visits the families regularly to check on the progress. NTPC plans to replicate this initiative in other villages after assessing the results.
Navakishore Sahoo of Gadashila village, Angul district, Odisha, was the trainer. He says, "I already had a poultry farm, so NTPC approached me to teach the people of Takua village about poultry farming. After the chicken becomes a hen and lays eggs, the owner can sell the eggs or incubate them to grow more chicken. NTPC called in veterinary doctors to teach the people about poultry diseases and their treatments too."
Pronoti Naik, from Takua village, Kaniha Block, was part of the project. She says, "I had no employment. And when we were advised to earn by selling eggs and chickens, it was an easy task to do while being at home. NTPC provided us with bricks to build the coops, chicken feed and medication for them. Now that our chicks have become hens, we sell the eggs and have money. We never had enough money before to meet our expenses or put children in schools. We can pay our children's tuition fee and are self-reliant."
A similar story comes from Dwiprada Naik, who says that "it's our responsibility to teach this to others".
Livelihood
NTPC Talcher Kaniha is also giving more livelihood training to Self-Help Groups (SHG). Some SHGs in the area were dormant as they did not have sufficient funds for further production. With NTPC's support, the women now have badi and papad-making units. They also make phenyl and cultivate mushroom. Earlier, their earning was a meagre Rs 1,000-Rs 1,500 per month. Now, with new livelihoods, they can easily earn Rs 5,000-Rs10,000 per month.
"In 2014, we had started a SHG but did not have knowledge of business. NTPC gave us training in making papad, pickles, badi and sauce. They also gave us a cooker for making sauce and grinder for making badi. We put up a stall at NTPC Basant Mela also to sell our products. In 2015, we started selling our products in the NTPC market and outside too. In 2017, we were provided with mushroom farming training," says Mamata Rath from Bhimkhand village, Kaniha block. She is now able to manage her household expenses better. "With the papad, badi and pickle business, we could earn around Rs 2,000 per month but now with mushroom farming, the earning is up to Rs 8,000-Rs 9,000 per month."
Artificial Insemination
Artificial Insemination (AI) among the cattle is undertaken, as it is an economical means for a livestock breeder to improve the herd quality and quantity. Neel Kamal of Deori village, Bilaspur district, Chhattisgarh, says, "I got one calf after AI." Krishna Varma of Pandhi village, Bilaspur district, Chhattisgarh, has four cows who were inseminated artificially. Now, he has three more cows after this procedure. "I am able to sell 20 litres of milk daily."
Healthcare
NTPC's community outreach programme includes providing access to quality infrastructure for health, sanitation and hygiene. NTPC's own hospitals and dispensaries in its townships extend medical care and treatment to the local villagers. The organisation has also deployed state-of-the-art Mobile Health Clinics (MHC) for doorstep healthcare to over 300 remote villages. It also organises many health camps and provides free medicines.
---
Government General Hospital, Godavarikhani
In another initiative for improving healthcare infrastructure and avail sophisticated medical services, NTPC has provided medical equipment to Government General Hospital, Godavarikhani, Ramagundam.
This hospital was an 'area hospital' earlier and is now upgraded as a government general hospital and is attached to an active medical college. NTPC has been supporting the hospital since 2014, aiding with new medical equipment and an ambulance as well.
Major equipment handed over include Cell counter with kits, two CTG machines, one USG machine, oxygen concentrator, six pulse oximeter, foetal Doppler among 50 other items. It has given support for construction and extension of the second floor of Government General Hospital (GGH) comprising 50 beds amounting to Rs 6.90 cr. "This infrastructure provided by NTPC will help in providing quality healthcare services to the economically weaker sections of the society," says Dr Himabindu Singh, Principal, Government Medical College. "We aim to reduce the infant mortality rate (IMR) and maternal mortality rate (MMR) in the vicinity of Ramagundam and provide quality healthcare facilities to expectant mothers."
---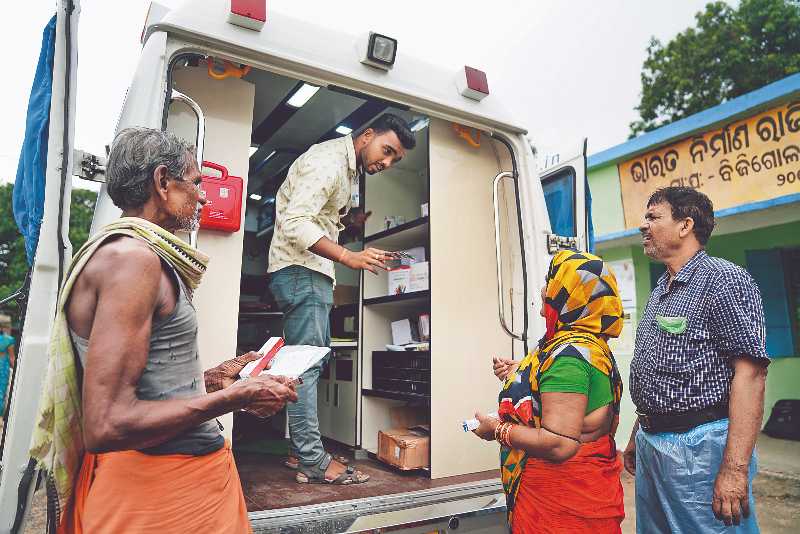 National Cancer Institute Nagpur, Maharashtra
'Freedom from Fear of Cancer' is the bold tagline of National Cancer Institute (NCI), Nagpur, Maharashtra. Located in the Special Economic Zone in Nagpur, National Cancer Institute is a landmark hospital designed by architect Hiten Sethi of Mumbai.
According to an ICMR report, the number of cancer patients in India is projected to increase to 29.8 million in 2025 from 26.7 million in 2021. This is a huge socio-economic burden, and debilitating for the patients. NTPC is supporting the construction and equipment for third floor and diagnostic labs at this hospital.
Shailesh Joglekar, General Secretary and CEO, NCI, says, "We felt the acute lack of a tertiary care hospital in central India. There was no comprehensive low-cost cancer care centre in the region. We have been working on this project for the last 14 years. In 2012, we began with a 20-bed palliative care centre in Nagpur. In 2015, NTPC supported us with 79 ICU beds on the third floor. Out of which, nine beds are allocated for paediatric ICU where treatment is provide free of cost. NTPC has also provided two medical buses, one for diagnostics and the other visits neighbouring villages."

The NABH accredited and NABL certified hospital will have 26 lifts. This hospital can treat 63 types of cancer out of 108 identified ones. There are facilities for treating different cancers and specialists are available. A research centre, 350-bed Yatri Niwas, boarding and lodging facility for drivers are also on the anvil.
The hospital has become a centre of hope for patients. Dhruv Rastogi, 29, from Nagar, Maharashtra, says, "My health went under after I had difficulty in swallowing food, and eventually stopped eating and drinking. I was advised to come to this hospital and have undergone my chemotherapy. Now, I can take a liquid diet and khichdi. I am confident that I will soon be fully cured."
Four-year-old Daksh Pravin Pawar from Amravati is undergoing blood transfusion. "There was sudden drop in his blood platelets and a relative told us about this hospital," says his mother. "We rushed here and we are hopeful of his recovery."
Dr Pankaj Dwivedi, MD, Paediatric Oncology and Fellowship in bone marrow transplant, joined the hospital in October 2017. "From 2017, we have had 765 registered patients. We began with eight beds and it has increased to 27 beds, out which three are ICU beds. The survival rate is very high at 90-92 per cent, and is at par with European standards."
Central India's renowned Oncologist, Dr Anand Pathak, moved from Tata Memorial Hospital to Nagpur in 1994. "NCI has the potential to be on the world map of cancer cure and establish itself as a hub for cancer sciences. We intend to start academics soon with DNB programmes as well as research. The vision is to have world-class satellite centres with presence at the taluka level, beginning with awareness about cancer, prevention and screening. There must be a mechanism to ensure that everyone has insurance cover, which will make healthcare more accessible and strengthen our efforts in offering healthcare services to a larger number of people," he says.
Mobile Medical Units
NTPC has made primary healthcare facilities freely available for the remote areas through Mobile Medical Units (MMU). In Talcher Kaniha, Angul district, Odisha, NTPC runs a MMU six days a week in 25 villages, during the morning and evening hours. It has engaged two doctors and medical and para-medical staff. Around 200 patients are treated regularly. There is facility for blood test and other small tests and medicines in the MMU. It also sets up health camps. To improve maternal health and control infant mortality rate, NTPC associates with ASHA workers. Under the initiative, the maternal and child health care unit comprehensively takes care of mother and child for 700 days, from pregnancy to infancy stage. This stage is very crucial because the brain of baby develops quickly during this period and proper nutrition and care would contribute to overall development. NTPC doctors visit pregnant women six times and record the development of the baby and the expectant mother's health.
The MMU has become a symbol of good health for the villagers. It stands for good care and timely aid to all the people across all age groups. Sankarsan Subudhi of Bijigo village, Angul district, Odisha, says, "Earlier we had to travel at least 5 km for any medical issue. The elderly and immobile people suffered the most. Also, by the time family members could arrange a vehicle the condition of the patients deteriorated. Now with the MMU, we have regular health aid."
Solid Waste Management
Aligned with the vision of Swachh Bharat, sanitation is an important agenda for NTPC. Thus, providing relief to the sanitation woes in the holy city of Varanasi, a solid waste management plant functions 24X7 at Karsada village. The Solid Waste Management Plant has been allotted around 20 acres of land by the Varanasi Municipal Corporation.
This waste management unit is a landmark for Varanasi, using the latest indigenous 'Make in India' technology to convert solid waste into manure and Refuse Driven Fuel (RDF).
Solid waste from Varanasi Municipal Area reaches this plant, along with the garbage collected by the Varanasi Municipal Corporation. With 60 people working diligently, this huge facility helps mitigate environmental hazards of solid waste and provides a clean environment for the city of Varanasi that has a high influx of visitors due to its historical and religious significance. Around 750 tonnes of waste is separated daily. All the big waste that is left after machine sorting, is sorted by the workers. Then the waste is sprinkled with lime which is a disinfectant and odour control agent such as sanitreat powder and bioculum powder to increase decomposition rate. Then, it is dumped into an automated machine where solid waste is composted. The unit can successfully produce 30-50 tonnes of compost daily.
In the segregated waste, all that cannot be composted, is processed and fed into the reactor to produce superheated coal. Roasted coal, similar to natural coal, can be successfully blended with fuel in thermal power plants to generate electricity. This process is environmentally friendly because the temperature is lower than other technologies that do not contain toxic emissions.
The waste that cannot be used at all is sorted and dumped in a designated scientific landfill. The compost, thus produced, is distributed through an associate agency. Manure is also sold to farmers from the nieghbouring villages.
There are two laboratories in the plant, which daily monitor the quality of compost and water. Everything is recycled and treated before being released so that there is no toxicity in the ground or the environment. The plant was operational during the pandemic also, ensuring that the people did not suffer with any health hazards.
A kitchen garden is a soft addition to the plant and workers grow their own organic vegetables.
---
Infrastructure
NTPC endorses cleanliness in more ways than one. NTPC Kaniha set up the new vegetable market in Kaniha, Odisha, in 2020-2021. The street vendors used to sell their vegetables on road sides, causing traffic jams. So, the organisation built a permanent market with all facilities and shifted them there with the help of the local authorities. Facilities like electricity, good lighting, toilets and drinking water were also provided.
---
Safe Drinking Water
Safe and pure drinking water is the right of every person on this planet. NTPC has taken many steps to provide this to many villages.
At Talcher Kaniha, a water pipeline has been drawn from the NTPC plant for some villages. With the help of Rural Water Supply & Sanitation Department and the government of Odisha, NTPC has provided piped water to four villages. The organisation also provides water tankers to 35 villages during the summer months. Mandakini Pradhan of Sarthipala village, Angul district, Odisha, says, "We used to have a lot of difficulty. We had to fetch water from river and ponds, located around 1-2 km away from our village. This was a daily chore; people even went there for bathing. We were prone to waterborne and skin diseases as the water is not clean. But now that NTPC Kaniha has provided a pipeline for drinking water, life has become easier. We get pure water just outside our doorstep."
The road to progress is a long one but NTPC has been working tirelessly to make it smoother for all those who wish to give wings to their aspirations.
1.. NTPC supports development by providing infrastructure to schools, scholarships for talented students, installs smart classes, constructs toilets
2.. NTPC is giving aid for skill development to the underprivileged and unemployed youth in the villages near its power plants, empowering them for life
3.. NTPC focuses on capacity building interventions across the country for youth. It also supports agri-allied activities to augment income levels in rural population
4.. NTPC imparts livelihood training to Self-Help Groups (SHG). It initiates programmes after a local need assessment survey, helping women become independent
5.. NTPC has been supporting the Government General Hospital, Godavarikhani, Ramagundam since 2014, aiding with new medical equipment and an ambulance as well
6.. The solid waste management plant in Varanasi helps mitigate environmental hazards of solid waste, separating 750 tonnes of waste daily
---