An advertising agency in Kazakhstan's largest city, Almaty, has been ordered by court to pay damages for designing a controversial poster showing two cultural icons of the 19th century locked in a kiss.

The poster shows Kazakh composer Kurmangazy Sagyrbayuly and Russian poet Alexander Pushkin in an embrace and was designed to advertise an Almaty gay club at the intersection of Kurmangazy and Pushkin streets. It was inspired by a famous image of the leaders of East Germany and the Soviet Union kissing in 1979.
'My God, Help Me to Survive This Deadly Love' also referred to as the Fraternal Kiss is a graffiti painting on the Berlin Wall by Dmitri Vrubel created in 1990. It shows Leonid Brezhnev and Erich Honecker in a fraternal embrace and is a reproduction of a photograph of the two leaders taken in 1979 during the the 30th anniversary celebration of the foundation of the German Democratic Republic.
The complaint against the ad agency was brought about by a group of musicians of the Kurmangazy Kazakh National Conservatory who claimed that the poster had hurt their feelings.

The court has asked the agency to pay 34 million tenge (1,13,92,503 INR) to 34 music students and teachers from the conservatory and has also frozen the assets of the ad agency.

The ruling follows a legal battle in August, where it was agreed that the poster would not be shown in public. The plaintiffs claimed that the poster was "unethical" and offensive to the honor and dignity of both men's descendants, as well as to all people who respect their art.

Dariya Khamitzhanova, the director of the Havas Worldwide Kazakhstan agency called the ruling unfair and said "This 34 million will ruin our company." She has also vowed to appeal.

When the picture started doing the rounds on social media, a public outcry ensued and three lawsuits were launched against the agency. Staff have repeatedly apologised for any offence caused.

The agency has already lost one case brought by Almaty city hall, which claimed the poster violated "moral values" by showing "nontraditional sexual relations, which are unacceptable to society".

Commenting on the judgement, Mihra Rittmann, Central Asia researcher at Human Rights Watch said:
"Kazakhstan's courts should be fair and impartial when asked to censor the right to free expression just because an image is offensive to some or causes discomfort...With this punitive ruling, the court has chosen to trample on free speech in Kazakhstan."
In 2011, Benetton had launched a controversial campaign, the UNHATE project, which showed world leaders, known opponensts or perceived to be on different sides of the diplomatic fence, kissing on the mouth, which had created a similar outcry.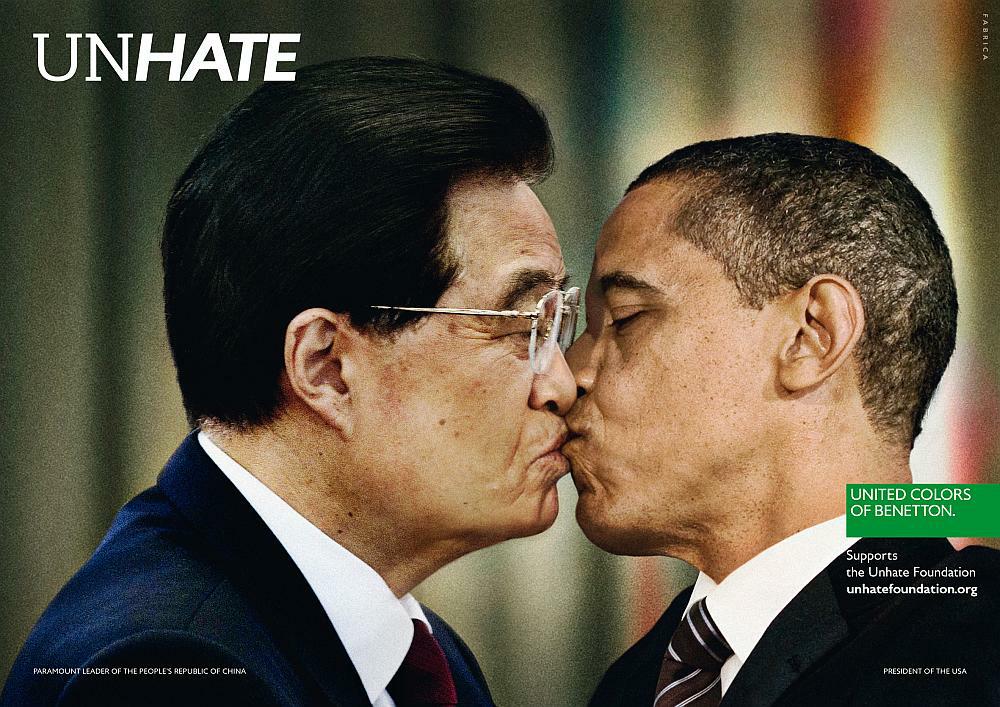 MORE PHOTOS: Unhate Or Uncool?