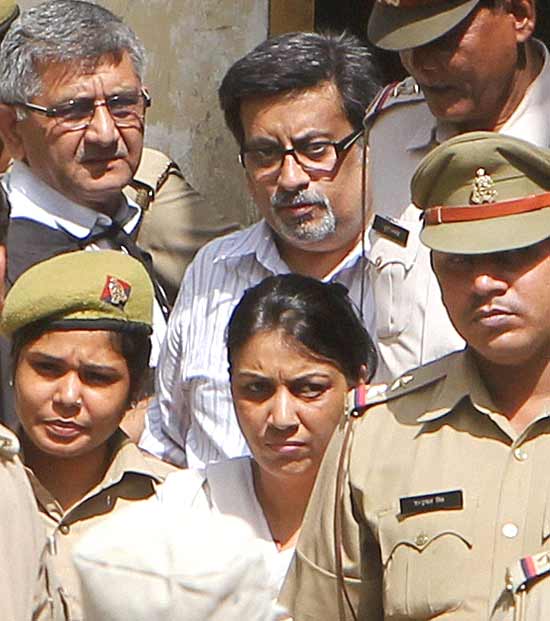 "The cynosure of judicial determination is the fluctuating fortunes of the dentist couple Dr. Rajesh Talwar and Dr. Nupur Talwar, who have been arraigned for committing and secreting as also deracinating the evidence of commission of the murder of their own adolescent daughter — a beaut damsel and sole heiress Ms. Aarushi and hapless domestic aide Hemraj, who had migrated to India from neighbouring Nepal to eke out living and attended routinely to the chores of domestic drudgery at the house of their masters."
Thus begins the judgement delivered by S.Lal, H.J.S in The State of UP Through The CBI Vs Rajesh Talwar & Another. This ornate prose goes on for 210 pages. Without going into the soundness of legal principles or rationale of the judgement, we reproduce, without any comment, some gems that screamed out for attention at a cursory reading:
The mise en scene is Flat No. L-32, Jalvayu Vihar, Sector 25, N.O.I.D.A., a suburb of New Delhi. The Dramatis Personae are Dr. Rajesh Talwar, his wife Dr. Nupur Talwar, the accused of this case, Ms. Aarushi and Hemraj, who were bludgeoned and thereafter, jugulated to death on the intervening night of 15/16 May, 2008, Mr. Umesh Sharma and Mrs. Bharti Mandal.

...The parties are ad idem that the case is based on circumstantial evidence. Skipping expatiation on prosecution story, a vignette of facts as unveiled is that...

...there is nothing to suggest that intruder(s) perpetrated this fiendish and flagitious crime..

...School bag and whim-whams were in the bed of Aarushi...

...On hearing ululation Mr. Punish Rai Tandon had come to his house... He was wearing T-shirt and half pant and Dr. Nupur was wearing peignoir since night and it is incorrect to say that their clothes were not stained with blood....

...Punish Rai Tandon had come to her house on hearing boohoo.

...They were not in position to talk to anyone as they were lugubrious

...He has also admitted that Hemraj was average built but he has no knowledge as to whether his willy was turgid

....Likewise, it has been contended by the learned counsel for the accused that the evidence of P.W.-36 Dr. Naresh Raj to the effect that swelling of the pecker of Hemraj was...

...It was also harangued that indubitably both the murders were committed in the night of 15/16.05.2008

...the case in hand is not based on percipient evidence and rather hinges on circumstantial evidence.

...the rule of benefit of reasonable doubt does not imply a frail willow bending to every whiff of hesitancy. Judges are made of sterner stuff...

....If crime is to be punished gossamer web niceties must yield to realistic appraisals...

...The law on circumstantial evidence is not tenebrous.

....El Dorado of absolute proof being unattainable the law accepts for it

...It is well-nigh impossible that Hemraj will dare to booze with his friends in his servant room...

....One must not forget that P.W.-10 Bharti Mandal is totally illiterate and bucolic lady from a lower-strata of the society

... bed-room was bolted from outside by any person(s) and they were 'cabined, cribbed and confined' in their bed-room.

...observations of court are not to be read as Euclid's Theorem or provisions of statute...

...To repeat at the cost of repetition, in all human affairs absolute certainty is a myth and as Professor Brett felicitously puts it- "all exactness is a fake".

....with intent to confuse and camouflage the investigating agency ...

... in view of the maddening contradictions, the entire warp and woof of the prosecution story is rendered brittle.

...evidence will not receive a jerk and jolt because the erstwhile accused were not chargesheeted or put on trial as the jerk and jolt is not such as to upset and tilt the prosecution version...

....It has next been argued with perspicacity by the learned counsel for the accused

...Lord Sumner's Classic Legal Short Hand for constructive criminal liability, expressed in the Miltonic Verse "they also serve who only stand and wait" a fortiori embraces cases of common intent instantly formed, triggering a plurality of persons into an adventure in criminality, some hitting, some missing, some splitting hostile heads, some spitting drops of blood. Guilt goes with community of intent coupled with participatory presence or operation. No finer juristic niceties can be pressed into service to nullify or jettison the plain punitive purpose of the penal code....
....Now is the time to say omega in this case. To perorate, it is proved beyond reasonable doubt that the accused are the perpetrators of the crime in question. The parents are the best protectors of their own children- that is the order of human nature but there have been freaks in the history of mankind when the father and mother became the killer of their own progeny. They have extirpated their own daughter who had hardly seen 14 summers of her life and the servant without compunction from terrestrial terrain in breach of Commandment 'Thou shall not kill' and injunction of Holy Quran- "Take not life, which God has made sacred". They are also found guilty of secreting and obliterating the evidence of the commission of the murders to screen themselves from legal punishment.
Read the full text of the judgment here: 'This Is Not A Fit Case For Inflicting Death Penalty'