Tarun Tejpal Faces Sexual Assault Charges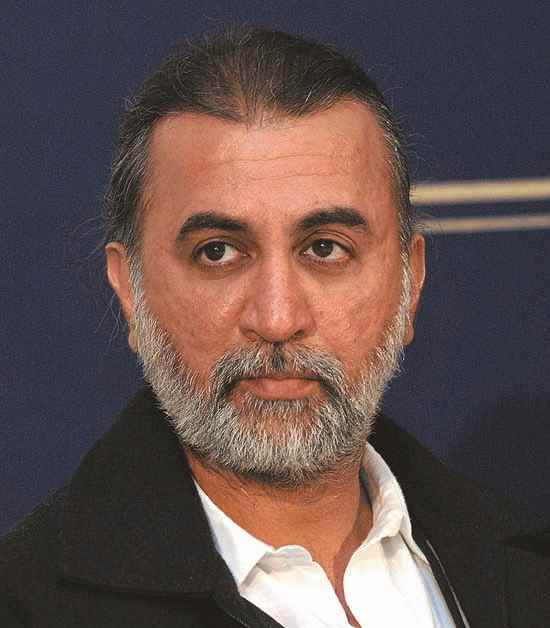 As seems to have become routine nowadays, news first broke on Twitter via a link to an internal office email sent by Tehelka magazine's Managing Editor, Shoma Chaudhury, which appended an email "in apology" from the weekly's editor-in-chief Tarun Tejpal to her.
The emails speak for themselves and are reproduced below:
From: "Shoma Chaudhury" <shoma@tehelka.com>
Date: 20 Nov 2013 19:03
Subject: FW: Atonement
To: "Editors" <editors@tehelka.com>
Cc: "Bureau" <Bureau@tehelka.com>

Dear All,

This may come as a rude surprise to many of you. There is a letter from Tarun appended to this mail. There has been an untoward incident, and though he has extended an unconditional apology to the colleague involved, Tarun will be recusing himself as the editor of Tehelka for the next six months.

Tehelka is an institution he has built, and which many journalists both current and former, have contributed to in the most profound ways. Throughout our 13-year career, we have proudly articulated and tried to live by the highest standards. We have also believed that when there is a mistake or lapse of any kind, one can only respond with right thought and action. In keeping with this stated principle, and the collective values we live by, Tarun will be stepping down for the period mentioned.

This is a hard time for all of us, and I hope all of you will stand by the institution.

Best,
shoma

http://tehelka.com/author/shoma-chaudhury/
http://www.facebook.com/pages/Shoma-Chaudhury/147949388590130

-----Original Message-----
From: Tarun J Tejpal [mailto:tarun@tehelka.com]
Sent: Wednesday, November 20, 2013 2:58 PM
To: Shoma Chaudhury
Subject: Atonement

My dear Shoma,

The last few days have been most testing, and I squarely take the blame for this. A bad lapse of judgment, an awful misreading of the situation, have led to an unfortunate incident that rails against all we believe in and fight for.

I have already unconditionally apologised for my misconduct to the concerned journalist, but I feel impelled to atone further. Tehelka has been born and built, day on day, with my blood, toil, tears and sweat, and that of many others, against near-insurmountable odds. It has lived for and fought the big battles of our time, always on the side of the oppressed and the wronged, always on the side of equity and justice. Its voice has travelled the world and changed policy and perceptions. It has been a beacon for those who would do the right thing.

Through bad, and worse, times I have protected Tehelka and its journalists from the inevitable demands of power and corporations. I have always allowed every journalist's sense of the right to flower and express itself. No one has ever been asked to do what they don't believe in.

I have always held that Tehelka the institution, and its work, have always been infinitely more important than any of us individuals. It is tragic, therefore, that in a lapse of judgment I have hurt our own high principles. Because it involves Tehelka, and a sterling shared legacy, I feel atonement cannot be just words. I must do the penance that lacerates me. I am therefore offering to recuse myself from the editorship of Tehelka, and from the Tehelka office, for the next six months.

You have always been stellar, Shoma, and even as I apologise to you and all my other colleagues, for this unfortunate incident, I leave Tehelka in your more than capable and safe hands.

In apology,
Tarun
Sent from BlackBerry(r) on Airtel
Soon thereafter, the Business Standard carried a news item, quoting Shoma Chaudhury as telling them:
"It is an internal problem and we are not setting up any enquiry into the matter."
Ms Chaudhuri was also quoted by NDTV as saying:
"This is an internal matter. The journalist concerned is satisfied with the action taken. Tarun Tejpal's recusing himself is in keeping with the principles of right response and standards that we want to live by."
Officially, there was no news about the nature of the "unfortunate"/"untoward" incident or "misconduct" till NDTV quoted "a person close to the [concerned] journalist", who described it as "grave sexual misconduct":
"It happened not once, but twice and the girl is completely shattered and emotionally scarred. She continues to put forward her plea that Tehelka should set up a committee to look into sexual harassment cases according to Visakha guidelines"
NDTV also tweeted more details about the incident:
Tehelka editor Tarun Tejpal resigns: She pleaded 'please don't do this', her no didn't matter, person close to the journalist tells NDTV

— NDTV (@ndtv) November 20, 2013
The word satisfied is not really the right word:person close to journalist tells NDTV on Tehelka statement after editor Tarun Tejpal resigns

— NDTV (@ndtv) November 20, 2013

Tehelka editor Tarun Tejpal resigns:Happened not once but twice, girl completely shattered, scarred, person close to journalist tells NDTV

— NDTV (@ndtv) November 20, 2013
Tehelka editor Tarun Tejpal resigns: Not easy for victim of sexual harassment to take case forward, person close to journalist tells NDTV

— NDTV (@ndtv) November 20, 2013
It has now emerged that the concerned journalist also wrote to Tehelka managing editor Chaudhuri, now officiating as editor, providing horrifying details about Tejpal having sexually assaulted her on two successive occasions.
The journalist said that the first assault took place on the night of 7th November 2013, the opening night of Tehelka's recently-held 'Think' festival at Goa, only to be followed by the second assault the next night.
The journalist movingly wrote about how as a reporter she suddenly found herself in the horrific situation of discovering what it is like to be at the receiving end of sexual violence from a powerful man she once deeply admired and respected, who threatened her that her job could be at stake.
The journalist concluded her email with a request to her then managing editor to constitute an anti sexual harassment cell as per the Vishaka guidelines immediately.
---
Edited: to remove a few direct quotes from the journalist's email, that were earlier included in the last paragraphs of the copy to underline the gravity of the charges, in response to requests received by us. These quotes did not provide any lead or pointer to her identity, but have been removed, and the substance paraphrased, only to respect the journalist's privacy.
Some of the responses on Twitter:
SHORT TAKES
21 Nov 2013, 11:31:13 PM | Buzz
Indian Express reports: Tehelka case: VP withdraws Tarun Tejpal's name from Prasar Bharti panel
Taking strong cognisance of the sexual assault allegations against Tehelka founder and editor-in-chief, Vice President Hamid Ansari has recommended that Tarun Tejpal's name must be withdrawn from a panel constituted to look into issues concerning Prasar Bharti.

This comes two days after a selection committee, headed by the Vice President, had recommended inclusion of Tejpal into the panel. The committee also includes Press Council of India chairman Justice Markandey Katju and the Information and Broadcasting Secretary.

Earlier, following the controversy erupted into the allegations of sexual assault against Tarun Tejpal, the Goa government on Thursday ordered an inquiry into the case.
21 Nov 2013, 01:54:29 PM | Buzz
NDTV reports: Deeply disappointed with Tehelka response, says woman journalist to NDTV
The journalist who says she was sexually assaulted by her boss, Tarun Tejpal, the editor of Tehelka magazine, says she is "deeply disappointed by Tehelka's response." The woman told NDTV, "To claim that other journalists in Tehelka are satisfied is also false since my testimony has not been publicly circulated within Tehelka, only Tarun's letter of 'atonement' has."
21 Nov 2013, 08:43:05 AM | Buzz
The Telegraph reports: Assault charge hits sting pioneer
Although Chaudhury's mail to her colleagues informing them of Tejpal's decision referred to "an untoward incident", some insiders said the November 7 incident was nothing less than sexual harassment and efforts were on to dissuade the colleague from filing a police complaint...
...Tejpal's email, in which he apologised to all colleagues, also lifts — even if partly and couched in euphemisms — an undeclared veil that has largely shrouded Indian newspapers. Not many newspapers, including The Telegraph, report on scandals involving journalists or media houses unless a police complaint is filed.
But the circulation of an email, whose authenticity has not been challenged, has ensured that the issue is no longer in the realm of speculation...
...The sources added that Tejpal tried to suggest that the girl misconstrued "a drunken banter".
21 Nov 2013, 04:21:58 AM | Buzz
A person close to the journalist spoke to NDTV and said it was an act of "grave sexual misconduct.
What happened was absolutely shocking and appalling and it was an act of grave sexual misconduct which happened involving the editor of Tehelka [She gets the designation wrong] and an employee of Tehelka.

What is shocking and concerning is that the act happened continuously over a period of two days and despite having been told not to do it and despite the girl pleading that she is almost the age of his daughter and he is a father-like figure to her and she is very close to his daughter also. And the girl pleaded that please don't do this but despite that it happened. Her 'No' was not accepted; her 'No' did not matter and it happened once and then it happened again the next day.

And the girl was absolutely and totally emotionally shattered.

NDTV: Is the journalist satisfied, as claimed by Tehelka?

First of all, I wouldn't use the word 'satisfied' at all. It is not a question of being 'satisfied' really speaking. As I told you, this child has been emotionally scarred and this is something that is going to stay with her for the rest of her life. it is not something that is going to go away. It is not something that is going to vanish. And this is going to be with her, this emotional trauma is going to be with her for the rest of her life.

For one, I don't think the word 'satisfied' is really the right word. I don't think it is the right thing also to say that she is satisfied with this. She continues to put forward her plea that Tehelka should set up a committee to look into sexual harassment as per Vishaka guidelines and as per sexual harassment law in the country. That they should do it to look into the cases of sexual harassment. They do not have such a committee. It is a mandatory thing that organisations should have. It is not there, so this is one of her pleas that this should be done.

NDTV: Any clarity whether she wants to pursue this matter further?

See, let's take each step as it comes. As I said, it's not really easy to have done what she has done and it'[s a very brave thing to do and she has done it. It is not easy for any victim of sexual harassment to go ahead and lodge a complaint take the case forward. You must be aware that sexual harassment is actually rampant, but very few women actually come up and take the case forward. This girl has done it so kudos to her for having actually done it, so give her time, give her space, she has stood up. She has taken the case forward and we don't know where this is going to go.
21 Nov 2013, 02:16:46 AM | Buzz
The Hindustan Times adds: Tehelka editor steps down after allegations of sexual misconduct
...the woman concerned is believed to have written an email to Chaudhury in which she narrates details of the assault. In the email, the woman has alleged that Tejpal physically assaulted her at least twice during the festival and that she informed three colleagues about the incidents when they happened. The female staffer said that she couldn't inform Chaudhury at the time because it was impossible for her to get a minute alone with the managing editor given the demands of the festival on her senior colleague's time...
...Tejpal confirmed the contents of the leaked e-mail. In response to an SMS sent to him by HT, he said:"Yes that's right. I think my self-explanatory letter has been put by someone in the public domain."
21 Nov 2013, 02:13:53 AM | Buzz
The Indian Express adds: Accused of sexual assault by staffer, Tehelka founder steps down for 6 months
Reached for comment, Tejpal told The Indian Express: "The matter was taken up internally, and has been addressed and redressed."

Chaudhury told The Indian Express that the woman journalist had not filed a criminal complaint and that she, as well as other staffers, were "satisfied with the action taken".

Chaudhury, however, did not confirm or deny if this was a case of alleged sexual harassment and refused to specify what the "incident" was, claiming it was "an internal matter".

"I don't know how this concerns you...I don't think you can ask me these questions," Chaudhury said.

Sources told The Indian Express that the woman journalist had written a very detailed mail to Chaudhury reconstructing the alleged incidents.

She is also believed to have written to Chaudhury that she had told three of her colleagues at the event in Goa that she had been molested by Tejpal.

In the mail, sources said, she alleged that Tejpal had on one occasion pulled her into a lift at a five-star hotel and pressed buttons to ensure the elevator stayed in circuit and did not stop or open doors while he assaulted her.

When she resisted and the lift came to a halt and she walked out, Tejpal, the woman is said to have alleged, told her that this was the easiest way for her to keep her job.

Tejpal allegedly tried to assault her again the next day, again by pulling her into a lift at the same hotel, the woman is said to have alleged.

The journalist is also believed to have quoted a subsequent series of SMSes exchanged between her and Tejpal about the incidents, the sources said.