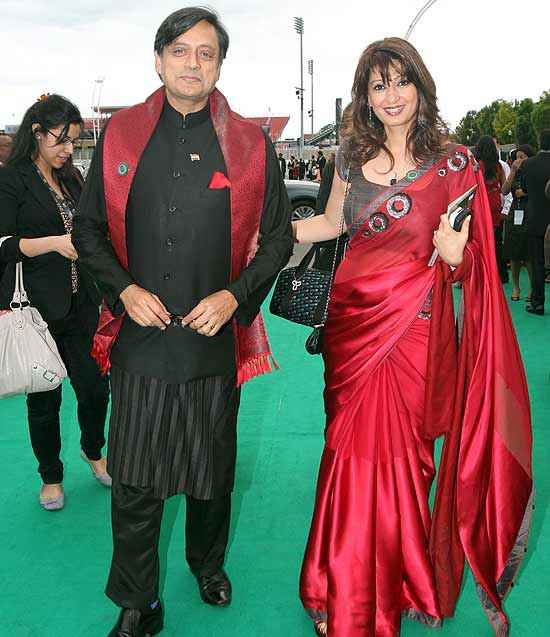 Sunanda Pushkar Tharoor, who had been in the news for the last two days, because of a recent controversy on Twitter, was found dead in New Delhi's hotel Leela.
According to Delhi Police sources, her husband Shashi Tharoor informed them of the death.
Shashi Tharoor had claimed on Wednesday, January 15, that his Twitter account was hacked, after some strange tweets were sent from it to Tarar. The tweets had instantly created a buzz on social media websites.
The Indian Express on Thursday quoted Sunanda Pushkar as alleging that her husband was having an "extra-marital affair" with a Pakistan-based journalist and that she would "seek divorce":
"I completely stand by my tweets, I 100 per cent stand by that," Sunanda Tharoor later told The Indian Express. "That woman pursued and pursued him…men are stupid anyways…for all you know she is a Pakistani agent. Where's love, where's loyalty in this world…I am so distraught."

Sunanda Tharoor said she felt "destroyed as a wife and a woman" over her husband's "rip-roaring affair" with the Pakistani journalist which she claimed had been going on since April last year.

Sunanda Tharoor also claimed there have been a series of Blackberry Messenger exchanges between her husband and the Pakistani journalist in which, among other things, the possibilities of his divorce with her have also been discussed.

Asked what her next move would be, Sunanda Tharoor said she would seek a divorce from Shashi Tharoor. The Congress minister of state for human resource development and MP from Thiruvananthapuram married the Dubai-based entrepreneur in August 2010
Sunanda Pushkar later added fuel to the fire with her reported disclosure that Shashi Tharoor's account was not hacked, as claimed by him, and that it was she who had sent out the controversial tweets disowned by him. In a statement to the Economic Times, she accepted that she had sent out tweets from Shashi Tharoor's twitter handle.
"Our accounts have not been hacked and I have been sending out these tweets. I cannot tolerate this. This is a Pakistani woman who is an ISI (Inter Services Intelligence) agent, and she is stalking my husband. And you know how men are. He is flattered by the attention. I took upon myself the crimes of this man during IPL (Indian Premier League). I will not allow this to be done to me. I just can't tolerate this. I have nothing more to say."
Tarar, however, dismissed the allegations as untrue and said she was totally amused. She said Sunanda has gone out of her mind.
Subsequently a joint statement was put out on Shashu Tharoor's Facebook account in his and his wife's name yesterday:
We are distressed by the unseemly controversy that has arisen about some unauthorised tweets from our Twitter accounts.

Various distorted accounts of comments allegedly made by Sunanda have appeared in the press. It appears that some personal and private comments responding to these unauthorised tweets -- comments that were not intended for publication -- have been misrepresented and led to some erroneous conclusions.

We wish to stress that we are happily married and intend to remain that way. Sunanda has been ill and hospitalised this week and is seeking to rest. We would be grateful if the media respects our privacy...
The couple had got married in August 2010.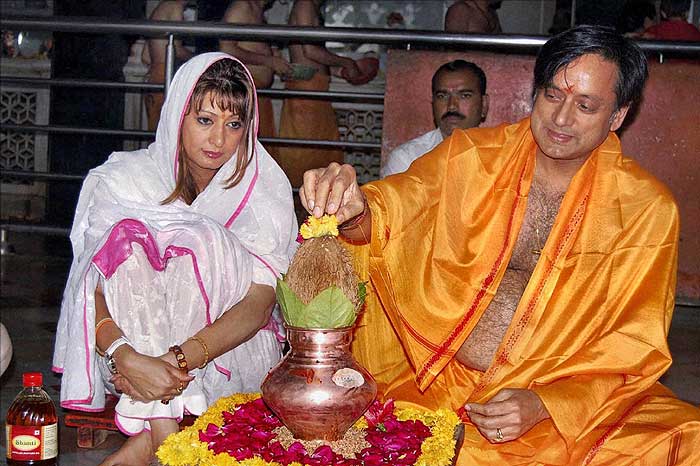 And then, came the news today. Apparently Mr Tharoor reached the hotel room after attending the AICC sessions today and found her dead.
Read more about the cicumstances of her death here