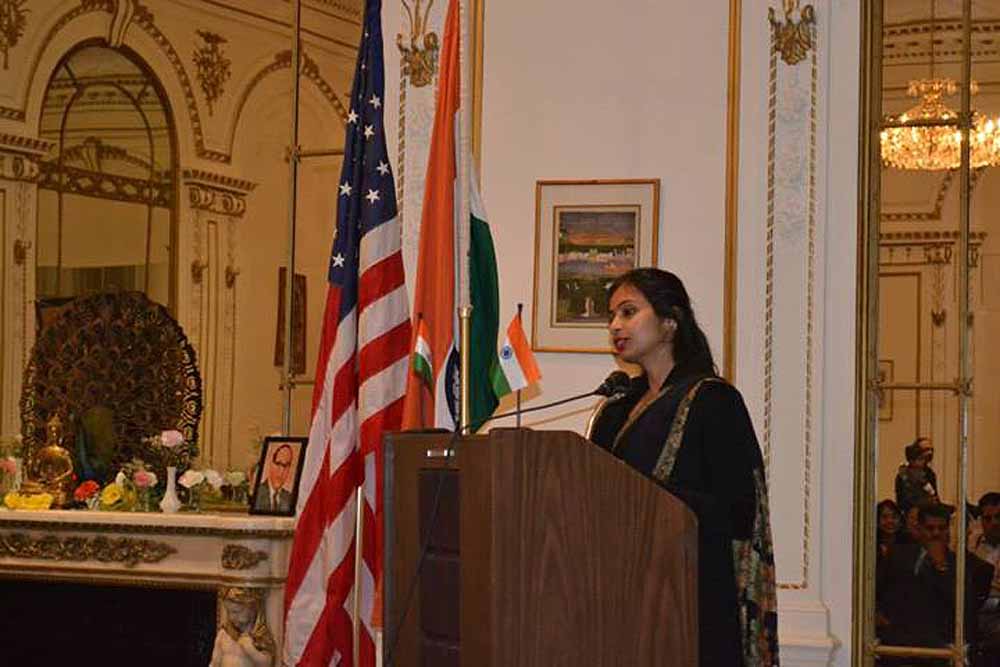 Writing in Delhi Durbar, Archis Mohan says the genesis of the current controversy involving an Indian diplomat dates back to a 2010 case, in which another consul at the Indian consulate in New York, Neena Malhotra, along with her husband, was directed by a New York court in 2012 to pay $1.5 million for "barbaric treatment" to their domestic help Shanti Gurung who had accused the couple of "slavery". By then the Malhotras were back in New Delhi; the case was filed against them after their leaving NY.
In New Delhi, Malhotra occupied important postings. She was, until recently, joint secretary in the visa division. Here, in November, 2013, Malhotra refused a visa to the spouse of a gay US diplomat when she discovered that the couple were homosexual. She said Indian law didn't recognise gay marriages.

Sources say this hurt the Americans as the Indian diplomat threw the rule book at them. Given South Block's relations with the US, the US Embassy ensured that Malhotra was transferred out soon enough and the gay couple granted visa. There was a feeling that Malhotra may have been unfairly insistent that the American diplomat follow the rule book, when the spouse could have been granted a visa as a family member if not as spouse.

A source said Malhotra may have only been doing to the Americans what they did to her over the maid issue.

However, Malhotra was shifted to managing archives and records, clearly a punishment posting.

But the Americans were not satisfied. In New Delhi, IFS officers were upset that one phone call from Roosevelt House ensured the diplomat was moved out, in what was clearly a very public message to the entire diplomatic corps that the Americans should not be treated lightly. This, when the diplomat was only following laid down rules...

...Sources said the Americans have become used red carpet treatment in the last decade, particularly during the Manmohan Singh years. Malhotra's refusal to grant visa was an insult for which the Americans wanted to pay back the Indians. This is where they extracted revenge on Khobragade
He then goes on to recount the various happenings and behind-the-scenes goings on in the latest controversy. If nothing else, the theory above at least explains why the BJP leader Yashwant Sinha made the suggestion about treating the gay partnetrs of US diplomats in a certain way.
Read the full blog at Delhi Durbar: Khobragade arrest due to escalation gone awry:
In a separate post, Archis Mohan explains why South Block is seething with anger at the arrest of Devyani Khobragade: 'The Americans Have Slapped Us Hard in the Face'
Indian diplomats perceive this arrest as a betrayal and are calling it "a slap across their face" and that the Americans "made a monkey out of them". The trust built between India and the U.S. over the past decade has unravelled in the span of a week, claims the Indian diplomatic community.

The question whether Khobragade indulged in illegality has ceased to be the issue. It has now become more about the Americans not repaying the trust the current dispensation in New Delhi had reposed in them. South Block is also utterly convinced that the U.S. State Department was well aware of the arrest when it took place
Also, a series of tweets by Siddharth Varadarajan which puts the controversy in perspective: