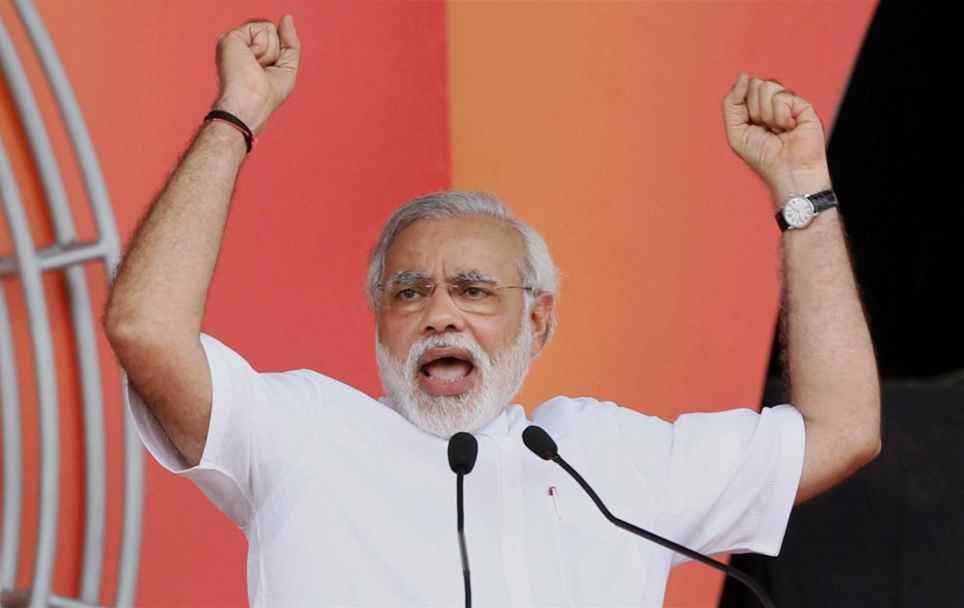 As was to be expected, Mr Modi waded into the "Dehati Aurat" controversy, reported earlier, in his speech at BJP's Delhi rally:
"How dare you (Sharif) address my nation's Prime Minister as a village woman? There cannot be a bigger insult of the Indian Prime Minister. We can fight with him on policies but this we will not tolerate. This nation of 1.2 billion will not tolerate its Prime Minister's insult"
He went on to add:
"The journalists who were sitting in front of Nawaz Sharif when he was insulting our Prime Minister should also answer to the people of my country".
"I want to ask those journalists, I don't know who were they but journalists of my country who were having sweets sitting with Nawaz Sharif when he was abusing our Prime Minister calling him village woman, I expected those Indian journalists, the country expected them, to refuse the sweets and walk out"
Reportedly at Mr Sharif's initiative, Pakistan got into damage control mode:
Pakistani journalist Absar Alam, director of Aaj TV, who was also present during the breakfast meeting, disputed Mir's version:
"PM Nawaz Sharif never used the word Dehati Aurat, these words were never used"
Mr Sharif made his displeasure known by citing a anecdotal story:

"The story goes like this – after a party all people sleep in a hall. One of them wakes up next morning and starts praying. In his prayers he says Allah! Look I am praying to you while all these others are sleeping. Some other person woke up and heard him. He told him why do not you concentrate on your prayers instead of complaining against us," he said.
Mr Hamid Mir too clarified on Twitter:
The Broadcast Editors' Association put out a press release, taking Mr Modi to task for his remarks:
The Broadcast Editors' Association finds Gujarat Chief Minister Mr Narendra Modi's statement against Indian media at a public rally in New Delhi today as objectionable. The BEA believes that such statement aims at demeaning Indian media, which is a key institution of democracy.

The Broadcast Editors' Association is disturbed at the attempt to project Indian media team visiting the UN in a poor light. Mr Narendra Modi's statement has been made without knowing the full facts of the matter and without realizing the dignified role media is expected to play at international fora.

The BEA would like to assure all that Indian media understands its responsibility and also it's code of conduct.
Meanwhile, Barkha Dutt too issued a statement over at the NDTV:
During this informal conversation, PM Sharif expressed unhappiness over the fact that Pakistan had been so central to the meeting between PM Singh and US President Barack Obama. He argued that India should have brought its grievances to Pakistan directly. He also said it reminded him of an allegorical story of a dispute between two people in a village, in which one was a woman. The moral of his story was that disputes should be settled between parties directly and not involve a third party.
The phrase "dehati aurat" was not used for Prime Minister Singh in my presence. There was also, in my presence, no other pejorative word or derogatory phrase used for PM Singh. His story was an illustrative example of dispute resolutions between India, Pakistan and the United States.

I was taken aback when informed that Hamid Mir of Geo had said otherwise in a phone report. Normally, informal, off record conversations are not for reporting. But when I saw how this conversation, at least the part that I witnessed, was distorted, I felt I must share some of these details to set the record straight.
Pakistan foreign secretary goes on record to say no "dehati aurat" comment made and says @HamidMirGEO has said so officially!!

— barkha dutt (@BDUTT) September 29, 2013
And even more significantly, the video in which Mr Hamid Mir made the controversial remarks, saying that Mr Nawz Sharif had told Barkha Dutt that it seemed Mr Manmohan Singh had gone not as the Indian Prime Minister but as a "dehati aurat" to complain to President Obama, was removed from Youtube. [See the link above].
Meanwhile, others have posted the relevant bits of the deleted video on Youtube: