For those who came in late...
It is a mere matter of record that Narendra Modi "promoted" Maya Kodnani from an MLA to a minister in 2007, despite knowing the serious charges of having led the the Naroda Patiya brutalities and killings of 2002.
While five years were allowed to elapse in the case of Ms Kodnani, Mr Jagdish Tytler's rise was far swifter, as Manoj Mitta and HS Phoolka record in When a Tree Shook Delhi:
...the political career[] of ... Tytler, far from suffering on account of 'the taint of 1984' blossomed as if [he] had been rewarded for engineering the violence. Having won the 1984 election under the shadow of the carnage, Rajiv Gandhi immediately...inducted Tytler into the government for the first time as minister of state...[He] remained in the Rajiv Gandhi government till the end of its tenure in 1989...
He remained a minister whenever Congress returned to power: He was back under P.V. Narasimha Rao, and then again under Manmohan Singh in 2004, till he was forced to resign under duress, following his indictment by Nanawati Commission report on 1984 anti-Sikh violence. Which of course was claimed by the worthies of the Congress to be "in keeping with the high traditions of sacrifice exemplified by the party"

The "high tradition" was of course followed with first a CBI "clean chit" and then a usual ticket for the 2009 Lok Sabha elections. It took a shoe thrown at P. Chidambaram that eventually resulted in his not contesting the Lok Sabha elections, something the party had cheerfully allowed him all through these decades.

They may have been forced to keep him out of Parliament, but he has since been let loose on the rest of the country, as General Secretary in charge of one state or the other. And soon after the Kodnani judgment, as if on cue, here he was, back to lead a mob: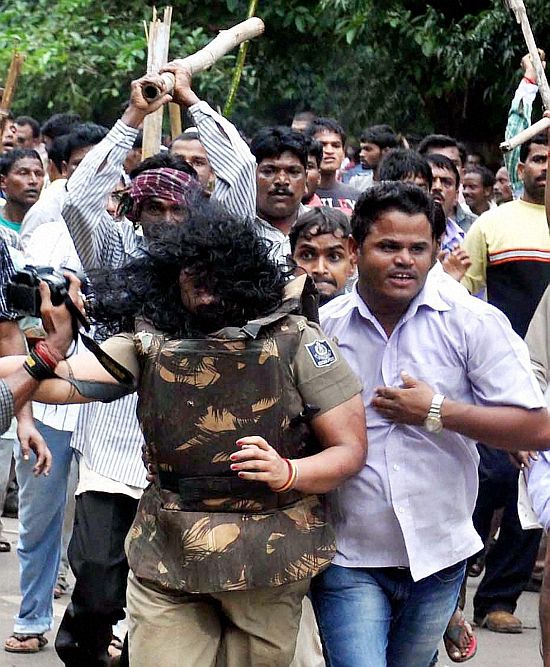 Pramila Padhi, constable with Bhubanewar city police being chased by a mob of Congress workers who went on to brutally beat her up. The 39-year-old policewoman sustained serious injuries and this is how she recalled her ordeal from her hospital bed: "About 30 to 40 youths attacked me, showered blows, kicked me from back as soon as Jagdish Tytler called on party workers to break the barricade."

In the words of BJD MP Pinaki Mishra, Mr Tytler was "at the vanguard of those instigating the mob, saying "todo, todo, todo".

But Mr Tytler of course is only following the "high tradition" when he points out how "there are two sides of the story" and "our people have also been injured"

Ironically, earlier, the very same day, when this was playing out in Bhubaneswar, Pratap Bhanu Mehta wrote in the Indian Express:
The Naroda Patiya judgment was significant for several reasons. It has, for the first time, convicted senior politicians for complicity in a riot. This will send out a powerful message. As many people have pointed out, if such convictions had been achieved in the case of the 1984 riots, our history would have been different.
As would, clearly, our present. And that is the pity -- and the shame -- of it.
***
From the archives:

The Credible Evidence
The full texts of the two affidavits referred to by the Nanavati Commission while recordings its finding "that there is credible evidence against Shri Jagdish Tytler to the effect that very probably he had a hand in organizing attacks on Sikhs".
Jasbir Singh, Surinder Singh

'Ever Since I Deposed Against Tytler...'
'...I have not had a moment's peace,' says Surinder Singh, who was a granthi at Gurudwara Pulbangash in Delhi during the 1984 riots and adds that he vividly remembers 'seeing Tytler urging rioters not to waste time on looting but to get down to killing people'
Chander Suta Dogra

Standing Up To Be Counted
A few damaging witnesses, who the CBI claimed could not be traced, have surfaced in the last few days to say, that they are ready to depose against the high profile accused Congressmen if they are assured of rehabilitation and some protection.
Chander Suta Dogra

Khushwant Singh: When Jagdish Tytler claimed that none of the commissions of inquiry implicated him in the anti-Sikh violence, he was lying. You can see it in the smirk on his satanic face. Only sarkari commissions let him off the hook.
From the Report Of The Nanavati Commission: Part IV: Assessment of Evidence and Recommendations for Action:
It also appeared to the Commission that S/Shri Jagdish Tytler, Ram Lal, Kaka Bali, Ram Chander Nagoria and Tarvinder Singh Bedi, who were all Congress (I) Leaders or workers, were in some way involved in the attacks on Sikhs or their properties in this area. Notice issued to Shri Tarvinder Singh could not be served as it was reported that he has died. Notice was not issued to Kaka Bali also as he had expired earlier. S/Shri Jagdish Tytler, Ram Chander Nagoria and Ram Lal have sent their replies.

Shri Surinder Sigh (Witness No.147), who was the Head Granthy of Gurudwara Pulbangash, situated near Azad Market while describing the attack on the Gurudwara on 1-11-84 at about 9 a.m., has stated that the mob which attacked the Gurudwara was led by Shri Jagdish Tytler who was then Congress (I) MP of the area. He has stated that Shri Jagdish Tytler had incited the mob to burn the Gurudwara and kill the Sikhs. According to his evidence the mob had thereafter attacked the Gurudwara and burnt it. One Badal Singh was also burnt alive. He has also stated that he was contacted by Shri Jagdish Tytler on 10-11-84 and asked to sign on two sheets of paper. In reply to this allegation Shri Jagdish Tytler has referred to the subsequent affidavit dated 5-8-2002 filed by this witness, wherein he has stated that he does not know what was written in his earlier statement as he cannot read or write English. He has further stated therein that he had not seen Shri Jagdish Tytler in the mob that had attacked the Gurudwara. Shri Jagdish Tytler has also stated that at the relevant time on 1.11.84 he was present at 1 Safdarjang Road where the body of Late Smt. Indira Gandhi was lying in state and that at no point of time on that day he had gone near that Gurudwara. Witness Shri Surinder Singh, during his cross examination, admitted that he had not filed any affidavit earlier either before Justice Mishra Commission or any other authority regarding what he had stated now. It would appear that by itself cannot be a good ground for not beliving him. He has given evidence before this Commission and therefore what he has stated in his subsequent affidavit referred to by Shri Jagdish Tytler is not of much value. What appears from all this is that the subsequent affidavit was probably obtained by persuasion or under pressure. If this witness had really not seen Shri Jagdish Tytler in the mob or if he was not approached by Shri Tytler then he would not have come before the Commission to give evidence or would have told the Commission that the attack did not take place in that manner. For speaking the truth it was not necessary for him to wait till 5-2-2002 and file an additional affidavit. He was not called for cross examination by Shri Tytler.

As stated by Shri Gurbachan Singh (Witness-137) involvement of Shri Jagdish Tytler was also disclosed by the affected persons to the 'Citizen Commission' during the inquiry, which it had made within a short time after the riots. That inquiry was made by eminent persons of unquestionable integrity. Shri Govind Narain (Witness – 150) who had assisted the Citizens Committee, whose Chairman was Mr. Justice Sikri, has also stated that witnesses had told the Committee about participation by S/Shri H.K.L. Bhagat, Sajjan Kumar and Jagdish Tytler in the anti-Sikh riots. Relying upon all this material, the Commission considers it safe to record a finding that there is credible evidence against Shri Jagdish Tytler to the effect that very probably he had a hand in organizing attacks on Sikhs. The Commission, therefore, recommends to the Government to look into this aspect and take further action as may be found necessary.