Prime Minister Narendra Modi told a packed audience at California's SAP Centre on Sunday that about two years back there was serious re-thinking on whether the ?elite ?BRICS ?grouping ?— Brazil, Russia, India, China, South Africa — ?should continue without India.

?No, Prime Minister.?

??A?t no point did the Indian leadership, or the other members of BRICS, think of the grouping without India, top diplomats said, making it clear that India is "too big an economy to be ignored by anybody."?

Modi had told the gathering made up of Indian entrepreneurs and "techies" working in Silicon Valley that in early 2000 the word BRICS was coined by experts to reflect the fastest growing economies in the world that included Brazil, Russia, India, China—and later South Africa.? ?
"But if you watched it carefully you would have noticed that in the last two years the "I" in the BRICS started stumbling. People had then started thinking of whether the grouping should do without India," Modi said.
However, neither Indian diplomats nor experts can remember a time in recent years when either the leadership in Delhi or those in the BRICS had seriously contemplated dropping India from this impressive body.
? ?
"India is too big an economy to be ignored by anybody," N.? ?Ravi, former Secretary (Economic Relations) in the Ministry of External Affairs said. "At no point did we think of leaving the grouping either."
According to Ravi, the thinking in the Indian establishment was always to stick around in BRICS, even though there were issues about economies of other member countries slowing down. After the economic slowdown of 2008 that affected most economies in the world, it also affected the BRICS, said Ravi. But he asserted that the economic growth of the other members—particularly Brazil Russia and South Africa were much lower than that of India's. "Indi?a? too had slowed down but it mostly remained in the number two position in the BRICS after China."
This view is also supported by Vivek Katju, a former Secretary (West) in the MEA. "I have never heard of any such plans either in the government or elsewhere."
According to the IMF World Economic Database, 2014, the average annual growth rates of BRICS since 2001 to 2014 shows that India has grown most of the period at a rate of 7.8 ?per cent ?and slowed down to 5.5 ?per cent ?in the past two years, when all other economies of the BRICS had also slowed down significantly. But throughout India's growth rate was only second to China's including in the last two years when the Congress-led UPA government was in its last leg of its ten-years in power.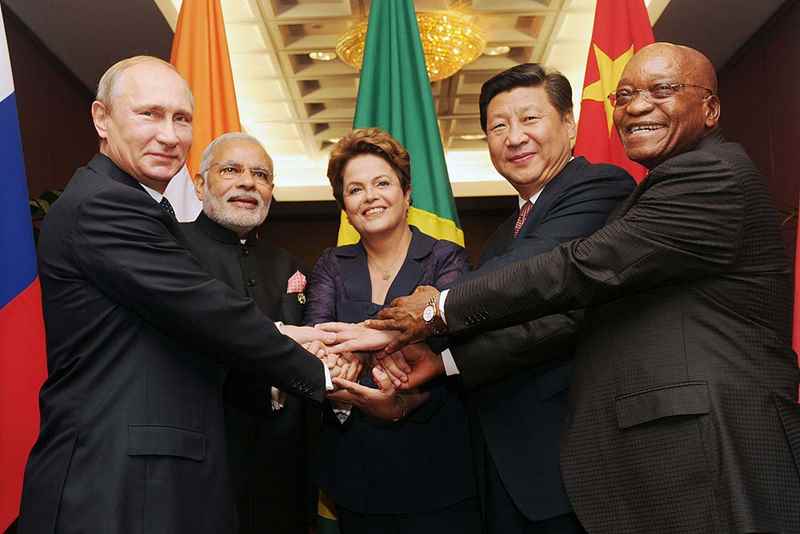 PM Modi's remarks indicate that he was obviously trying to impress the audience at the SAP Centre about the progress India has made since he came to power. However, his penchant for taking pot shots at the Congress and his predecessor government in Delhi, are often done without facts to substantiate his claims. The remarks about BRICS and India are a case in point.
"California was yet another pitch carefully prepared for Modi where he can hit the ball around without the fear of ever getting caught," says a former South Block official.
? ?
While many Indian present at the SAP Centre on Sunday may return home happy after the Prime Minister's speech. But saner ones among them are bound to ponder whether the practice of running down political opponents in foreign soil is such smart idea.