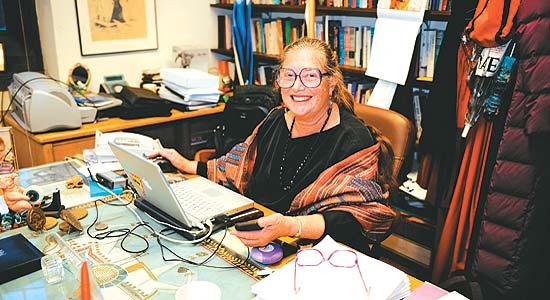 Mythologist Dr Devdutt Pattanaik interviews Wendy Doniger in the Mid Day and provides the full interview on his website:
In one of the questions, I had suggested that she enjoys intellectual heckling. It is an opinion I have held for long. I realise after reading her answer that it could be just a case of a different sensibilities....

When I read your books, I feel you enjoy heckling people. Your choice of words can be rather stark. I can almost feel you chuckle at the orthodox getting their knickers in a twist. Am I imagining this?

Yes, I think you are indeed imagining this, but apparently you are not the only one. Perhaps if you gave me an example of something that you regard as heckling or stark I could see where the misinterpretation has come in. My sense of humor, which is a New York Jewish sense of humor, sometimes is mistaken for flippancy. But I never ever write with the intention of making anyone angry. The only people I poke fun at in The Hindus are the scholars who generated such outlandish ideas about the Indus Valley on the basis of absolutely no evidence. I never ever poke fun at any Hindus. I sometimes see Hindu texts as themselves as funny, or as poking fun at other people, and I enjoy those texts and cite them. I certainly do not always agree with what the texts say. But I do not heckle them.
Read the full interview: 'I never ever poke fun at any Hindus'
In Outlook:
Elsewhere, on/by/from the same book/author: