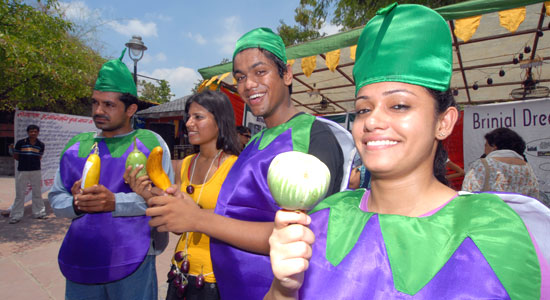 A brinjal festival at Delhi Haat: File Photo
Should or not the government allow the commercial cultivation of genetically modified Bt brinjal?

In keeping with his earlier pronouncements on the subject, characteristically, the environment minister Jairam Ramesh has decided to put up the report of the Expert Committee, that formed the basis of the Genetic Engineering Approval Committee (GEAC) decision of October 14, on his ministry's website for seeking comments until December 31.

During January and February 2010, the minister says, he will have a series of consultations in different places with scientists, agriculture experts, farmers' organisations, consumer groups and non-governmental organisations.
The Centre for Science and Environment (CSE) has said that the government should not clear any genetically modified food crop till the time India has strict provisions for labelling.

Bt brinjal will be one of the few crops which are used for human consumption directly and not processed or used in other foods.
Check out the full controversy about Genetically Modified Seeds or GM Seeds here