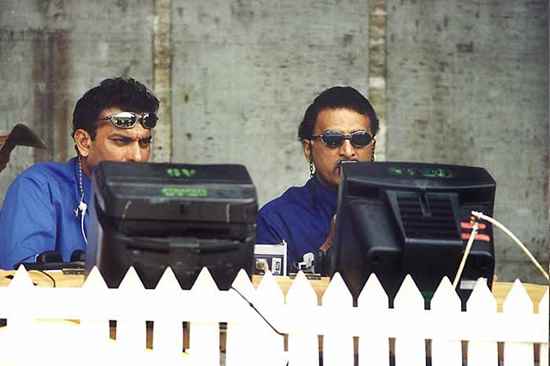 Way back in 2011, Rohit Mahajan provided a the background as to why Sunil Gavaskar and Ravi Shastri seemed so constrained in telling the complete truth when it came to reporting on the Indian cricket team.
Former India captain Sunil Gavaskar and his protege Ravi Shastri are contracted with the BCCI. Their annual contract, renewable each year, is said to be in the region of of Rs 3.6 crore each per annum.
The contract allows the board to provide their services to BCCI event broadcasters like Neo, Set Max, ESPN Star. Their merit is undoubted, but no broadcaster can turn down their services nor deny them their daily fee.
On short-term contracts for events owned by other boards (like the England series, whose rights are with Sky), they are paid by the day by the broadcaster in India, like ESPN Star in the present instance.
The Mumbai duo was contracted with the World Sports Group until last year. But WSG's proximity to the disgraced IPL chief Lalit Modi resulted in BCCI entering into a direct contract with them.
The contract leads to a conflict of interest. As independent observers, they are supposed to comment on the BCCI's workings, which they possibly can't. This is not the norm in media houses worldwide.
The BCCI has its own in-house production unit, despite the fact that all production and broadcast work is outsourced. The unit's main job is to get the broadcaster to do the BCCI's bidding.
The BCCI being the paymaster of the pipers clearly called the tunes. The story resurfaced recently once again when there was a bit of a buzz about a recent Sanjay Manjrekar tweet:
"Sundar, I have now been kicked off from studio for Ind/Aus by star. Don't you think this is a bit harsh? I have a contract with them."
Manjrekar apparently immediately deleted the tweet and explained in another one that followed that it was a "segment of private chat that erroneously got onto twitter." It emerged later that he had meant the tweet for Sundar Raman, the IPL chief operating officer.
Firoz Mirza of the Hindustan Times followed this up with a report which confirmed what has been an open-secret among those in the know:
In an era of BCCI's 'paid commentary' policy, listening to Chappell providing insight into the game would have been a welcome relief. However, fans will not be able to hear the man, who refused to accept BCCI's strict dos and don'ts for the commentators.

Chappell, who once didn't even hesitate to take on Don Bradman when the latter was the Australia board chief, declined the offer from host broadcaster ESPN for commentating in the series, refusing to accept BCCI's terms and conditions.

"I was invited by ESPN to do commentary. I emailed back asking who I was working for and the reply was; I was contracted by ESPN but I would be subject to BCCI restrictions," Chappell told HT in an e-mail interaction.

"I emailed back to ask what these restrictions were and was told; 'I couldn't talk about Indian selection, DRS or administrative matters. I responded saying I didn't feel I could do my job properly under those circumstances and therefore declined the offer.
At espncricinfo.com, Sharda Ugra follows up on the story: Have an opinion? Think again
During the recently-concluded Champions League T20, the list of taboo topics included the sight of empty stands.

It is understood that the BCCI's commentary restrictions came into place at the start of the 2012-2013 home season and the four-Test series against England, which India lost 1-2 to give England their first Test series win in India after 28 years. As post-defeat discussions were about to begin on air, commentators in Nagpur were told that captaincy and selection were not to be talked about.
Ugra, in a detailed report goes on to point out:
Manjrekar's reference to being "kicked off" the studio marks the next step of BCCI's message-management. There is a pecking order which is tacitly understood, with the BCCI-contracted commentators - Shastri, Gavaskar, Sivaramakrishnan - being the most powerful. Those at the top are given the leeway to pass an occasional, stray comment as a fair criticism or observation with the knowledge that they abide by the BCCI's larger philosophy. Those treated with suspicion are watched for their first error before being sidelined. Newcomers understand very quickly that if they speak their mind, it will be transmitted via loyal informants up the line...

The atmosphere inside the commentary box is stilted. "I speak to people I can trust," says a commentator. "Those I don't trust, I don't talk to at all. I stay away from them. I have no conversation. I do my work and go home." Walking on eggshells is de rigueur in the BCCI commentary box. "You are not even allowed to have an opinion - even off air. There is such a lot of arbitrary power exercised," said another.

The best assessment comes from a third: "It feels like I am working not on the game itself, but in the grand Indian cricket commercial."
Ugra also has an interview with the BCCI President N. Srinivasan, who of course denies all of this.
Read the full Sharda Ugra piece at Espncricinfo: Have an opinion? Think again