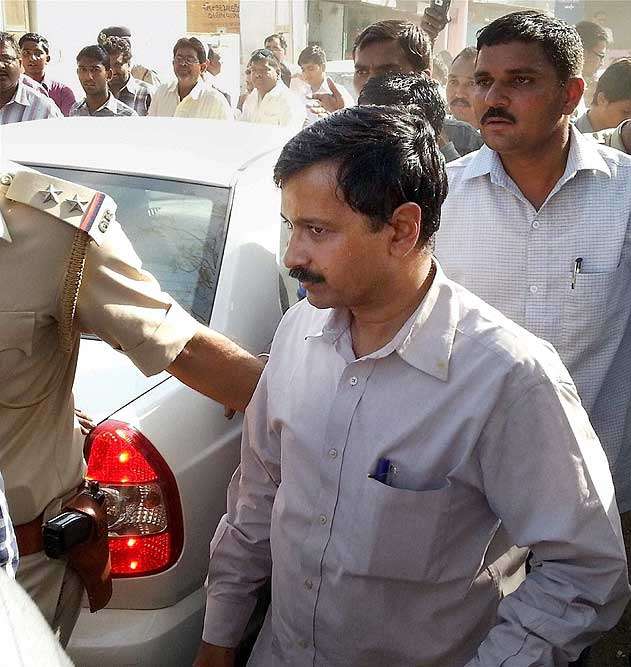 "I wanted to meet him, but we were stopped five kilometres away from his residence. I am not a terrorist. Being an ex-CM, I deserve a courtesy call from Modi, instead we were stopped. This is not democracy," said Mr Arvind Kejriwal, the Aam Aadmi Party chief, who earlier in the day had released a set of questions for the Gujarat Chief Minister:
Q1. Does government plan to raise the price of KG Basin gas to $16 per unit? If you become the prime minister, will you raise the price of gas to $16 per unit?

Q2. Is it true that your government is buying solar energy at Rs. 13 per unit, and that without inviting tenders? MP and Karnataka buy solar power at Rs. 7.5 per unit and Rs. 5.5 per unit after inviting tenders, so why is your government buying electricity (solar power) at such high price?

Q3. You claim that agriculture growth rate in Gujarat is 11%, but by your own government's estimates in 2006-2007 agricultural production in the state was Rs. 27,815 crore. In 2012-2013, agricultural production fell to Rs. 25,908 crore. This means agricultural production has fallen in Gujarat during your tenure and the annual agricultural growth rate is -1.18% (sic). How do you then claim agriculture growth rate is 11%?

Q4. In the last 10 years almost two-third small industries have shut down in Gujarat. We found that in a small place like Mehsana alone 140 of the 187 small industrial units have shut down. Under such circumstances, what is your model for development? Will you shut down all small, medium industries in the country and hand over industry in the country to select business houses?

Q5. You claim that there is no corruption in Gujarat, but people in towns and villages told us that there is rampant corruption in all government departments. People have to pay bribes to get BPL cards, avail government schemes or make licences. How do you then claim that there is no corruption in Gujarat?

Q6. At least two of your ministers are accused of involvement in financial scams? Couldn't you find honest persons for your ministry among 6 crore Gujaratis?

Q7. Would you like to comment on your relationship with businessman Mukesh Ambani?

Q8. Recently, 13 lakh people applied for 1,500 junior-level government posts in Gujarat. How do you then claim that there is no unemployment in the state?

Q9. Young people employed by your government on contract are paid a mere Rs. 5,300 monthly? Can an educated, self-respecting person survive on Rs. 5,300?

Q10. Do you accept that it is the government's responsibility to provide good education to the country's poor? We have travelled across Gujarat's villages and towns in the last few days. Gujarat's government schools are in a poor state. We have also found colleges where there are only three teachers including the principal for 600 children. With such education system, how can the country progress?

Q11. Do you accept that a government's responsibilities include providing good healthcare services? Government health services are crippled in the entire state. There is corruption everywhere. In many villages, the primary health centres are shut, lying in ruins. In hospitals at taluka and district-levels, more than half of the posts are vacant. Those who are there, they don't come. The hospitals do not have medicines. Under such circumstances, why are you making claims of providing good health services in Gujarat before the entire country?


Q12. Farmers throughout Gujarat are unhappy with your government. He gets less than what he spends for his produce because on minimum support price, your government has been ignoring him. Farmers are being forced to commit suicide. In the last few years, 800 farmers have committed suicide in Gujarat and you have stopped all subsidies which were given to farmers.

Q13. You are going around the country saying your government has taken electricity to villages. We have found that 4 lakh farmers applied for electricity connection to your government for years, but they are not getting it. When you are not even giving connection to farmers, then why are you making hollow claims on providing electricity?

Q14. Under your government, the land of farmers is being snatched away and you are giving them to your favourite industrialists at throwaway prices. In this, many farmers have not been given compensation. To those farmers whom you have paid compensation, the amount is way less than the market rate. You have snatched away farmers' land and given them to industrialists such as Adani and Ambani at the rate of Rs. 1 per square metre. Why? Why is your government so heartless towards farmers?

Q15. The height of Narmada Dam was raised in 2005 to provide water to the people of Kutch for drinking and farming. But, even eight years later, the people of Kutch have not got water. This water was given to some of your favourite industrialists. Why this discrimination against the people of Kutch?

Q16. You had said in Punjab that the land of Sikhs living in Kutch, Gujarat, will not be snatched away. The truth is your government has moved court to take away the land of Sikh families. Why don't you take back this case?

Q17. You move around in private helicopters and aircraft. How many such aircraft/choppers do you have? Who do they belong to? How much do you pay for these aircraft/choppers? Or, does someone else pay for them? Why don't you make your air travel expenses public?
Q1 to Q4 Which @ArvindKejriwal asked to #AKasksModi pic.twitter.com/cACdAZVJdE

— Vote 4 AAP - ???? (@Vote4AAP) March 7, 2014
Q5 to Q9 Which @ArvindKejriwal asked to #AKasksModi pic.twitter.com/xbgxDxSO7b

— Vote 4 AAP - ???? (@Vote4AAP) March 7, 2014
Q10 to Q12 Which @ArvindKejriwal asked to #AKasksModi pic.twitter.com/EGhOyAvym1

— Vote 4 AAP - ???? (@Vote4AAP) March 7, 2014
Q13 to Q15 Which @ArvindKejriwal asked to #AKasksModi pic.twitter.com/XmcuGViYzz

— Vote 4 AAP - ???? (@Vote4AAP) March 7, 2014
Q16 to Q17 Which @ArvindKejriwal asked to #AKasksModi pic.twitter.com/Bmjd5jSVyE

— Vote 4 AAP - ???? (@Vote4AAP) March 7, 2014