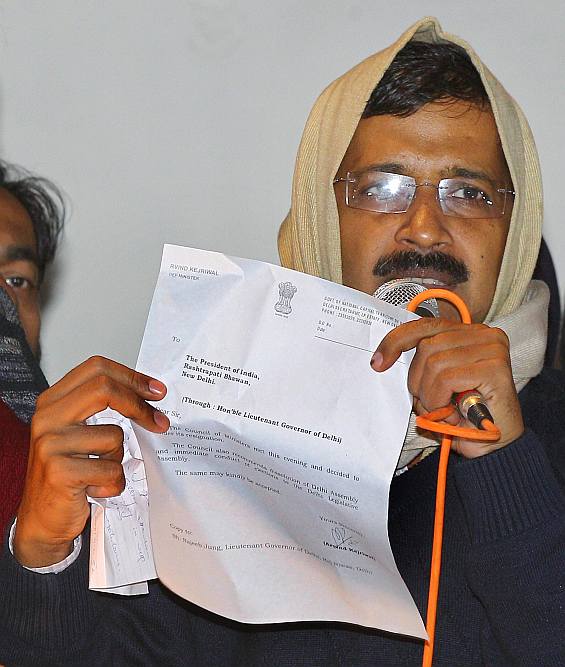 While the Delhi Chief Minister lived up to his promise —or threat—and resigned after a mere 49 days of swearing in, when, according to him, the Congress and the BJP got together to thwart his pet Jan Lokpal Bill in the Delhi Assembly, the reactions on Twitter were predictably divided.
His supporters say that he did the right thing by taking a principled stand, and would thus now be able to concentrate on campaigning for the Lok Sabha poll.
Others argue that he should have stayed on to accomplish the things where he did not need Congress or BJP support — women's safety and much needed reforms in matters relating to policing, electricity and water, for instance.
His supporters say that his government in any case would not have been able to take any fresh policy measures once the Lok Sabha polls get notified next month, and that during his short-stint he has more achievements to show than many governments even after a full tenure: anti-corruption "Sting" hotline and water and electricity subsidies for all; auto licences for SC/STs; talk of setting up a Special Investigative Team (SIT) for 1984 Sikh-pogrom; cancelling FDI in retail for Delhi's small traders, and taking up local law and order issues vigorously.
His critics, on the other hand, find fault with most of the above: about the ad-hoc, short-sighted and ill-thought through plans that actually benefit the haves rather than the have-nots and the vigilante and racist nature of law minister Somnath Bharti's intervention in Khirki village which were subsequently defended by a dharna.
What seems to be unanimously accepted among political analysts, however, is that the resignation was inevitable so as to allow them to concentrate on their main and bigger objective: Lok Sabha Polls.
While TV and mainstream media may give the impression that the above moves were resulting in the AAP losing the perception battle, the leadership of the party seems sanguine that these would help them go back to the people not only with something concrete to show, but also as martyrs to a cause.
That he was only making a virtue out of a necessity can thus either be seen as a political master-stroke, or as mere theatrics that left the UPA government with no options but to ask the Lieutenant Governor Najeeb Jung to disallow the conetntious Jan Lokpal Bill to be tabled at all.
The recent moves to register an FIR against the chairperson of Reliance Industries Limited Mukesh Ambani, union petroleum minister M Veerappa Moily, former petroleum minister Murli Deora and former director general of Hydrocarbons VK Sibal under various sections of the Prevention of Corruption Act (PCA) and revelations about Najeeb Jung's Ambani connections, AAP leadership feels, would only help in projecting them as falling victim to corporate interests.
Tell us what you think.